How To Dress For a Wisco Tailgate Once it's Below 40
Just because it is starting to get cold does not mean us Badgers will not be tailgating. It just means we will have to change our apparel. It is time to put away those adorable cheerleader skirts until next August and begin to layer. I am going to tell you how tailgating in the freezing cold can be just as cute! 
Fun leggings are the best! Check out any of the great bookstores UW has to offer. My personal favorite is the Hilldale location. From red leggings to red and white striped, to Bucky Badger print, there are a variety of leggings to choose from and they are all oh so cute. Pairing a fun pair of leggings with any outfit will automatically make you look perfect for a tailgate.  
Winter hats with pom poms are perfect for a cold tailgate! Who doesn't love a cute winter hat? This way you can look stylish and stay warm at the same time. If you aren't a fan of the pom poms, there are always the cutest Wisco beanies to wear as well. Add some Wisconsin mittens and you are ready to go.   
Red joggers! This is my personal favorite piece of clothing to wear for a cold tailgate. You can pair joggers with almost any top and it will be adorable. Joggers also look really cute with a jean jacket, just make sure to wear a sweatshirt underneath so you don't freeze! If you don't feel like wearing plain red, go for the bibs! Bibs are still great to wear when it's cold as long as you wear a long sleeve shirt with them.
Speaking of sweatshirts, a sweatshirt is an essential piece for a cold tailgate. What is so fun about wearing a sweatshirt is that you can personalize it however you'd like. Whether you crop it, cut the hood off and make it a crew neck, bleach it, cut holes to distress it, there are so many ways to make a sweatshirt stand out. This way you will stay warm and look trendy for a Badger football game.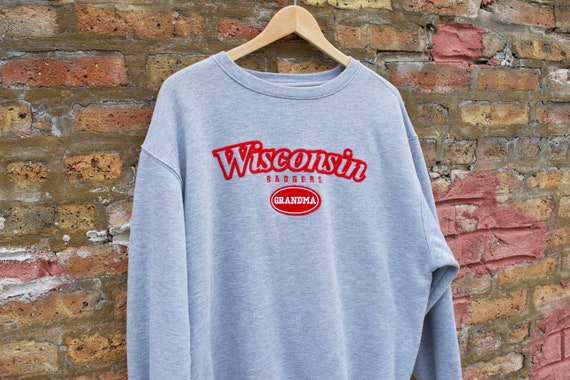 With winter slowly approaching, the weather is only going to continue to get colder. Although that might make it tempting to stay and hide inside all day, try to avoid it! You will regret not going to games and tailgates when football season ends. This is the most fun time of the year, enjoy it before the snow comes! I can't wait to see you all wearing the cutest tailgate clothes this football season.