44 Reasons Why the Badgers Deserve the Championship
If you're on campus today, you've noticed that there isn't a single person wearing a color other than red. We're proud, we're loud and we're ready to win because the Wisconsin Badgers deserve this win more than any other school in the NCAA.
1. We beat Kentucky.
2. We beat Kentucky and they have the tallest team in the NCAA and NBA.
3. When we lost to Kentucky last year, we didn't use racial slurs at the other team during a press conference
4. Our team has voices comparable to angels
5. We can dance
6. There's an emoji for throwin' up the W
7. We give compliments to stenographers
8. Frank won the Kaminsky's Naismith award and it's the first for a Wisconsin player in program history
9. Oh and he was named Player of the Year… NBD.
10. Our team continuously gives back
11. Kentucky fans throw riots after losing… enough said.
12. Bo Ryan is the Beyoncé of Wisconsin.
13. The last time we made it to the Ship it was 1941.
14. Tayous Jones is dating a Gopher.
15. Bo is so respected by his team, the boys call him "pops."
16. "You haven't lived until you've attended a Wisconsin press conference."
17. Aaron Rodgers loves the Badgers
18. The Wildcats were bidding to become the first undefeated national champion in men's D1 basketball since Indiana in 1975-1976
19. Okafor believes in mermaids
20. Bo… again.
21. We have Captain America
22. We're going against the devils. Time to send them where they belong.
23. Heart over hype
24. "Because this is how the story ends."
25. The ratio of Badger fans to Duke fans: 70/30
26. There's nothing like State Street
27. Four of our stars are from Wisconsin: Zak Showalter is from Germantown, Sam Dekker is from Sheboygan, Josh Gasser is from Port Washington and Bronson Koenig is from La Crosse.
28.  Kentucky had 36 players selected in the first round of the NBA draft since 1960… the Badgers only have had 6.
29.  Our offense is considered the best of all time.
30.  Wisconsin has been to 6 Sweet 16s under Bo Ryan.
31.  We like to have fun
32.  Badgers have the lowest turnover rate in the country this season
33.  Frank Kaminsky is the poster child for everything good about college athletics ever
34.  Bo's basketball program has been without major scandal. (Take that, Calipari)
35.  Our graduation rates among student athletes put us near the top in the nation in the NCAA.
36.  Bo Ryan has never won a D1 championship… it's his turn.
37.  Dekker and Kaminsky could've become millionaires, but they came back for "a degree and a championship." True Badgers.
38.  This is the last time we'll see Frank in a Badgers uniform
39.  Badgers are "mentally stronger than any other team in the NCAA." #2cool
40.  Forbes thinks, "Something good is coming out of Wisconsin this month, and I'm not talking about cheese."
41.  We have Bucky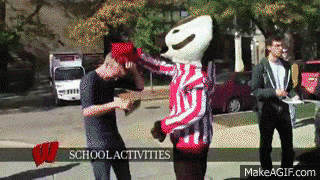 42.  Our student section is ranked number 2 among colleges… we couldn't find Duke on the list.
43.  We want this more than Duke. We're ready to sing Varsity and Jump Around By the Light of the Moon as we win tonight.
44.   On 4/4, #44 led us to defeat the undefeated, and we can't wait to watch him do it again tonight.
ON WISCONSIN!