National Pet Parents Day: My Kitty Spotlight
This April 26 is National Pet Parents Day, and what better way to celebrate than to tell a little bit about the two loves of my life: Mittens and Muffin, my two kitty-cats. 
Mittens, "Mitty"
She is 13 years old and one of the sweetest cats in the world. My family got her in 2007 when she was just a kitten. She was born from a stray litter that was birthed by our house. One rainy night, many years ago, we heard the high-pitched crying of a distressed little kitty outside in the pouring rain. We went outside and saw her sheltered underneath our back porch, dripping wet with fear in her eyes. We wrapped her in a towel and brought her inside. 
The rest is history. 
She soon gained our trust, and we knew we couldn't live without her. We brought her to the veterinary clinic a few days later to get her vaccinated and spayed; soon after, we had another member of the family.
She may be timid to strangers, but once she gets to know you, she will be your best friend. She never fails to make me laugh and is always my constant companion and snuggle buddy.   
Her favorite activities include:
1. Sleeping on my bed
2. Eating (not surprisingly)
3. Tricking us into giving her more food after she already ate
4. Rolling on the floor
5. Begging for human food 
6. Waking me up in the morning by scratching on my bedroom door 
Her favorite foods over the years include:
1. Buttered bread (she loves carbs)
2. Cantaloupe
3. Bacon
Muffin, "Muffy"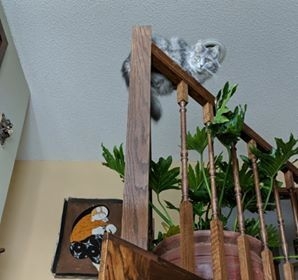 This wild child is 9 years old and marches to the beat of her own drum. She came into our family in 2011, and it has been quite an adventure. She was also a stray, who we think was part of a litter that someone dumped in the woods within our neighborhood, as many of our neighbors have cats they found that look just like her. We found her when she was a kitten when my dad and I were taking a walk down the road one night. We heard her little cries coming out of the woods, and after calling to her, she came out cautiously. She was a little fluff-ball and one of the prettiest cats I had ever seen. My dad and I brought her to our house, and she hung around outside for a few days, but it was obvious that she wanted to be with us inside the house. After that, we brought her to the veterinary clinic to get her pet-certified and welcomed her to the family.
She may be cute, but out of all the cats we have ever owned, she was the hardest to house-break. We have had numerous items peed upon by this one, and only recently (within the past couple months), through trial-and-error, have gotten her to solely go in her litter box. She is a headache but a headache we can't live without. She is the best mouser, which is why she has earned her keep. 
Her favorite activities include:
1. Partaking in serious sleeping sessions (literally hides away all day so no one will find her)
2. Going outside (but not when it's windy; it scares her)
3. Catching anything that moves outside (sadly)
4. Eating Mitty's leftovers
5. Climbing trees
6. Running (outside and in the house)
Her favorite foods over the years include:
1. Sunflower seeds
2. Milk
3. Mice, birds, and chipmunks (Ew.)
Without my fur babies in my life, I don't know what I would do for daily entertainment, cuddles and laughs. Take this April 26 to acknowledge the impact your pets have in your life and the joy that results!