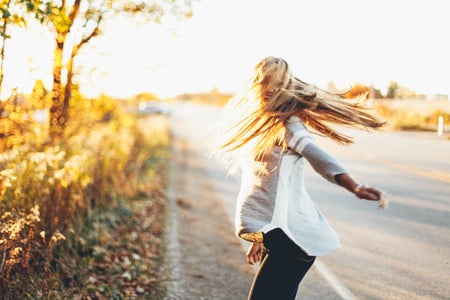 For the Love of Dance: A Profile on Professor Gretchen Cohenhour
As a dance minor myself, I recently had an interest in learning about my advisor for this profile piece. I thought this was a good way to incorporate another fresh article while learning more about one of the biggest influences of my future career. The last time I was in a Dancescape performance at WSU was my freshman year. Every year it's different, but it's just as exciting to see the possibilities of each performance.
Her Campus (HC): Thank you so much for this profile interview, I appreciate it a lot. I know you're busy at this time of year because of upcoming productions, such as Dancescape 2020, and planning for ACDA, American College Dance Association Festival. My first question is, How long have you been at Winona State and what are some of the most memorable classes you've taught?
Gretchen Cohenhour (GC): I was hired in 1989 to start a dance minor program and this is my 31st year at Winona State University. And before that, I taught at another college for five years. I think our students are so hungry to learn here that it's an inspiration to me. I keep growing and learning and witnessing this evolution. It redefines their values and helps their skills as dancers, performers and people. I look at my job as a sacred trust in terms of knowing that my position as a professor at a university is a position of influence. I want to support my students in their aspirations and personal peripheral development, but also challenge them to grow in wholesome and sustainable directions.
In terms of my favorite classes—I really love all the classes I teach (*laughs*). I like them for different reasons.
I love Interdisciplinary Connections because it's a class where we combine the elements of dance, space, time, energy and the texture of love with the same elements of our earth, and collaboration with geoscience that has the same vocabulary as dance principles and flow. We talk about streaming patterns in the earth through water, and it's a beautiful connection. We look at that in the lens of visual art and performance, and students can find what is relevant to them through the lens of another discipline.
I also love teaching Performance I for Everyone because, again, it's the art of showing up. And I love teaching Dance Composition, as you know, Natalie, because it is finding your artistic voice. It's so crucial. I love that each student comes up with amazing and diverse possibilities. I love teaching technique. I grew up doing a lot of ballet and jazz, and I didn't discover a modern class until I was an undergraduate, like you, in college. Then, the art of incorporating embodying anatomy, physics, or visual arts and integrity of authentic embodiment—how the breath forms the shape instead of just how the body makes the shape. Listen to the body and there's an integration between the external form and process. That's how art can move us when there's an authentic link. It's not just "see what I can do!" It's beyond that, it's finding that integration and connection.
HC: Who are your biggest influencers or artists that inspire you?
GC: So, so very many. Well, I guess Pina Bausch. In my early career, certainly Hanya Holme. Uh, Erick Hawkins? In my later career, I had a greater influence from my body, mind-centering dance colleagues in Germany, France, and even North Carolina—too many to list. I was also very influenced by visual arts. My mother was a visual artist and teacher. I grew up with a lot of art and materials. I've been dancing since I was like, two or three. Dancing is essential.
HC: This is Dancescape's 30th Anniversary. What makes it more special than other productions? What are some of your favorite pieces off the top of your head?
GC: I don't have favorites, but there are certain things I'm in love with. A student choreographer has really investigated and paid their dues in the studio to define and develop an idea. To me, that is inspiring. A dance that feels it's coming from an inner source, however, that's not just duplicating another thing on the internet is special. Then the work to practice, revise and make artistic choices to make it readable to audiences is so inspiring.
Every year in Dancescape is different. It reflects a different time and culture, what is relevant to our students ages 19-22, but it's evolving throughout the years. Some topics and vocabulary are very different than they are now. For example, "I am" in Jayde's piece demonstrates how women survive and take care of themselves within our society and its impacts. It is a reflection of what's happening in the moment.
HC: When are the production dates of Dancescape 2020?
GC: Feb. 13-15 at 7:30 p.m. at PAC Vivian Fusillo Theatre on campus.
HC: Who is allowed to join Dancescape? Is it specifically dance minors?
GC: Dancescape has wide open auditions: for students and even open to community members. We advertise it on campus, and our goal, especially, is to get the word out to first-year students.
HC: What is it like for you to teach potential artists and to help them begin to create their projects?
GC: It's not just about self-expression, but the context of communication and presence. If we are focused and articulated, we have the potential for more impact. To be present and alert are crucial for performing and having future life skills. It transfers into the real-world, like working with clients at a job or building relationships with friends and peers. We train dancers for collaboration, to think creatively, ask good questions, or to explore.
HC: As a dance minor myself, I know that every year ACDA is a dance convention field trip that a student can go on. Is this just for dance minors or can students with any major and an interest in dance also come?
GC: Yes, ACDA is the American College Dance Festival Association. We usually attend the North-Central Region. There are about seven to eight different regions across the country, but this is where colleges from nearby states, like Iowa, Illinois, or Wisconsin are. Dance minor applications are prioritized and depending on numbers—we do accept students outside of the department. This year, we have Janae Mann doing a solo in Dancescape on her identity. She will also be attending ACDA with us this year. Everyone in Dancescape production is required to take either dance repertory or the class Dancescape, giving them credit for it. The WSU Dance Society Club also fundraises for the event for money in transportation or hostel. The campus Student Senate also contributes.
HC: Is there anything else you would like to add before I wrap things up?
GC: Some strong work I want to mention to look out in Dancescape are some by guest artists, one of them being Pedro Pablo Lander. They created "Recocoilcuir (Queer)" for the 2020 production. Lander was also a WSU graduate. Another important guest artist is Brooke Smiley, who choreographed the piece "Seeing Different."
Thank you so much again, Gretchen. Make sure to check out Dancescape this week at WSU!