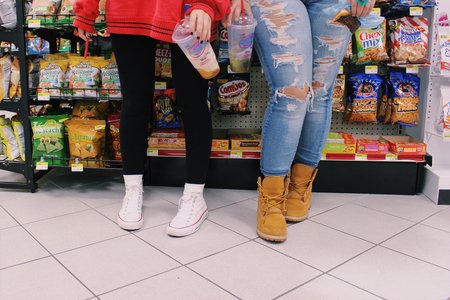 Anna Schultz / Her Campus
I Don't Think You're Ready for this Jelly (Bean): A Definitive Jelly Belly Flavor Ranking
April 22 is National Jellybean Day. Please enjoy my honest reaction to the 50 original Jelly Belly flavors as I rank them from Great to Penalty Box Bad with 1 being the best and 50 being the worst.
GREAT
1. Buttered Popcorn: This is a controversial top favorite. I recognize that. But it's such a blend of salty-sweet, and I stand by my guns that it's the best Jelly Belly flavor out there—original or otherwise.
2. Toasted Marshmallow: There's a sweet nostalgia in this flavor that reminds me of campfires and s'mores.
3. Juicy Pear: Pear is a fruity with a typically more subtle flavor than the more popular candified fruits, but this one is so good to me.
4. Green Apple: Green apple will always be a superior fruit flavor in candy.
5. Crushed Pineapple: This is a refreshing flavor in a jellybean, and it makes me wish I was on a beach somewhere with a bag of 'em.
6. Root Beer: Sure, I would rather grab a can of root beer if I want to indulge. But Jelly Belly has hit this flavor profile on the head.
7. Kiwi: Again, this is another untraditional flavor in candy. But it's a welcome change in my book. 
8. Lemon Drop: I'm a biiiiig citrus fan in candy. Lemon drop is bright in color and flavor!
9. Mango: Mango is underrepresented in candy, much like pear and kiwi. 
10. Margarita: You can't eat this one on the rocks, but the flavor does rock on its own, sans the alcohol, of course.
11. Orange sherbet: This Dreamsicle-esque jellybean is so sweet and hard to stop eating once you start.
12. Peach: There's nothing artificial tasting about this bean which is a hard feat. Peachy keen jellybean!
13. Pina Colada: Much like the margarita, this one brings island vibes to a bag.
14. Sour Cherry: I like most fruit sour, so this one hits the spot.
15. Very Cherry: This one feels very repetitive, but it's still a good take on a classic candy flavor.
JUST OKAY
16. AW Cream Soda: Unlike root beer, I'd rather not indulge in this jellybean flavor. 
17. Berry Blue: Blueberry? Blue raspberry? Who knows? It's nondescript and, for that reason, not very high on my list. 
18. Blueberry: Meh. I like my berries straight off the bushes and not a bag of beans.
19. Bubblegum: The flavor is spot-on, but I'm not a big bubblegum fan.
20. Caramel Corn: This is not as good as buttered popcorn, but it's still a fun switch-up to fruity flavors.
21. Chili Mango: This flavor sounds good in theory, but it's not executed very well.
22. Cotton Candy: I prefer this from a state fair!
23. Dr Pepper: Something about this candy jellybean just… falls flat. Sorry, Doc!
24. French vanilla: Vanilla is really overpowering in concentrations like this, so it's a meh from me.
25. Island punch: Island, or fruit, punch is not a big draw for me as a flavor. It's reminiscent of childhood though, so it's got that going for it.
26. Lemon lime: I like Sprite and Sierra Mist, so this feels like a throwaway for a candy.
27. Raspberry: I don't think candy can capture how delicious these are when they're not jelly-fied.
28. Red apple: The apple doesn't fall far from the tree, but it does fall short from its supreme competitor: green apple.
29. Sunkist lemon: It's a soda-flavored candy. How many do we need?!
30. Sunkist lime: We already have lemon-lime, and it's not great. Why make this? 
31. Sunkist orange: The ONLY iteration of Sunkist that matters: the original… but we already have orange sherbet, so it's not even essential to rounding out a bag of Jelly Bellys.
32. Sunkist pink grapefruit: I'd rather dig into one with a spoon and not an assorted bag of candy.
33. Sunkist tangerine: Tangerine is just a variation of orange! C'mon, now.
34. Watermelon: Jolly Ranchers does this flavor more justice, but it's not bad enough for the penalty box, so here it will reside.
35. Wild blackberry: I like blackberries, but it might be too complex of a flavor for jellybeans.
PENALTY BOX
36. Cantaloupe: This melon sucks. So does the bean.
37. Cappuccino: I want to sip these rather than chew. 
38. Chocolate Pudding: There's something about soft foods in a capsule form that is very off-putting to me… this flavor is one of them.
39. Cinnamon: I have never been a fan of spiced candies.
40. Coconut: I like coconut in so many other forms. But this is not it.
41. Licorice: Blech. Need I say more?
42. Mixed berry smoothie: AGAIN. It's weird to have a liquid in solid form like this.
43. Plum: They did not do this flavor justice, and it's sad because I love plums.
44. Pomegranate: Too complex for a jellybean! 
45. Sizzling cinnamon: How is this different from cinnamon? I don't know or care to find out.
46. Strawberry cheesecake: Artificial strawberry makes me want to gag.
47. Strawberry daiquiri: It needs the booze, I'm sorry.
48. Strawberry jam: I don't like jelly or jam, so this is just personal preference.
49. Top banana: Artificial banana is the bane of my existence. Eradicate please.
50. Tutti-frutti: Sure, it's pretty. But it's also pretty gross tasting.
Don't be jelly of this review of Jelly Belly's and go buy yourself a bag on April 22!