'Fits for Fall: Your Ultimate Autumn Outfit Guide, Featuring 5 Essentials
For people like me, fall feels like an outbound train headed straight for winter that has no intention of slowing down or turning around. Don't get me wrong, I actually really enjoy autumn, and it has the potential of being my favorite season. I love the crisp weather, the bright rainbow of rustling leaves outside my window, the spicy drinks, the walks home after class in an effort to soak up the last few days of sunshine, and of course, the cozy sweaters! 
However, it can get to be a little daunting, especially for myself being a self-diagnosed individual with Seasonal Depressive Disorder. If you're someone who feels trapped in the winter, it's important to find something to keep you interested during the next few bleak months. 
What helps me avoid thinking of the cold and snow is to spend time planning my 'fits for the upcoming chillier weather. When I don't know what else to do, I spend large amounts of my time sifting through my closet for inspiration.
Here is a compiled list of suggested items that I consider essential for a fall wardrobe:
1.  Sweaters
This is a no-brainer. You need to have something warm that's easy to pair with your favorite pair of skinny jeans and over-the-knee boots, or even a cute mini skirt and tights. Sweaters make the whole outfit--after choosing one, the rest of the ensemble is simple enough to put together. 
2.  Fitted turtlenecks
Trust me when I say this: these are the best way to layer for the brisk season. You can add anything over the top of them: your favorite band tee, a cardigan, or even a mini-dress from the summer that you don't want to pack away quite yet. You may also choose a classic look by wearing it by itself tucked into jeans or skirts.
3.  Fun earrings
Nothing makes me feel more put-together on a cold morning than completing my look with a bold pair of earrings. It's difficult to feel confident when you're barely able to roll out of bed for an 8 a.m., scrambling for whatever clean clothes you have immediately within reach. But with even the most minimal amount of accessorizing, it's possible to come across as if you planned an effortless, yet daring outfit. 
4.  Cropped long-sleeved tops
Sometimes, even on the coldest of days, you still want to show a little skin! This is the reason I love cropped sweaters and long-sleeved tops. Pair this with jeans, skirts, leggings, or even overalls. 
5.  Over-the-knee boots
Black or brown, I guarantee these will go with every item in your closet while simultaneously adding another layer of warmth to your legs in the chilly air. Wear with a sweater dress, over skinny jeans with an oversized sweater, or with a mini skirt and cardigan. 
Personally, the way I dress reflects the way I feel. For instance, I'll dress up or pick out a specific 'fit on the days I'm feeling confident and want to show myself off. Especially during this midterm season, wear clothes that will make you feel good about yourself. If you have an exam or presentation fast approaching, take some me-time and choose an outfit that will make you feel more prepared. Even if you don't feel that way at first, a comfortable and fun outfit will make you feel more put-together and ready to conquer whatever it is on your agenda. 
It's important to keep in mind that comfort always takes precedence when it comes to your fall attire. There are going to be days when you don't feel like planning a special outfit in advance, which isn't something to put pressure on yourself to do. Sometimes, you're going to feel more confident in leggings and your comfy college hoodie, and you can never really go wrong with that pairing. 
Just remember, no matter what it is that you decide to wear this fall, own it! Confidence is the best accessory in all seasons of the year.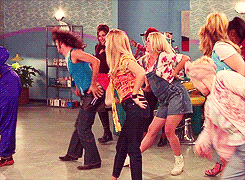 GIFs provided by Giphy.com