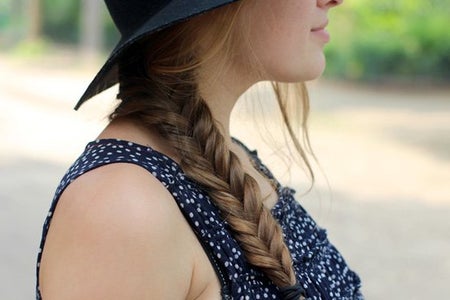 Kellyn Simpkins / Her Campus
Feeling Grace-ful: An Interview with Grace Ann Wagner
I first met Grace this school year in a fall class called MCOM 240: Principles of Public Relations. The class focused on foundational skills in the field of public relations, like writing press releases and how to effectively use social media to create and promote brand voice.
Grace was always so hands-on and bubbly in that class, which is exactly how she is outside of the classroom as well. But it wasn't until the Warriors LEAD Summit, held at WSU on Feb. 15, that I got to experience how cool she is through a student presentation she called "Attitude of Gratitude."
Read on to find out about her experience with expressing gratitude and all things that make this Warrior so grace-ful.
Her Campus (HC): So, Grace, let's start with some background. Tell us your major and minor, year in school, the works.
Grace Wagner (GW): I'm currently a sophomore with a Public Relations major and a Communications Studies minor. I'm from Burnsville, Minnesota. 
HC: What brought you to Winona for school?
GW: Initially, I did not like Winona at all. Then, I had a tour. I loved the bluffs, connection to my own family (my grandparents grew up together in La Crosse), the amount of festivals and the community surrounding the school. 
HC: Now that you've told us about some of the reasons that inspired you to become a Warrior, how have you become involved on campus? 
GW: I am a performer in the comedy troupe, RunnerUp. I am also a Resident Assistant at Sheehan Hall, a Liberal Arts Senator with Student Senate and the Director of Bids and Services for National Residence Hall Honorary (NRHH).
HC: Wow! That's a lot of commitments. How do you balance all that?
GW: I think it is all about time management, but I also really enjoy all the things I am involved in. In Student Senate, I get to speak for my class and stay informed. I absolutely love my second-floor residents. They are thoughtful, motivated and so much fun. As for RunnerUp, I have always loved improv. I love how different each individual is and how much they add to the team. Recently, we had auditions, and I am so excited to work with our amazing new performers. With wonderful people all over and plenty of opportunities to learn and grow from, I suppose it makes it a bit easier to keep to my planner.
HC: Getting more into the topic of this interview. You spoke at the LEAD Series in February and called your presentation "Attitude of Gratitude." Where did the idea come from and what's the importance of that message?
GW: My presentation goes over the benefits of showing gratitude to those around you. This includes studies from biology, psychology and philosophy, which all point to this history of gratitude and how it can help us in our everyday lives.
I have a niece and two nephews who are all younger than six years old. This means they are learning what it means to be a person and how they should act. My family celebrates Christmas, and during this time, we try to emphasize how important it is to be grateful for what you have and the effort someone put into finding that perfect present. One of the ways we do this is by opening presents throughout the day rather than all at once.
I think it's important to be good to each other in this world. It feels good to be appreciated, even if you aren't expecting it. 
I think Cicero said it best, "Gratitude is not only the greatest of virtues, but the parent of all the others."
HC: As a follower of you on IG, I can see your positivity radiate. How do you use social media for good in the grand scheme of things? 
GW: Every Sunday, I will ask people what they are looking forward to in the coming week. This has been adopted by at least three of my friends. As for me, it helps me keep up with some people I am not able to on a consistent basis with it being on their own terms and time. 
Recently, I have also started an Instagram called @stairscanbesexytoo. It's meant to be funny and provide people with more wholesome content. It's a compilation of the different stairs I've seen and an appreciation of different places. 
HC: What is your favorite thing about Winona?
GW: I love the houses. Oftentimes, I will go on a walk every other day and look at the different homes in the area. Even the homes that look like each other have special characteristics, which make them special on their own. I could look for hours on end—and I have—at the different personalities of the houses in Winona.
HC: Is there anything else you'd like the readers to know about you, Grace?
GW: With COVID-19, I am planning on doing different Instagram Live sessions and possibly Zoom Chats to try to build a community, even if we are far away. This might be including others on a new recipe I am trying or a coloring session. Even in dark times, perhaps some light can come of it. My Instagram is @graceannwagner. 
I have no doubts that Grace will continue to be a gracious example of smiles and support for the rest of us, and I hope reading about her inspired an attitude (of gratitude) adjustment!