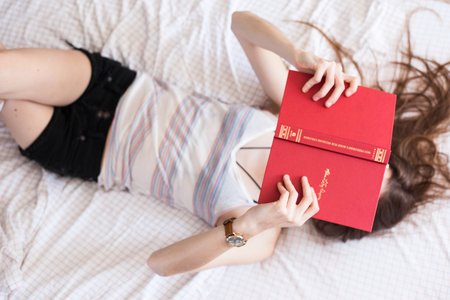 Kristen Bryant / Her Campus
Book Talk: Reviewing My First Glimpse into Russian Folklore
I don't know what the rest of you are doing with your quarantine, but I've been reading so many great books. I have nothing but free time to read, and I thought I'd share with you a trilogy I really enjoyed. The Winternight Trilogy by Katherine Arden is a whimsical tale of witches and Russian Folklore that kept my eyes glued to the pages. 
We follow our main character, Vasilisa (Vasya) Petrovna from birth until she reaches age 17. We travel back in time to 14th century medieval Russia while the Catholic Church is at its peak of power. The story surrounds the tales that Vasya's nurse told her and her many siblings as children.
Throughout the first book, The Bear and the Nightingale, Vasya begins to discover that the tales of the winter king and the Bear are all real, and she must save the magical creatures within the forest near her childhood home from being forgotten in favor of the Church's teachings. The magic system is entirely rooted in the natural world and nature interacting with humans. This is a solid first book that kept me engaged the entire time. I loved how whimsical and fantastical it felt without being too unbelievable. The author's writing style is beautiful and easy to read. All three books fall under 400 pages, so they will be easy for anyone to get through. 
The second book, The Girl in the Tower, is my personal favorite, and everything escalates. We get to see Vasya deal with the fallout of the events from the first book. She goes on an adventure, traveling throughout Russia in search of her place in the world, until she finds her brother and is whisked away, disguised as a boy, to Moscow. Everything gets more intense as Vasya tries to conceal her secret from everyone at the Russian Court of Prince Dmitri while also navigating her powers as a witch.
She develops a semi-romantic relationship with Morozko, also known as the winter king. Vasya sees how angry the magical creatures in Moscow are because of the Church's domination across all belief systems and deals with speculation and eventual persecution as a witch. This one was my favorite of the series because I love the way the political landscapes in this book were crafted. I'm a bit of a medieval history lover, and I can honestly say that the politics were accurately constructed for the time. I won't say what happens at the end, but let's just say it's epic and had me grabbing for the third and final novel in the trilogy.
The third book, The Winter of the Witch, delves into more of Vasya's family history and where her powers and abilities come from. I can't say exactly, but I'll tell you that what comes from these revelations is amazing and not too far-fetched. I could see where everything fit into place and I couldn't find any plot holes. In this book, Vasya travels to the land where the magical creatures from Russian folklore have lived for centuries.
Our main character needs to save them and their world from being forgotten, and Vasya seeks a way for the Church and the creatures to live together in harmony. The relationship between Vasya and Morozko is strengthened throughout this novel in a very satisfying way. The character development and worldbuilding are beautifully done, and in a way that doesn't feel forced or too unreal. Vasya really comes into her own as the plot progresses, and I like how the author has a near-perfect balance between character development and plot progression, which I find difficult to have in fantasy novels, especially young adult literature. Katherine Arden does it perfectly, and I really enjoyed reading her series. 
All around, I think this was a great series for anyone to read, especially if you're interested in Russian history or folklore. It was a whimsical tale with action, magic, and great characters. I really love romance in my books, and this one did it for me. If you look at what's happening in the world right now, we all need an escape. This was the perfect magical adventure to go on for a few days. I really recommend this for any fantasy lover of a fellow historical fiction admirer.