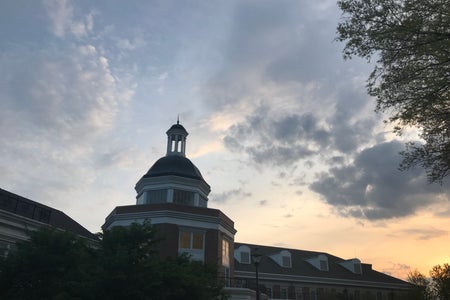 April Showers WILL Bring May Flowers: The Promises of the Lord
Lately, I've been hearing the word promise in random songs, podcasts and even Bible verse images. "He doesn't break His promises," they say. Or, "I will lift my eyes to things unseen, to the promise in Your victory…" as beautifully voiced in a song.
Sometimes, the Bible is clear in its explanation of something like these promises and sometimes it isn't. I had to do a bit of searching and praying to begin the journey of understanding what God has truly promised to all of us.
The first thing that comes to my mind when I think of God's promises is the story of Abraham and Sarah. We often read the word covenant, which relates to God making promises with His people in the Old Testament. God established a covenant with Abraham when the Lord called him to look up at the night sky, and God said,
"Look toward heaven, and number the stars, if you are able to number them…so shall your offspring be." And he believed the Lord…"
We can see here that God promised Abraham (Abram at the time) many descendants or children. Now, a covenant requires two people to commit to something, so what was Abraham agreeing to? The completion of Genesis 15:6 is,
"And he believed the Lord, and He counted it to him as righteousness."
Because Abraham's heart reflected his obedience and faith in God, God labeled His relationship with Abraham as loyal, faithful, or righteous.
Throughout Genesis, Abraham's actions prove his devotion to and firm foundation in God. It isn't until 11 chapters and 25 years later that just part of the promise is fulfilled! Without explicit verbiage, we can discern that we can't get to the promise without the process. We can also infer that we must be diligent and remain hopeful along with practicing patience as we continue to put our full assurance in the Lord, the One who's always on time.
Hebrews 11:8-11 reads,
"By faith Abraham obeyed when he was called to go out to a place that he was to receive as an inheritance. And he went out, not knowing where he was going. By faith he went to live in the land of promise, as in a foreign land, living in tents with Isaac and Jacob, heirs with him of the same promise. For he was looking forward to the city that has foundations, whose designer and builder is God. By faith, Sarah herself received power to conceive, even when she was past the age since she considered Him faithful Who had promised."
The "city" that Abraham is referring to is eternal life with Christ above. This promise is not only for Abraham and Sarah, but for all of us today who put our faith in Jesus Christ. These verses give us reassurance that life here on Earth is not our final destination, and they encourage us to keep our minds on things that won't fade away. God has promised us an everlasting and paradisiac life with Him, through Him, and for Him! Amen.
"And this is what He promised us—eternal life."
"But in keeping with God's promise, we are looking forward to a new heaven and a new earth, where righteousness dwells."
This life on Earth is the process. There are hardships and there is vagueness, but the one anchor that truly keeps us grounded is the certainty of His promise of eternal life. Here are some other vows written by the Creator; make note that these require action from us as children of God as well.
"To him who overcomes I will give to eat from the tree of life, which is in the midst of the Paradise of God."
"Blessed is the one who perseveres under trial because, having stood the test, that person will receive the crown of life that the Lord has promised to those who love Him."
"The Lord will fight for you; you need only to be still."
"But those who hope in the Lord will renew their strength. They will soar on wings like eagles; they will run and not grow weary, they will walk and not be faint."
"Though the mountains be shaken, and the hills be removed, yet my unfailing love for you will not be shaken nor my covenant of peace be removed", says the Lord, who has compassion on you."
Join me in prayer that we will rely on His promises to get us through this rainy season. We can choose to run to His Word and ask for His wisdom during our confusion. And we can proclaim these promises to those around us as we watch the embers of His words bring luminous life all around.