19 Reasons I Love "March Madness" in 2019
Perhaps the only thing more exciting to me in the spring season besides melting snow and budding flowers is the NCAA March Madness basketball tournament. For this year's tournament, I thought I'd list 19 reasons why I enjoy this event so much.
1. Before the tournament even fully starts, I like to watch the show known as "Selection Sunday," and see the basketball teams' genuine reactions when they find out they're in the tourney and who they're playing. It's such a wholesome excitement, and it really helps set the mood for the next couple weeks of sportsmanship and competition.
2. After Selection Sunday rolls around, I wait until the official brackets are posted and start thinking about my picks. There's definitely not a logic to all of them; in fact, sometimes I like to pick a longshot for the thrill of seeing an upset with a 15 seed and a 2 seed… but they're mine, and that's all that matters.
3. For some reason, despite really not liking math and numbers in other areas of my life, looking at the seed numbers and pairs is so interesting to me.
4. Pretty much as soon as the brackets are posted, it becomes a family affair on who's going to win our competition. Let the heckling begin!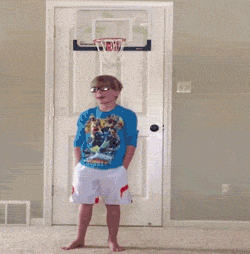 5. Despite aforementioned heckling, watching the tournament really brings our family together.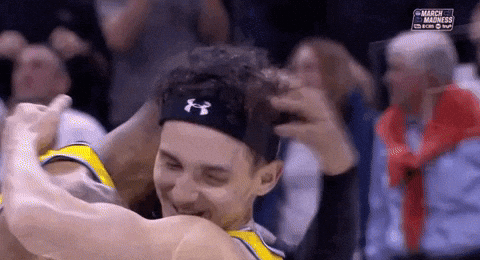 6. In fact, back when the majority of us lived in Illinois, we would do what we called a "carbo-load" and feast on doughnuts, breakfast food galore, and watch the Final Four games. I miss those mega-meals!
7. Despite our quality fam time together, we thrive by embracing our competitive natures (vicariously through the players) while we're rooting for our picks. It's all in good fun, though.
8. Our last name provides for an awesome alias for brackets: Hoop-ensteels! Don't even try to tell me that's not epic.
9. I like observing and being quizzed on teams' mascots because some of them are WILD looking! Like Tennessee Pioneers—what's that all about? Their antics provide a good comedic relief from some intense buzzer-beaters.
10. I used to play basketball (obviously not on these players' levels), but I still really appreciate all the skill and hard work it takes.
11. I'll admit it, I do like to scope out the cuties, whether they're riding the bench or the star point guard. No shame in my game.
12. Annoying as it may be to some people who watch the games with me, I like to make the incessant joke when games are tied by saying, "Wow, this game is close!"
13. Sometimes I get in a slump with Netflix binges; March Madness provides me with a very steady stream of games to watch.
14. Now that I go to school in Minnesota and my BFF cheers for the basketball team, I have even more of a connection to see how far they'll go.
15. I definitely think being in college watching the tournament gives me a different perspective because I know how hard it is to stay consistent with schoolwork and I cannot imagine balancing successful athletics alongside that… kinda ironic considering my homework may or may not be pushed to the wayside for a bit if I'm ensconced in watching a game or two.
16. Watching the basketball games, for me, is also inspiring because the possibilities for these players as they advance in the sport is endless. Who knows what NBA team they may be on next year in March?
17. In that same vein, the fervor these athletes play with is super energetic and fun to watch. They're so young and talented, so their prospects really do soar, especially after they play the tourney.
18. Towards the end of the tourney, it becomes more high-stakes to see if any winnings are involved for me… but, usually not!
19. And even if I don't get any of the winnings, I still get excited watching the final two teams duke it out for a championship. It's such a huge accomplishment!
I hope you enjoy this short list of reasons why I enjoy March Madness, and I hope you find some reasons of your own to watch a couple games this March through April!