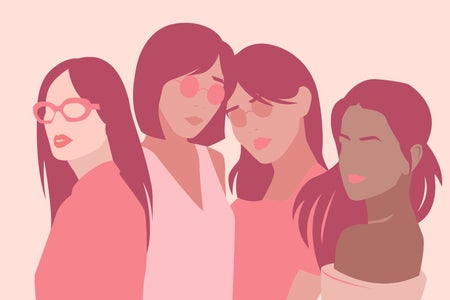 Her Campus Wilfrid Laurier
How My Experience with Her Campus WLU has Empowered Me
I joined Her Campus at Wilfrid Laurier in the fall of 2019, and I am happily and actively involved as one of two senior editors currently. When I first applied to join the club, I was admittedly really nervous. The process was slightly intimidating, but only in the sense that I always put 110% of myself out there and I was worried that my efforts wouldn't get me to where I wanted. However, they did obviously, or else I wouldn't be writing this article.
Fast forward to the first meeting – I had no idea what I was walking into and I was quite nervous, as I always am for anything new. For someone who has severe social anxiety, I definitely put myself in spots that evoke lots of anxiety. I sat down with my friend Taya, who applied as a writer (and produces awesome content by the way), and watched as other girls trickled in.
The moment Sarah and Rebecca started talking, I knew this was a place I wanted to be.
They were both so welcoming and excited to have us all there, which gave me an incredible feeling. They began their spiel about what the club entailed and then we jumped into introductions. Now, normally introductions are where my social anxiety peaks, as I never know what to say and I'm always so scared of making a fool out of myself. This time though, I had already felt way more comfortable than any other time I've had to introduce myself before. I knew that with this feeling I definitely belonged in this club!
The atmosphere throughout the entire meeting was super fun and laid back while also maintaining a level of professionalism that was super impressive. This continued on for all the meetings we've had. I've always looked forward to the 10PM meetings (which is really saying something since I HATE being on campus late) and all the exec updates, as it was always so laid back and they were so kind! Sarah and Rebecca continued to  be so inspiring with all the work they did, and their confidence and kindness always hyped me up during my interactions with them. I looked forward to Rachel's updates on Instagram takeovers and loved how kind she was towards her team. I looked forward to hearing about the events Erin talked about; they were so interesting! I definitely always looked forward to hearing about those darn oxford commas from Sophia's updates.
I was always a little nervous about people reading work that I write. I used to write stories on Wattpad and NEVER wanted people I knew to read it. But Her Campus WLU made me feel so comfortable that I put myself out there and wrote my first article. When it received good feedback, I felt incredible and it inspired me to write more.
In just one semester, I felt myself grow more confident and my boyfriend noticed as well. He was actually the one that told me to write this article! I was incredibly happy to be there, and I felt so empowered whenever I received feedback or when anyone applauded the work I did. The passion I have for this club is so strong and only grows more each day!
Getting compliments when people noticed the work I did and for how passionate I was about Her Campus made me feel like a million bucks. Being hired to join the executive team as a Senior Editor alongside Megan made me feel that much more empowered and confident. Working with the other execs has been such an incredible experience as well, as they are all such kind and amazing individuals. It hypes me up when Erin and Amanda laugh at my comments in our chats.
Being in Her Campus WLU has changed me. I've had the chance to improve my skills as a writer and editor, and the group of amazing girls I have been a part of for the past year has made me into a better version of myself. I'm becoming more and more outspoken, and I appreciate myself more. I definitely have this group of girls to thank for helping with this!
If you are considering joining Her Campus at Wilfrid Laurier, I hope my article helped you make up your mind. If you are looking for an amazing group of literal hype women who do nothing but continuously bring you up and empower you, then you have found the right place.