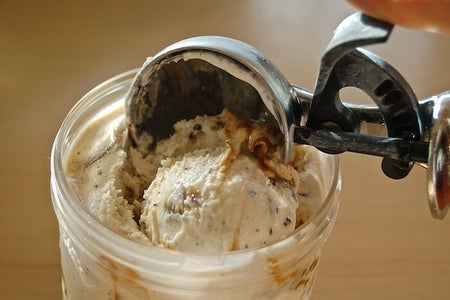 How to Succeed as an Entrepreneur by D'Ascenzo's
"...In October of 2004, D'Ascenzo's Gelato officially began serving customers in Chestnut Hill, PA at a farmer's market and at local street fairs and festivals. But, with gelato that good, it was hard to satisfy demand working part-time out of a farmer's market and mobile cart so to keep up with their growing popularity, D'Ascenzo's Gelato relocated to the heart of West Chester, PA in 2011, opening their doors at 132 East Gay Street that April."
"Today D'Ascenzo still uses only the finest ingredients. Glenn selects local, seasonal fruits and berries along with the highest quality nuts, chocolate, vanilla, and coffees available. D'Ascenzo's work with a West Chester dairy farm, Bailys of Pocopson to deliver 100% natural milk from grass-fed, hormone-free cows. Each pan of gelato is crafted daily in small, individual batches right in their West Chester gelateria. With a focus on freshness, quality, and authenticity, D'Ascenzo's has crafted a gelato that rivals any found 'round the world…" (D'Ascenzo's)
Kristin and Glenn D'Ascenzo co-own their gelato shop, D'Ascenzo's, in West Chester, PA. This spring, they will be hitting the milestone of 10 years of business. Many shop owners and entrepreneurs are so curious about what their secret to business is and wonder what makes a successful business such as D'Ascenzo's. Here is an exclusive interview with Kristin D'Ascenzo with 10 pieces of business advice that every aspiring business person/entrepreneur should take note of.
1. What was your biggest "A-ha" moment?
Kristin: "Every day presents itself with potential A-Ha moments and we try to be mindful of any opportunity that presents itself. Clearly, our first moment of deciding to go into the gelato business was our most important decision. However, if pressed to choose just one-- it would be when we made the decision to open a brick and mortar gelato shop in the Borough of West Chester. Seven years prior to that, in 2004, we had created "D'Ascenzo's Gelato" from just an idea and our inspirational travels through Italy. We took that idea and purchased the equipment to make and sell gelato, and did so every summer and weekend for those seven years. We traveled to 6 different states serving our gelato at every food and wine festival we could find and have begun two farmers market locations. It was quite a learning curve, and after years of hearing the positive feedback and loving what we did, we chose to open our own little gelato shop. Our A-ha was when we determined that after years of working in our little business, we wanted to commit to taking it to the next level. We realized that if we wanted to continue to grow in our endeavor and our customers loved and wanted our gelato more often, we needed to step it up and offer it more full-time. We chose to have a seasonal business. We did so on April 11th, 2011, we opened "D'Ascenzo's Gelato" at 132 East Gay Street in the great Borough of West Chester, Pennsylvania."
2. What is non-negotiable for you in your business?
Kristin: "The quality of our product. Integrity. Excellent Customer Service."
3. What is your best advice to someone wanting to go into entrepreneurship?
Kristin: "Persist. Believe in yourself and your capabilities, even when it seems impossible. Drown out the noisemakers saying you can't do that...you CAN do that or anything that you choose to do. Work hard, it will not be easy, but it will be worth it."
4. What drove you to want to start your own business?
Kristin: "Glenn D'Ascenzo is the creative entrepreneur and the person that came up with the idea. He has the background and enjoys the artistry of gelato making. He had been searching to start his own business. It did not come without a few years of trial and error in other industries. When we traveled to Italy and had gelato first in 1999, a lightbulb went on when we first tasted gelato. Since then, we have been partners in the business ever since. We support each other and enjoy working together (as we had originally met working together as flight attendants for US Airways). After a year of planning and research, we order the equipment, rented a commercial kitchen, and got to work. After the first seven years, we relocated our kitchen to Westchester opening D'Ascenzo's in 2011 and 17 years later, here we are still going strong." 
5. What drives you to keep going when it's really tough?
Kristin: "There is something internal that is always there when you first start your own business. Pride. It is a labor of love and it is yours and you put every resource you possibly can into making it work. Blood, sweat, and tears. We are all in, whatever it may take. I'm sure adrenaline kicks in somewhere there during the physically trying days as well. I would say the eternal love and commitment to seeing your business work and be successful is a driving motivator. Customers and our relationships with them and the happiness that we feel when serving our product is a given."
6. What advice would you give to your past self when you were starting the business? And why?
Kristin: "Cut yourself some slack sometimes. Try not to be so hard on yourself and take a break. It is impossible to "go go go" 24/7. Work hard, but don't burn yourself out."
7. How do you handle adversity and doubt?
Kristin: "As many people do, we both have the opinion that we should always do the best we can in business and in our personal lives. If adversity appears, we try to acknowledge and learn from the experience. If doubt appears, we try to listen to why it is there and learn from that as well. Processing our thoughts and experiences with each other is something that we do every day and it helps to have a partner, both in life and in business, that has your back."
8. Are you happy with your business? And what would you change?
Kristin: "Yes. Very. We would have started years before we did."
9. How do you manage to balance your personal life with your life in business?
Kristin: "Our business is very personal to us, so it is difficult for us to separate the two as they are often one and the same. We attempt to have date nights during the season and get together with friends if we can swing it. Otherwise, our downtime in the off-season allows us the ability to rest, recharge, and maybe travel a bit."
10. Any final thoughts or comments?
Kristin: "Sure, thank you for allowing this opportunity! Also, we always extend our heartfelt gratitude to our customers, West Chester University, and the other businesses and the Borough of West Chester for continuing to support us in our small business."