Friday February 12th, Netflix released the grand finale of the "To All The Boys" series based on Jenny Han's hit YA trilogy. While many young fans have been following Lara Jean and Peter's high school romance in the films over the past few years, I have been stan-ing this couple since I read the books as a teen. I'm not saying I was onto this before it was cool, but I'm also not not saying I share signed copies by the author. 
Growing up with two sisters, we exclusively read YA summer reads and passed them between the three of us until we were all fully obsessed with a new set of fictional sisters, best friends, or couple who live out a high school fantasy in some small made up beach town. After reading Han's "The Summer I Turned Pretty" series (recently announced to be an Amazon show), I was hooked on Jenny's whimsical and innocent storylines. 
Given that the Song Covey sisters are a trio, naturally me and my sisters decided to fully adopt their personalities and names, as one would. I exclusively go by Kitty and have my sisters' names saved as Gogo and Lara Jean on my phone. While we may have taken it a bit far when we called our younger brother Jamie Fox Pickle (the dog they get in the books), I still think the parallels between the series and my sisters are what make the books and movies even more addicting.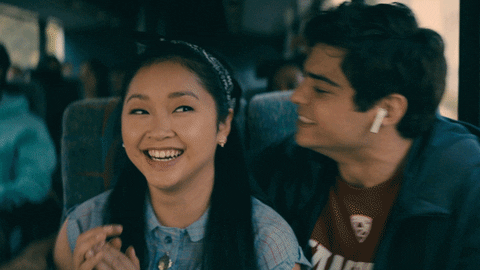 When Her Campus extended the invite to attend a virtual meet and greet with the cast in celebration of the premiere of "To All the Boys: Always and Forever", I blinked and blinked until I was sure the email in my inbox wasn't extremely specific spam. My speed typing has definitely helped me as a university student but this was truly my fingers' shining moment as I signed up so fast and shared the opportunity with the other Her Campus Waterloo gals. As an aspiring young writer and huge fan, I knew I had to prepare. Which meant that I would be watching the movie the day it came out in case, you know, they wanted to talk specifics – I wanted to be ready to dive in. 
Like any reader whose favourite books get adapted for screen, I always feel like there are storylines or scenes that really shouldn't have gotten cut because, to me, they are indispensable. But, I felt like this last film really wrapped up Peter and LJ's meet-cute relationship in a perfect bow, like on the iconic blue hat box. The soundtrack was great, of course Lara Jean's wardrobe was top-notch, and Peter was as cute as ever – just look at Lana's post.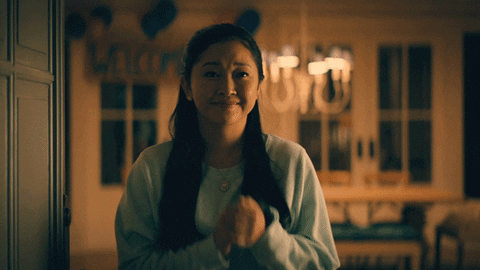 When Friday night rolled around, I was giddy with excitement as I waited to be let into the "To All the Fans: Virtual Meet + Greet" where I was overwhelmed with almost 300 super-fans. We all submitted questions to the chat in hopes that we would be amongst one of the 3 lucky attendees to chat with the stars. I was starstruck when the "special guests" were Lana Condor and Noah Centineo – the leads. I wish I could say that as a 21-year-old I was calm, cool, and collected but I was more along the lines of chaotic, clammy, and confused about being face to face with the actors in one of my favourite series. We got to hear from the duo about finishing the films, their favourite scenes, and what they thought the characters would be doing in 10 years. And before I knew it the call ended and I was left wondering – will my life ever get better than this? 
Han recently shared in a piece published on CBS news about the importance of writing a coming-of-age story that celebrates Asian culture and features an Asian-American protagonist without focusing exclusively on struggle and identity. While those narratives are important, they are also typically the only times we see Asian women as leads in print and video. Writing an entire series around a young, impressionable Korean-American girl's relatable life, Han is increasing the exposure we get to diverse leads and the stories that they tell. My adoration for this author and the Netflix films really amplified my delirium over getting to meet the main characters even just briefly and online.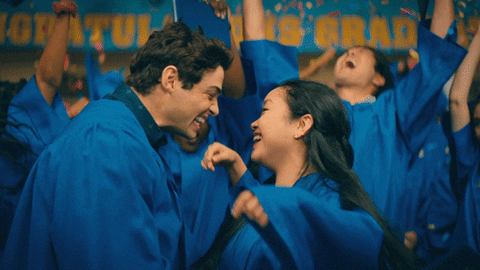 To sum it up – Friday was a pretty epic day. A new Netflix movie was released, I got to go on Zoom with the stars, and write about it for Her Campus. I even made a Tik Tok despite promising myself I would never publicly post on the app. So Warriors – if you're not sure what to spend this reading week doing, definitely head to Netflix for a much needed dose of YA romance. And if you feel like going even further with the story, read the books! Why limit yourself to one media medium when this cutesy romance offers both?