7 Unique Valentine's Day Dates
Whether this is your first date or you have been together for years, one thing is for certain: everyone wants to have a unique Valentine's Day date with their partner. Although some people, both in a relationship and single, think V-Day is a holiday that doesn't deserve to be celebrated, I personally think it's nice to have a designated day to plan a romantic evening. Maybe that's my inner hopeless romantic speaking, but I think it's a charming holiday. Expensive dinners have always been the go-to Valentine's Day date, but in reality, you and your partner can have just as much fun, if not more fun, engaging in an activity that you're both excited about. Here are a few phenomenal date ideas to elevate your Valentine's Day.
1 – Tea Tasting
A twist on the classic "wine tasting" date, tea tasting is appropriate for all ages and just as fun! My boyfriend and I went on a tea tasting Valentine's Day date last year through the Mystery Date company located in Seattle. The tea tasting took place at B. Fuller's Mortar & Pestle in Fremont and was one of the coolest dates I've ever been on! Due to the ongoing pandemic, it's definitely more difficult to do this type of activity, but Mystery now offers at-home date packages delivered right to your door!
2 – Geocaching
Hiking with surprises? Even better! Geocaching is the ultimate scavenger hunt and can provide hours of entertainment. When I was younger, I used to hunt for geocaches with my neighbour all the time. We like to believe we enjoyed it "before it was cool." We used to find really nifty geocaches, such as metal fence tops that unscrew and have a hidden capsule inside (it was easier to find, because none of the other fence tops came unscrewed). Geocache locations can be easily found on geocaching.com. Find a treasure, leave a treasure!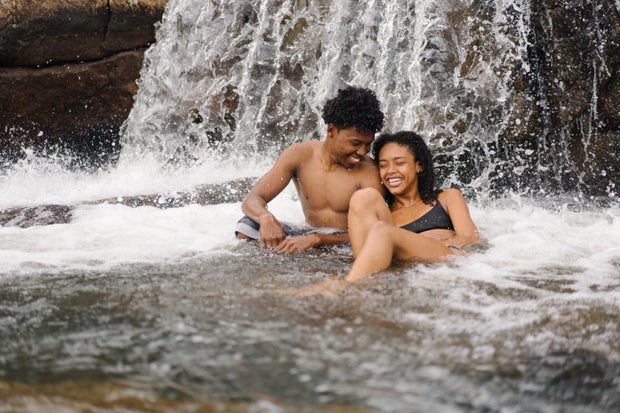 Photo by Briona Baker from Unsplash
3 – E-Bikes
Being tourists for a day in your city is taken to a whole new level while riding bikes or scooters. Reminiscing about childhood biking adventures (when there was nothing better to do) will bring you both back to a simpler time.  Most medium/large sized cities have some version of e-bikes or e-scooters, whether it's Lime or Jump/Uber, and are fairly affordable. If you live in a smaller, rural town and happen to own your own bikes, you can most definitely use those!
4 – Bob Ross Painting Night
Fun, romantic, and stay-at-home friendly, painting is a great date option! All you'll need are water colour paints, canvas, brushes, a Bob Ross painting tutorial, and easels (optional). Add drinks and music to create a more romantic ambiance! This idea is sure to bring lots of laughter and maybe even a successful painting or two.
5 – Test Drive/Rent Expensive Cars
Although neither of you may be able to afford a luxury car yet, it's fun to pretend you can for a day! Dealerships typically let anyone take cars for a test drive, as long as they have a valid driver's license. Some dealerships also require proof of insurance and a minimum age of eighteen (although most do not). Depending on the dealership, you may also get to choose whether you want the salesperson in the car with you or not.
6 – Trampoline Park
Whether you're both aspiring gymnasts or just hoping to feel like a child again, an indoor trampoline park is an excellent, and unusual, Valentine's Day date. About a hour's drive away from Seattle, there is Trampoline Nation and Boomshaka (I highly recommend both).
7 – Murder Mystery / Escape Room
Many murder mystery kits and escape room directions can be easily found online, and provide hours of fun in the comfort of your home. Although murder mystery kits average around $20, escape room printables are only around $7, or are completely free. This type of date gives you the opportunity to see if you and your partner have compatible/complementary problem-solving skills, and is overall a fun, intellectually stimulating date idea.
Hopefully at least one of the aforementioned date ideas have inspired you and your partner to create a memorable Valentine's Day date. Most of these ideas are very affordable, if not free, because it's not about how much money you spend on each other, but rather creating memories together and spending quality time with each other. Stay safe and Happy (almost) Valentine's Day!