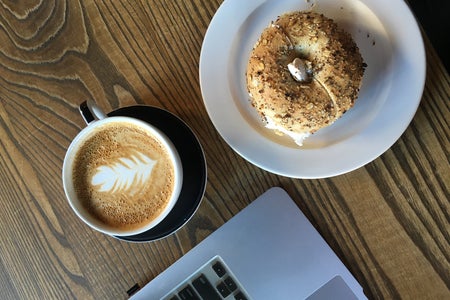 Coming to college, I honestly wouldn't have expected bagels to become my morning lifesaver, but as both a breakfast and sleep enthusiast, deciding between a meal and a few extra minutes in dreamland has been tough, to say the least. Luckily, bagels have not only saved me from figuring out what to eat each morning, but also have given me a versatile meal before my first class, providing me the best of both worlds, and starting off college in the sweetest (or most savory!) way. Here's my list of bagel add-ons for a week to keep the bagel game going strong:
Monday
Known as the wake-up calls for the week, Mondays call for plenty of necessary energy and enthusiasm. Start the day ready to go with some peanut butter or sunflower butter on a bagel (I always love a good everything bagel with this combo).
Tuesday
Day 2! For an extra pop, add your yogurt to a bagel (I recommend the cranberry or raisin bagel for this one) and some complimentary fruit (blueberries, anyone?).
Wednesday
Halfway through! Nothing keeps the day fresher than a bagel version of the classic avocado toast. Add some chili flakes to spice it up.
Thursday
So close, yet so far from the weekend. Keep the good energy going with a pizza bagel! Grab a plain bagel, add some tomato sauce, and melt on some cheese- easy and cheesy.
Friday
We made it! Try a classic bagel with cream cheese to end the school week. Add some salmon if you want some protein, or possibly opt for a blueberry bagel for a sweeter touch.
Saturday
The day off! Upgrade your bagel to new heights with some cheese and a fried egg - fulfilling and easy, just like an ideal Saturday. Maybe even consider an asiago bagel to change it up more.
Sunday
One more day before the school week starts again! A perfect way to celebrate would be with a plain bagel, Nutella, and strawberries (can't forget the power of fruit).
Oh, what a week it has been!