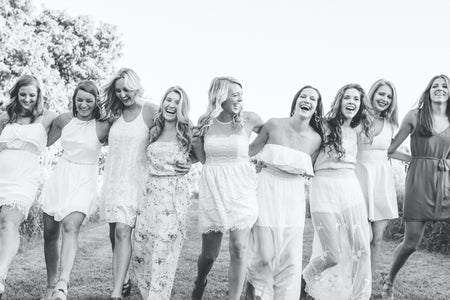 Cassie Howard / Her Campus
I feel comfortable saying that the social anxiety of college freshmen unanimously skyrocketed this year. As a first-year student myself, making quality friends and exploring all that WashU has to offer came with huge obstacles; living in constant worry of being infected, fear of infecting, and even being in contact with someone who was infected—contact-tracing dorms are NOT it—proved challenging for those minimal, yet treasured, daily interactions. Then spring semester began and thus, rushing for Greek life resumed.
Not knowing any upperclassmen on campus was a bummer so the idea of a multi-grade community enthralled me. But how would this occur? Would it be more anxiety-inducing over Zoom than the traditional week-long rush process?
After my first zoom with sorority actives, everything proved comfortable. Even though I often felt unprepared in comparison to other potential new members with beautifully made beds in the background or with their own "TikTok" ring lights, everyone was so welcoming. Meeting new people (safely!) was exciting at the least. The Zoom set-up felt odd but the elongated process and variability of Zoom topics may be an even more equitable, inclusive, and easy way to join Greek life.
Very representative of this year and hopefully the last to come, "rushing" was definitely a unique experience in 2021.