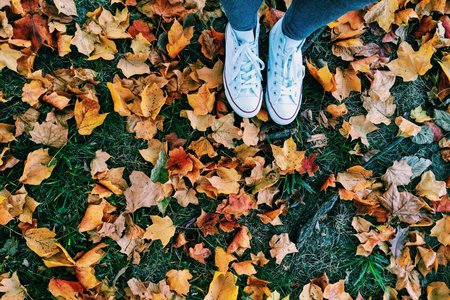 Meredith Kress / Her Campus
Pumpkin Spice, Spice Baby
As of Tuesday, September 22nd it is officially fall. Unofficially, I've had Halloweentown and pumpkin spice on the brain since July. While being on campus is amazing, it can tend to be hard to get into the fall festivities while also balancing school and a social life, as well as staying safe and healthy! Here are my tips to get the most out of Fall 2020: 
Jazz Up Your Space 
For me, I absolutely need a cute space to spend my time in – especially now when so many of my classes are remote. Here are some of my picks to turn your dorm into an autumn escape 
These are tried and true, they instantly give any space that they're in a warm glow, perfect for a fall movie night with the girls or a late-night study session 
To instantly transform any room into a fall escape, a cozy scent is a must. For those of you in off campus apartments, you can't go wrong with any of the fall scents at Target or Bath & Body Works. If you, like me, are in a dorm – don't worry! We can still get our fix using fun scented wall plug ins or diffusers, they're just as good and are adorable room décor. 
I don't know if this is just me, but every time I go grocery shopping during this season, I'm always tempted to walk out with a shopping cart of tiny pumpkins. At one dollar a piece, they're super affordable and can instantly give your room an autumnal vibe. 
Kind of a given, but it is time to break out your warm toned knick knacks! I'm talking orange, yellow, red, terracotta, cream – all these colors will create the perfect fall atmosphere. 
Fall Eats 
One of the best parts of fall is the food, I've listed some of my faves 
Pillsbury Pre-Made Sugar Cookie Dough (pumpkin or ghost designed, obviously) 

Trader Joe's Apple Cider Donuts 

Trader Joe's Butternut Squash Soup 

Starbuck's Salted Caramel Mocha 
Dunkin Donut's Pumpkin Donut 
Sweater Weather 
Hot take: fall clothing is the best clothing. It's the perfect mix of cozy and fashion forward, in the best temperature setting. Below are some of my go-to spots to hit whenever I want to replenish my collection of cool weather apparel! 
Zara always has the coolest clothes, and this season is no exception! If you want the "model off duty" vibe for a college student's budget – this is the place for you. 
To me, fall is all about layering, and I happen to think that Free People has the best layering pieces. Their seamless collection is amazing under sweaters and light jackets! 
One word: Jackets! UO has the coolest array of jackets that range from low temperature parkas to vintage windbreakers to fabulous faux fur coats. Jackets are arguably the most practical thing to have in your fall wardrobe, and Urban has the best selection if you want to stand out. 
Netflix & Chill 
As I've mentioned numerous times, the words 'fall' and 'cozy' go hand in hand. Movie nights have always been a hallmark of the season, and this year especially it's important to stay inside and safe – so you might as well do it with something good to watch! Below are the movies and T.V. shows that I have on repeat. 

Gilmore Girls (Netflix) 

Euphoria (HBO) 

Scream (Netflix) 

Halloweentown (Disney+) 
American Horror Story (Netflix) 

Goose Bumps (Netflix) 

Coraline (Netflix)