How St. Louis Has Surprised a Californian
Having grown up in San Francisco, the general response when I said I was going to WashU was confusion (of course). Upon telling people that this WashU was in St. Louis, they became even more perplexed. Why would I want to go to school all the way out there?! Beyond the school itself, I honestly knew nothing about St. Louis. But after almost a semester and a half of living here and being pleasantly (and not) surprised by the following, I am happy to call St. Louis my second home.
1. Overall surprising amount of things to do
Coming from the Bay Area, people think of the midwest as the following (quoted from real Californians): "the middle of nowhere," "Misery" (pronounced like "Missouri"), "not east or west coast so it's random," "a black hole," "like everything is isolated," "no important cities," "has obscure fast food chains," and "really f***ing cold." You'd think I was being exiled to some kind of tundra where the only thing to eat was Culvers and White Castle (still don't know what these are). Fortunately, I've found that there's more than enough to do in the Lou. Apple picking, Six Flags, seeing movies in comfy movie theaters (Clayton amc), Mardi Gras, museums, Botanical Gardens, and more have all been a ball.
A beautiful city
Not a black hole
2. Foooood
San Francisco is in fact ranked number 2 of the 10 best food cities in America. After being more than a little reluctant to leave my favorite food spots at home, I came to STL and was blown away by the pheNOMenal choices here. Favorites include Seoul Taco, City Coffee House and Crepery, Salt and Smoke, Ibby's, and Holmes Lounge.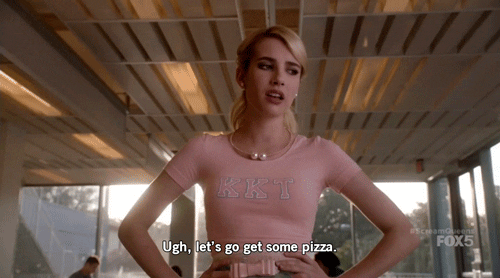 giphy.com
3. The weather
Besides the fact that it actually rains and snows, the weather here is pretty strange if you ask me.
19 → 61 real quick
4. Music/Concerts
The concerts here are pretty dope. Besides the Pageant, which gets awesome artists, other smaller venues have super affordable shows featuring fun DJs. Favorites include Chainsmokers, Carnage, and upcoming Vanic. Bless up!
feature photo courtesy of funmissouri.com