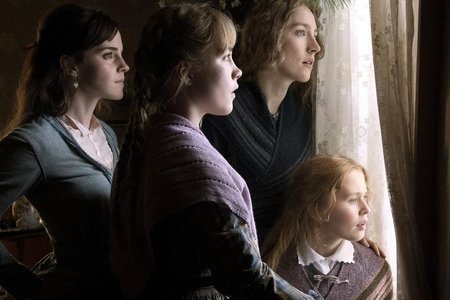 Wilson Webb / Sony Pictures
Take a Chance on Little Women
If you're looking for something that'll pass the time during quarantine, look no further. If you haven't seen it already, I highly recommend watching the newest film adaptation of Lousia May Alcott's Little Women, which was released in December 2019.
Here's the thing, I understand the hesitation some may have to put on this movie. Personally, I classify movies into two categories: movies that jump out to me while I'm browsing On Demand or a streaming platform, and movies that I know I eventually should watch. Movies that are part of this first category would include the likes of Love, Actually or an Adam Sandler comedy. These films seem like an easy watch and are funny at the first glance, as well as usually having been released within in the last 10 years or so. Movies belonging to category two are often great, even if they don't catch my eye initially. I'd classify Little Women (1868) as part of my second category of movies. It's based on a classic novel written a very long time ago, and wouldn't be my first pick to watch. My mom was insistent on our family watching this together, as I'm one of three sisters, just like the three sisters in the film. Furthermore, my dad has been a Louisa May Alcott fan for years. So, one week into quarantine, my whole family took to the basement couch to watch it.
I didn't realize how much I'd absolutely love the movie. First of all, the film feels much more modern than I expected. Not only is it historically accurate and mostly sticks to the plotline of the mid-1800s novel, but the actors and actresses give it a freshness that I wasn't anticipating. If you're a fan of the award-winning movie, Lady Bird, you'll notice similarities between the two casts, including both Saoirse Ronan and Timothée Chalamet, as well as both being directed by Greta Gerwig. Ronan plays Jo March, the fiesty, independent sister and protagonist in the movie. Also, the beloved Emma Watson plays Meg March brilliantly and newcomer Florence Pugh gives Amy March much more relatability than in the original novel. However, my sisters and I especially loved Timothée Chalamet as Laurie. We aren't the only ones who love him, and I can assure you that there are plenty of Instagram fan pages and Tik Tok accounts dedicated to him that'll provide you with hours of post-movie entertainment. 
The film is the perfect combination of comedy, romance and coming-of-age themes, making it relatable and honestly just enjoyable to watch. When watching the March sisters and Laurie create plays in their attic, I thought of the plays my sisters and I used to put on for the neighbors in our garage. I saw the part of myself that loves to write in Jo and the girly parts of myself in Meg. The movie was painfully sad to watch at times (I'm not going to give away any spoilers if you don't know the story), but also full of banter, dancing and more. I think it's one of those movies that I'll watch again and again, continuing to think about. It was special to me to be able to watch it with my two sisters, and it reminded me how lucky I am to be with them with all that's happening in the world right now. I hope I've convinced you to take a chance and watch a film that's well worth two hours and fifteen minutes of your time!