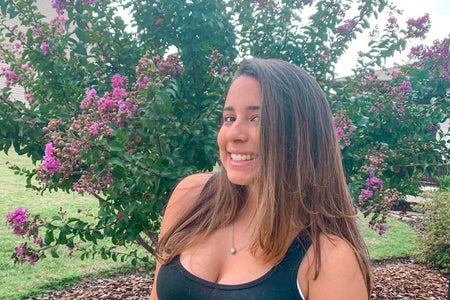 Original photo by Laney Nissler
Sophomore Spotlight: Estefania Narvaez
Meet Estefania Narvaez, a sophomore from Charlotte, North Carolina. She is on the pre-med track, planning to major in Health and Exercise Science with a double minor in Chemistry and Neuroscience. She is the secretary of the Organization of Latin American Students (OLAS), the sisterhood chair of Kappa Delta, and the treasurer for the Minority Association for Pre-Health Students (MAPS). Estefania dives into her experiences with OLAS and at WFU. 
Her Campus: What led you to come to Wake Forest?
Estefania Narvaez: I was really looking for an environment that would feel like home. I wasn't trying to go out of state and when I was offered a full-ride here, it just made perfect sense to attend Wake Forest. I loved the vibe it gave me when I visited, so that was a major influence when making my decision.
HC: Can you give me a short, little background on what OLAS is? 
EN: OLAS is the Organization of Latin American Students here at Wake. We do a lot of non-profit with the Winston Salem area, as well as trying to find a place for Hispanic students to come and join us. We do a lot of festivities depending on the holidays. Right now, we are doing LatinX Heritage Month and that's really exciting for us. We do events with food and painting and get-togethers as a club in general.
HC: How would you describe your experience with a leadership position in the club? 
EN: My work as a secretary has been so exciting because I have met so many people through it. The emails are really corny and funny, and I love making them. They do take a lot of time, but it is definitely worth it. I work very closely with the President and hope to run for either President or Vice President in the next election.
HC: What has been your favorite experience in the organization?
EN: We used to do a formal for OLAS where we would meet at Benson and would have lots of Latin food and music, and people would come and have a good time. We obviously can't right now because of Covid-19. It's a really good, chill way to meet people. I feel that I have met most of my best friends through the formal, so it is a good memory that I will always keep with me from my freshman year.
HC: How has your involvement in OLAS impacted your experience here at WFU?
EN: When I joined OLAS, I was basically alone. I did not have the opportunity to meet as many people as I did through OLAS. Along with Greek Life, it opened doors for me to meet people in different areas and find myself having more interest in being involved. It keeps you active and gives you a purpose here on campus. It also has helped me cope with the fact that I am away from home.
HC: Has the pandemic impacted involvement in the organization?
EN: It's definitely been harder to get people involved in the club, as well as the other clubs I'm involved in due to the restrictions and guidelines for Covid-19. However, it hasn't stopped anything, and we are still doing a really good job of keeping people active and involved, as a recent event we did had a large turnout. It's definitely been hard because meeting through Zoom can get boring and not a lot of people want to join compared to in-person events and meetings. It has closed some opportunities but definitely opened other opportunities for us to get people involved.
HC: What do you hope to accomplish by your senior year both in OLAS and in general?
EN: I've really hoped to bring more people from different backgrounds in our organization. It's a really good point to focus on and the Class of 2024 has been the most diverse we have had so far and that is a huge accomplishment. I also hope to explore opportunities in my field, participate in research, attend summer programs, and be prepared to apply to medical school and take my MCAT.