Name: Scott McKean
Year: Sophomore
Major: Undeclared
Hometown: Philadelphia, Pa.
Relationship Status: Single, but something is always cooking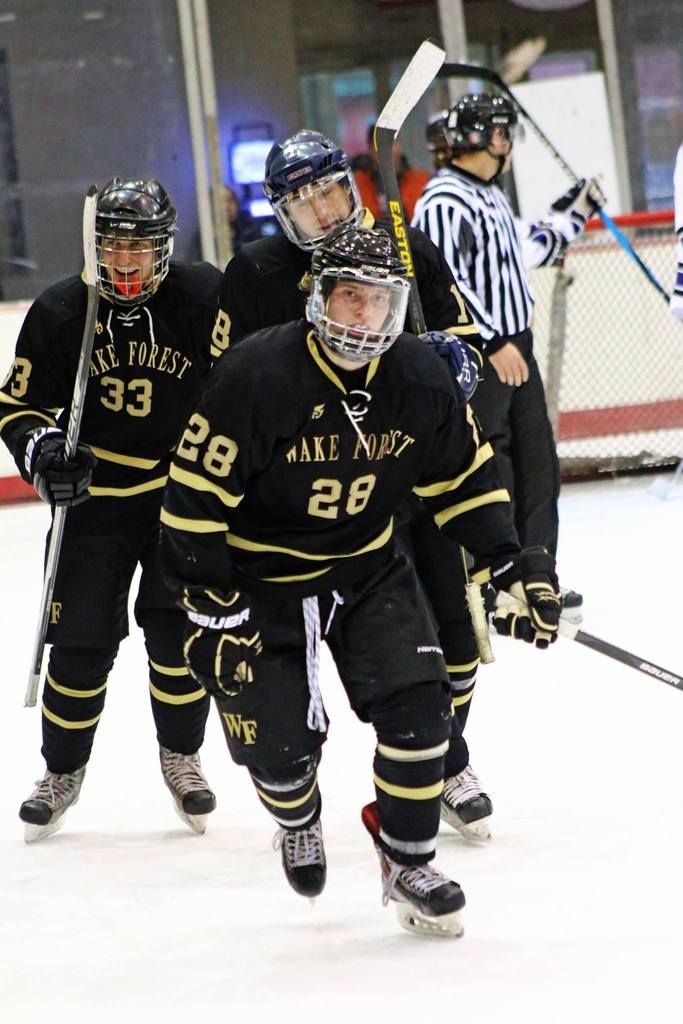 He plays left wing for Wake's hockey team, and he's the Social Chair for Pike! When he isn't busy tearing up the rink, you can find this Cutie on the golf course. If your perfect date includes a hike on Pilot Mountain, then you'll LOVE meeting this week's Campus Cutie, Scott McKean!
Her Campus (HC): So hockey season just started! What's it like being a part of the team?
Scott McKean (SM): It's been awesome. It's my second year on the team, and it has been a great opportunity to make friends, including older friends, as a freshman last year. In Pike, I met two of my junior year friends through hockey. The hockey team has some of my best friends. It's great to have an outlet – it's nice to take a break by playing hockey.
HC: When do you guys practice, and how many games do you play?
SM: Monday and Thursday nights we have practice. We play around 22 games this year, depending on how we do during tournaments. We've had seven games so far this semester.
HC: What is your record?
SM: 3:4.
HC: What position do you play?
SM: Left wing, forward.
HC: How long have you been playing?
SM: I've been playing since I was three years old. I got my first pair of skates on my third birthday. Hockey was my life.
HC: Tell me more about your experience being a brother at Pi Kappa Alpha!
SM: It's been unreal, especially this fall as a sophomore. It's been a ton of fun. The halls are a great time. We've had some really fun parties and philanthropy events.
HC: You're also Pike's social chair! Can you tell me more about that?
SM: It's been a lot of work, but it's been really rewarding to see some of our planning work out. We've had some great parties that have been a lot of fun.
HC: What are some of your hobbies, besides hockey?
SM: I play golf a lot, and I love intramural sports. I really like flag football, handball, and water polo. Pike actually just won the water polo championship at Wake.
HC: Wow, congrats! What did you do over Thanksgiving break?
SM: I went to some Flyers games and saw some of my friends. I had my grandmother and aunt visit from Florida too.
HC: So I can't help but notice the mustache. Are you participating in No-Shave November?
SM: Yeah! Pike created a team through the Movember Foundation and has raised $1,600 so far for the charity!
HC: When talking to a girl, what is the first thing you notice?
SM: Eyes.
HC: What personality traits do you look for in a girl?
SM: I look for girls who are genuinely nice, happy, and fun!
HC: Describe the perfect date at Wake Forest.
SM: Go for a walk at Pilot Mountain on a Saturday; then maybe get dinner in Old Salem.
HC: Lastly, if you could choose an actor to play you in a movie, who would it be?
SM: Simon Baker, because he seems like the man in every way possible. 
*Article by Katherine Naylor