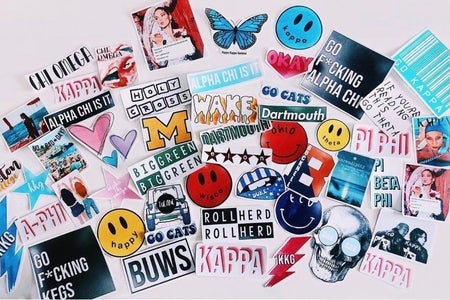 Original photo by Kate McLeod
MLK&Sugar Designs: Lily Hurley and McKenna Frank
Lily Hurley and McKenna Frank are both juniors at Wake Forest University majoring in Business and Enterprise Management and Communications. During quarantine they started a local sticker business, mostly catering to sorority women and college students. Their stickers have a vibrant, pop-culture edge that has brought them much success in their new business!
HerCampus: What inspired you guys to start this business?
McKenna Frank: We both have a very creative side and like to showcase our aesthetics, so we decided this was a cool and different way to do it. Also, we were bored in quarantine and lived near each other, so it was easy to have a business together. 
Lily Hurley: As Kenna said, we wanted to find a productive and fun way to spend our time during quarantine, so we thought that this would be a good idea. And as a business major, I believe that this small business has allowed me to take what I have learned in my classes and apply it. I have learned how to market a product, maximize profit, produce a quality product for as cheap as possible, and communicate with customers.
HC: Have you run into any financial, budgetary, or logistical issues since beginning your company?
MF: We learned pretty early that we had to invest a lot of money, in the beginning, to get the company off the ground. Since then, we have tried to stay on top of budgeting and making sure that we use our money smart.
LH: At the start of this project, we were worried about struggling to make a profit. We ended up being very successful relative to what we had expected. We do not have a very big platform, but we constantly work to grow it. We have not yet run into financial problems, but if we ever do, I believe that we will have to rethink our marketing strategy.
HC: What are your favorite stickers to make? Is it ever challenging to create authentic sticker ideas?
MF: I think my favorite stickers to make are the ones that involve photoshopping different pictures and words together. I really started to get into photoshop over quarantine and like to fool around with different ideas and learn new tricks on it. I would say it is hard to come up with new ideas, but I think it's a fun challenge to have.
LH: My favorite way to make stickers is through the app Procreate. This app is essentially a digital sketchbook, where I am able to use my creativity and create my own designs. I would say my favorite stickers to make are custom stickers or our college smiley face sticker. We have a monogram sticker that is completely customizable and is potentially a best seller. I love this sticker because people can completely make it their own with different font and color combinations. It has definitely become more challenging to come up with creative sticker ideas, but feedback from customers definitely helps.
HC: Do you have any plans to expand your business into other types of media or apparel?
MF: We have thought about maybe doing shirts and sweatshirts eventually, but we are going to have to see how the sticker business continues to grow. We really like what we are doing right now and with school, it's hard to think about growing at this very moment - maybe this summer?
LH: As McKenna mentioned, we talked about potentially making shirts and sweatshirts with our designs, but with school right now I think that we are going to stick to just stickers. I would definitely consider expanding our business next summer when we have enough time to thoughtfully plan and design new products.
HC: Do you plan to put your sticker designs on any bigger name companies like RedBubble?
MF: We thought about Redbubble but like having our own company and keeping our designs to ourselves.
LH: I personally like knowing who our customers are and creating connections with them. I do not believe that RedBubble would offer the same type of connections to people. With a small business, I believe it is important to dedicate time to customers in order to make a name for ourselves.
HC: How is it balancing your student life with the demands of your company?
MF: So far, we have created a pretty good system. We usually rotate who does what jobs within the company (such as social media and actually producing the stickers that get mailed out). We hope to continue to get more and more orders so if we do have trouble balancing, I feel like that's a good problem to have because that means we have lots of orders!
LH: We definitely spend less time thinking about our business because of how demanding school is. It took us a couple weeks to get the hang of it, but I believe that we have created a good system for the rest of the school year.