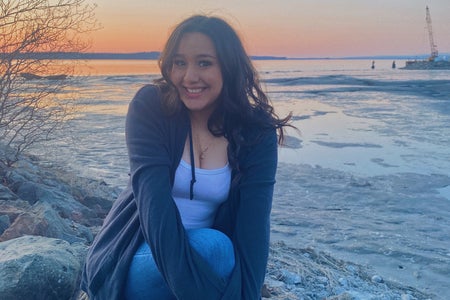 Photo by Katie Xiomara Alvarenga
Far from Home: Katie Xiomara Alvarenga
Meet Katie Xiomara Alvarenga, a freshman from Anchorage, Alaska. She is planning to major in Psychology with a minor in Economics. She is involved in the Organization of Latin American Students (OLAS) on campus. Katie talks to us today about her home, culture, and how she has found a place for herself at WFU. 
Her Campus: Can you tell me about where you are from?
Katie Xiomara Alvarenga: I'm from Anchorage, Alaska, and lived in a community voted most diverse in the USA, Mountain View. It is a very vibrant cultural area and I actually attended the most diverse school system in the country, which is very surprising to people here in the lower 48. You can walk down the school hallways and hear 50 different languages. I think that's extremely unique to have, especially in a place like Alaska that people honestly don't know that much about unless they live there. There are so many different things available to you in Alaska. It's a very special place where nature is at its finest beauty. 
HC: How would you further describe the culture you grew up surrounded by? 
KXA: Regarding the culture I grew up in, the population is very diverse not only culturally but economically. I did grow up in a more economically disadvantaged area. That did not stop my drive or the drive of thousands of other students who came through my high school in East Anchorage. We did not have every resource available to us like other schools. In my area of Anchorage, my fellow students had bigger families, more responsibilities, and had to get jobs. That's what I really love about the Anchorage community, especially that of Mountain View and East Anchorage, which is that we took what we grew up with and made it better. We try to make it a happier, more familiar community. It's all about making everyone feel special and that they can make a difference in their own life. 
HC: What are some common stereotypes you'd like to dispel about where you come from? 
KXA: The first myth I would like to clear is that we do not live in igloos. I understand some people may be joking, but some people believe that. We are a modern civilization that lives in homes and cities. I live in the biggest Alaskan city, Anchorage. We have buildings, food, heaters and we don't ride sled dogs to school. It also is not winter all the time. We do have beautiful seasons. It's snowy and cold in the winter and hot in the summer. The seasons are how we go hiking and fishing in the summers, which is how you get your Alaskan salmon at dinner. 
HC: How would you describe the transition from your home to WFU? 
KXA: I think the transition from my home to Wake Forest has been an amazing experience. I'm surrounded by all these different people that come from around the world who really want to learn and to make a difference in the world. I guess it's very different as I'm not surrounded by people I grew up with all my life. I am a first-generation college student, so it is very nice for me and my family, as well as a big thing to happen for a lot of kids who come out of my community trying to pursue post-secondary education. I love being in a place where I feel like I am challenging myself every day. I think my time here at Wake Forest will, in the end, make me a better person.
HC: How would you say the pandemic has impacted this transition?
KXA: COVID-19 has just slowed down the realness of college. I'm extremely happy that Wake is taking the necessary precautions in order to keep us on campus. I feel like I'm still getting the college experience. I cannot see myself sitting at home in Alaska at 5 a.m. for a 9:30 a.m. EST class. I'm extremely happy that students here are responsible enough to care about one another at this time in order to keep us all on campus. Being here and being able to experience the freshman fall for the first time, being in dorms, and really meeting new people may be minimized but is still an experience within itself.