Last-Minute Halloween Costumes
Is it just me or is October flying by way too fast? It feels like just yesterday that I saw TJ Maxx begin rolling out the pumpkin candles and Halloween decor and I got an excited flutter in my heart. It seems like I blinked my eyes and all of a sudden, it was the end of October. 
I thought about ideas for Halloween costumes throughout the month, but never really bought anything to execute it. With my brain being wrapped up in school and relationships, it looks like I've run out of time to think of the perfect, curated costume. In addition, I don't even care about a costume at this point. I'm sure there are those of you who are in the exact same boat as me. Good thing there are some easy ways to achieve some last-minute costumes this Halloween! 
My go-to costume when I'm running last minute for a spooky event is a witch! (Seriously, I was a witch this past weekend!) All I had to do was run to the Dollar Tree and get a little witch hat! The next step was to liberally apply black eyeshadow and eyeliner and layer on the mascara, so I had some spidery lashes. I put on a black dress I already had in my wardrobe and with black boots and tights. Then, I threw on some of my accessories that I felt screamed 'WITCH!' This ended up being some gold star earrings and necklaces. I spent a total of one buck on my outfit, and I think it got the point across! 
This method of grabbing some cute, cheap headgear, applying complementary makeup and finding items in your wardrobe to go with it can be applied to so many costumes. A halo, with a white outfit, and some glowing makeup? TA-DA! You're a majestic angel. Got some cat ears and eyeliner to draw on some whiskers and a nose? TA-DA! You're a cat. You get the gist.
If you're really strapped for time or cash, and don't have time to run out to the store, you could even make a headpiece for yourself. This can be done by using some DIY skills! Grab a headband you have and attach a horn, ears, or whatever you please onto it. This can be done by using some simple materials: cardboard, glue, and markers or paint. 
Another easy, yet effective way to execute a last-minute Halloween costume this year is to just go all out with the makeup. This doesn't even require you to be some expert makeup artist either. You can simply paint on some blood on yourself, an extra eyeball to your forehead, or draw on some decaying skin to make yourself look like a zombie. This option is nice because you aren't limited in how you dress or what style you want to have on the occasion. You can be a cute zombie, a sexy, three-eyed monster or a cool, rocker ghoul.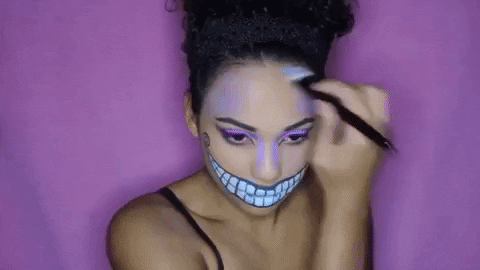 It can be easy to feel the pressure of having the perfect Halloween costume, especially if you have no time to plan it, but fear not! You can be the belle of the Halloween ball even if you don't have all the time or money in the world to execute it. The most important part is to have fun! Don't overthink it, ladies.