My phone buzzed, I ignored it. It could wait. I had a test coming up and I needed to stay focused on the notes in front of me. 
It buzzed a second time and then a third. On the fourth buzz, I sighed, and flipped it over.  What could possibly be so important?
I finally read the frantic texts Amber had sent me and I couldn't believe it. 
I opened up the twitter app, and sure enough the news was everywhere. Swifties all over the country were going nuts. My whole timeline was filled with 'ajjkfagsvdgs'. 
In the hopes of increasing foot traffic and revenue of indie record stores that had been negatively affected by COVID, Taylor Swift sent out thousands of signed copies of her newest album, folklore, to indie record stores across the country. Alongside the CDs, the stores received a few strict instructions. 
No online or phone sales. 

No holds.

Only one copy per person.
As long as they followed the given rules, record stores could deal with the gifts however they saw fit. Some took to their social media to post about the wonderful surprises, while others kept quiet. 
What was about to occur would soon be known as the Swiftie Hunger Games. 'May the odds be ever in your favor.' 
Fans took to Twitter, and Instagram to find what stores had received copies. 
The more I scrolled through the threads listing the names of the stores, the more my excitement died down. I had realistic expectations. I didn't expect to find any in my suburban town, but I had hoped that a store in Seattle would have some. Alas, I had no luck. All the stores listed were located on the East Coast. 
I decided to look up and check all the social media pages of record stores near me and saw nothing. No one had said anything. 
After a while of using my sleuthing skills, I had a realization. Could it be that Seattle stores had not announced anything because they hadn't opened yet? I checked the time; it was only thirty minutes past 10 am. I might be right, I thought. Most stores don't open until 11 am. 
I thought about calling the stores to check but decided against it. 'They probably wouldn't have them.' 
I went back to twitter thirty minutes later and that's when I saw it. 
"Happy Thursday! Our SoDo location got a limited supply of signed Taylor Swift "Folklore" CD's. We are selling them in person & curbside pick- up only. Limits apply see store for details. No online sales, no shipping, and no holds please & thank you. #recordstorefolklore." –@Silver_Platters
I reread it a bunch of times to make sure it wasn't just my mind playing tricks on me. When I finally registered that the tweet was in fact real, my hands began to shake, and then so did the rest of my body. My phone literally fell out of my hands and onto the long-forgotten notes on my desk. 
I had to act quickly. Picking up my phone, I dialed the store. On the third call they finally answered. 
   "Hi, I'm calling about the signed Taylor Swift CDs…" My voice squeaked. 
   "Yes?" the man answered, amusements clearly in his voice. 
   "I'm just wondering if you have any left?" 
   "We have enough for 15- 20 minutes."
I was certain, there was no way I would get one. I was over 40 minutes away. After the call I decided that there was no reason to go on a hunt just to be disappointed at the end. My parents rolled their eyes at me and told me to get in the car because "You'll just end up complaining about it later if we don't try and get you one."
I threw on my "reputation" tour t-shirt (for good luck) and grabbed my phone in its "Lover" phone case and made my way out my front door. 
I hopped in the car and typed the address of the store into Google Maps — the 40 minutes on the screen made me sick. I tried to ignore the feeling in my tummy. I knew I should call the store to check how many they had left (if any), but I was too scared of the probable answer. When we were around twenty minutes away, I mustered up the courage and dialed them up. 
    "If you are calling about the signed Taylor Swift CDs, we just sold out." 
I felt my stomach drop. We could have turned around and gone back home, but we had driven so much already. I picked up the phone again and looked up "record stores around me." I called each one, and after the third "no. I'm sorry, we didn't receive any signed CDs," I almost gave up. I looked at the last store, "Sonic Boom- Records," listed by Google and thought, I might as well give it a try. 
    "Hi, I'm calling about the signed Taylor Swift CDs. I'm wondering if you guys got any?"
    "We did…"
    "Really? Do you still have any left?"
    "Yes!"
    "OMG! How many?"
    "We have around 20."
    "Thank you, thank you, thank you! I'm making my way over right now."
I quickly changed the address on the GPS and looked at the ETA. We'd be there in 19 minutes. I was going to get my signed CD. 
I masked up and grabbed my wallet. Parking was terrible, so my Dad dropped me off near the store. In flip flops, I ran across the street and into the store. 
     "Where is it?" I panted. In retrospect, this might have been a little (very) rude but not that it's any excuse. I was just too excited. 
The guy at the counter took one look at my t-shirt, smiled and pointed in front of me. "It's right there."
My eyes landed on them and I breathed a sigh of relief. They were beautiful. I made my way over to the stand and with shaking hands, I grabbed a copy.  I have never paid for anything quicker.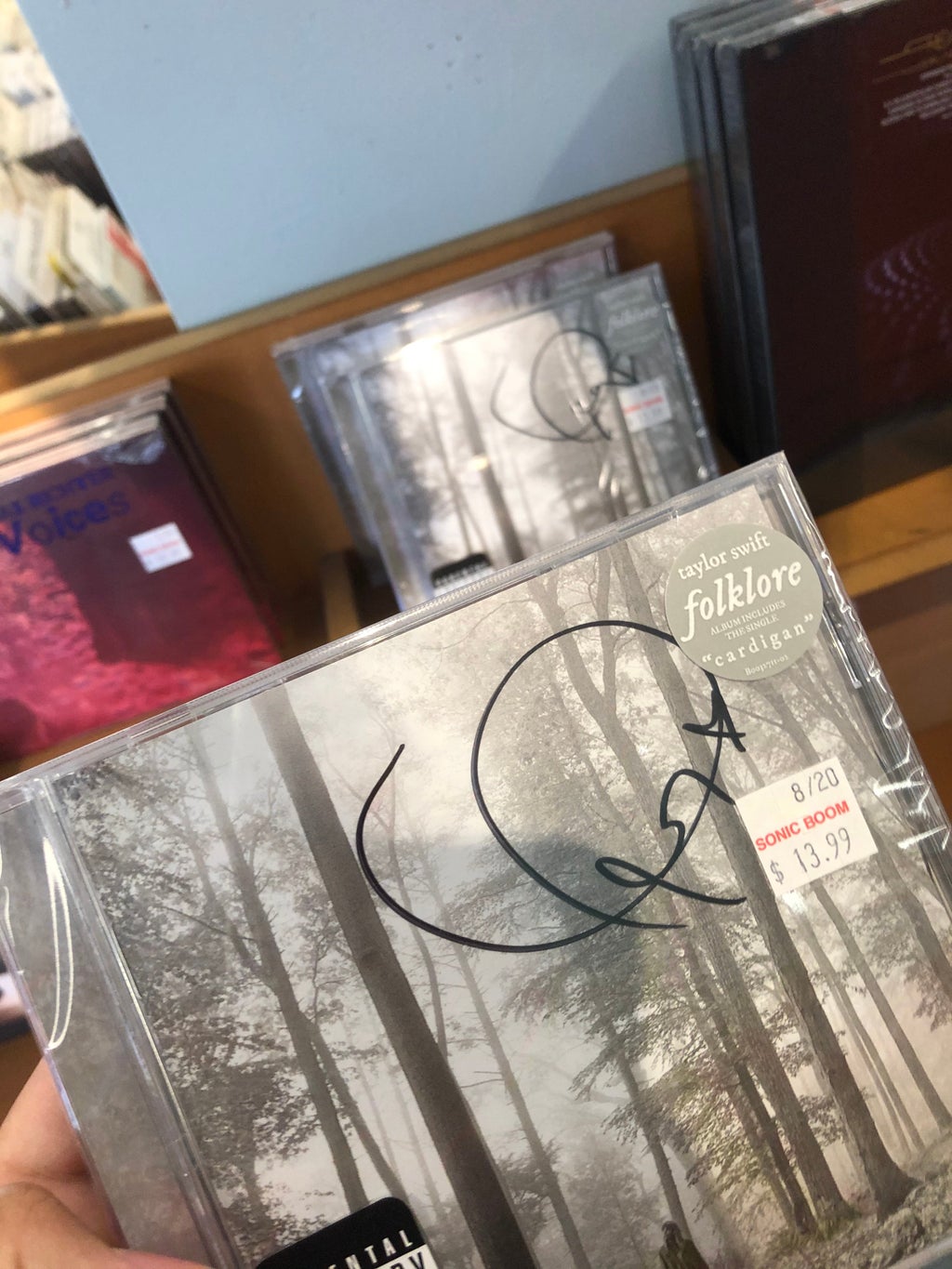 I made my way out the store, content with the day's outcomes. I made sure to pick up my phone and update Amber and my other friends that I had "secured the goods."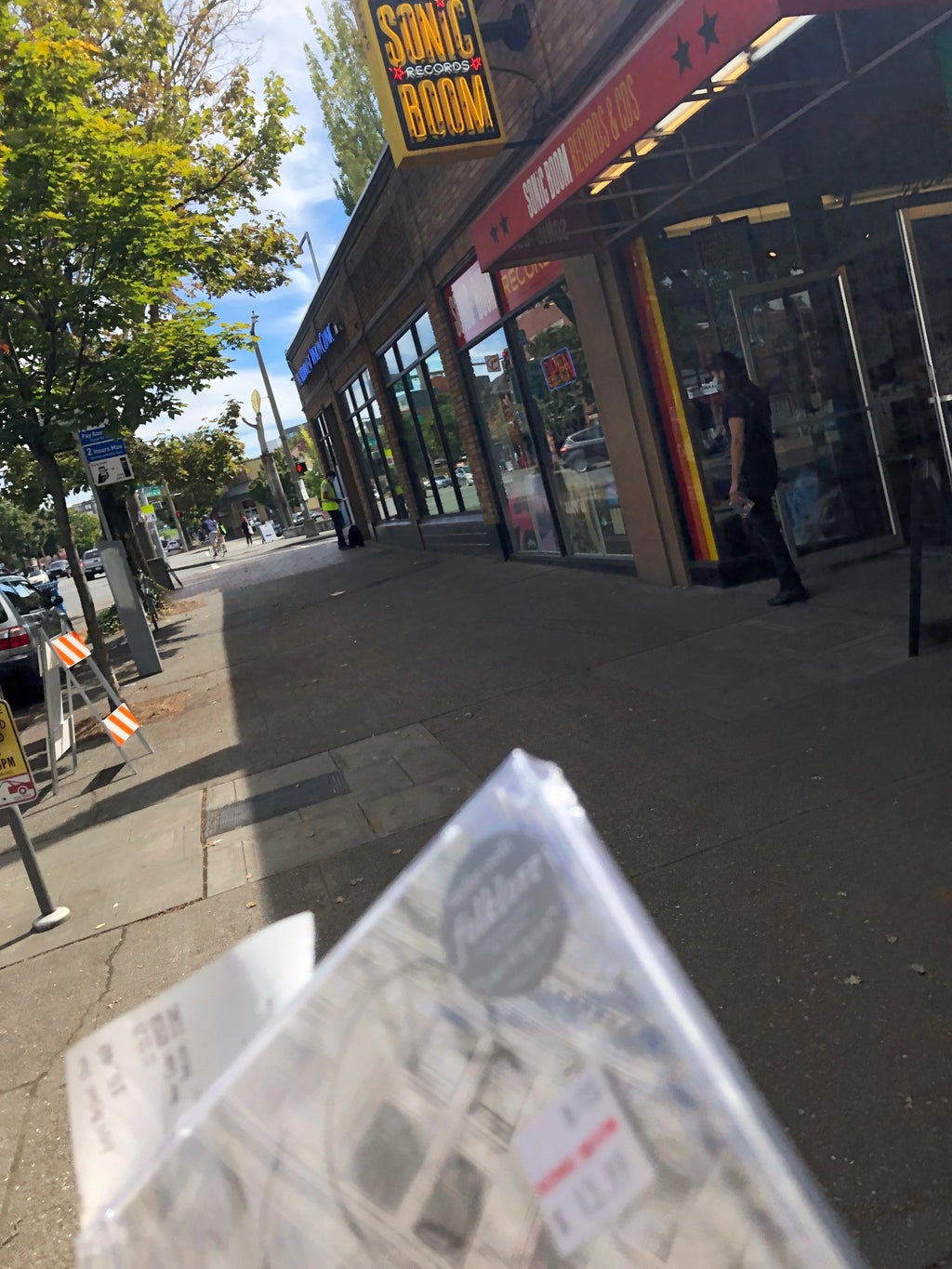 This was, by far, one of the most exciting days of 2020. Not just because of having acquired a signed Taylor Swift CD, but also because this was the first time I made my way to Seattle after months of quarantine. It was a short trip, but it will be one I will always remember. 
Special thanks to my Dad, without whom, I would not have acquired a signed CD on August 20, 2020.