5 Cardi B Songs to Lift You Up
Cardi B being the energetic, unapologetic, and a force not be reckoned with. She is like that friend that understands your hardships, does not judge you for it and instead tries to get you to express your feelings while also feeling empowered. This is why listening to Cardi B is one of the best things you can add to your self care, when feeling down.  Here are a few of her song suggestions!
Bodak Yellow
This is the O.G song of Cardi's songs that will lift you up when you are feeling down. With the first part of the song saying "Said little b*tch, you can't f**k with me. If you wanted to."  there is no doubt that you'll get some kind of encouraging vibes to cheer up.
Get Up 10
This power through song not only is a story of Cardi's own struggles but it relatable, if you've ever been in toxic relationship, people bringing you down, or coming from a life of struggles. While listening to this song you can think about all the times you've been knocked down (like Cardi) but that you continue to get up. This song won't let you forget your strength in your most vulnerable or hardest moments.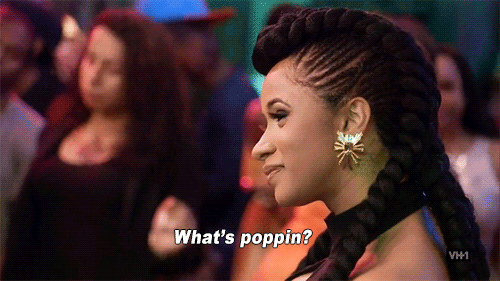 Ring
Now this song is for those who are going through a tough time in their relationships. If your relationship is making you feel down, Cardi's got your back. This song is not only catchy but confronts a few different type of feelings and issues in relationships that either are toxic or have some working out to do. Although this is about a relationship, Cardi B being Carbi B, this song sets a tone, that you deserve better and you're not going to deal with this.
Never Give Up
This song goes hand in hand with Get Up 10, if you feel the weight on your shoulders and people putting you down. This song will give you that positive energy that you are a force to not be messed with.
Be Careful
This song is also about relationships, but this is told after their may have been some infidelity from the partner. Again if you are going through something similar, this song might be able to give you that up lift that you've been needing. The lyrics tell of a hurt partner that is questioning their partners loyalty to the relationship, with good judgment, but Cardi doesn't try to get pay back, she lets karma do that. She is able to express hurt feelings and is saying that she is someone not to mess with and to take advantage of. Through Cardi this song will give you the empowerment to not be messed with as well and to re-evaluate your relationship and self worth.