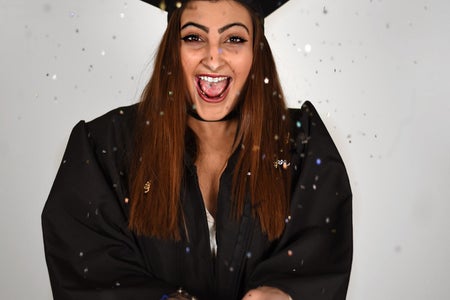 Alanna Martine Kilkeary / Her Campus
13 Sentimental Graduation Tweets that Almost Make Up for Missing Commencement
The world has become something of an unfamiliar place over the last several months. We rang in 2020 with so much promise, and now we're almost halfway through the year trying to make sense of it all. What a lot of us are trying to make sense of right now is graduation, and how to celebrate that momentus accomplishment while still social distancing. Throughout the next few weeks, we're going to be reminded every Saturday about the graduations that have been cancelled, post-poned, and moved online. It's not the ceremony we were promised all those years ago, but we have to adapt. And thankfully there are so many examples around us of people who have made the best of this situation. 
3.

Aesthetic Photo Shoots

5.

Decking Out the House!

9.

Giving Your Graduation Cap the Full Razzle Dazzle

12.

Gotta Celebrate in Full Force
It's not how anybody expected to close out the school year, but it's something to tide us over until the world goes back to normal!