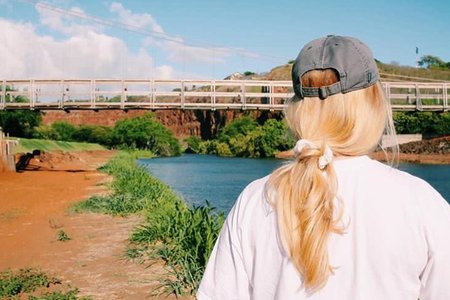 Charlotte Reader / Her Campus
Places Around Vermont to Visit this Summer (That are quarantine friendly yet fun to explore)
As we prepare to encounter a summer filled with uncertainty in the midst of a pandemic, travelers from all corners of the world are struggling to find inspiration. Those who are used to the privilege of exploring what our planet has to offer are having withdrawals hit in most tantalizing motions. The prioritization of health and well-being is essential to the reduction of spread, but with practicing this mindfulness you can still enjoy the open roads of Vermont. Growing up in Vermont, I have been fortunate enough to experience a variety of areas statewide so I've composed some of my favorite spots that are quarantine friendly.
First Pit-Stop: Lake Willoughby
This is one of the most serene spots the Northeast Kingdom has to offer. Based in East Burke, this body of water is much smaller than Lake Champlain, but encompasses an emerald green tone that looks similar to something you'd see at a lagoon in Thailand. Lake Willoughby is sandwiched between two mountains: Pisgah and Burke. At each end hosts a beach with beautiful, nice, rich, white sand. Visitors have the option of hiking around Lake Willoughby, relaxing on the beach (6 feet apart of course), kayaking, fishing, and boating. Depending on where you are coming from in Vermont, the drive feels rather tedious at points, but the views along the way make for a soothing road trip.
Second Pit-Stop: Bolton Potholes
As a kid, family friends introduced me to this spot so I spent many afternoons here cooling off while my parents visited their peers. Bolton is a place that is often associated with winter activities like skiing, but I personally always enjoyed it more during the summertime. The Bolton potholes consist of three large sets of waterfalls, stretching from the top of the Bolton Access Road to the bottom, accompanied by river channels in between. Picnics and sunbathing are enjoyable to do on the rock surfaces, and adhering to guidelines of social distancing is not difficult, as people tend to claim their own spots of land. I would cliff jump there often in my younger years, but it is very much at your own risk! Of all places I visit during my summers, Bolton potholes are the most family-oriented, with visitors of all ages. 
Third Pit-Stop: Elmore State Park Fire Tower Trail
            Located in Lamoille County, this hike lasts around 2 miles or so, with moderate difficulty. From the beginning of the lower parking lot, there is a gate that leads into the park. Once you've reached the park, you'll have to walk a small way to reach the trailhead, where you'll see the "Fire Tower Trail". Along the way, you'll encounter the remains of a cabin, with a bed and oven leftover from a fire that previously diminished its original structure. The trail itself is rather mild, but the last stretch becomes rocky and steep. Visitors are welcome to climb the fire tower, with 365-degree panoramic views, engulfed by the gorgeous Green Mountains and Lake Elmore.
Fourth Pit-Stop: Eagle Mountain
            On the cusp of Milton and Georgia, Eagle Mountain is another welcoming, low impact hike. The peak time to visit here is a sunny day mid-August, where local farmers have placed their hay bales around the trail. Once you've finished crossing the field, you'll enter a wooded area to begin the hike, where you choose to either go toward the summit or Hoyt lookout. I usually enjoy taking the route to the Hoyt lookout! It's just around a mile or so to the lookout point, which has stunning views of Lake Champlain and its islands. I would suggest bringing bug spray or ointment, as the mosquitos seem to have nothing better to do there!
Last Pit-Stop (but certainly not least): Highgate Quarry
            This final destination is what I would consider to be a hidden gem of Vermont. I visited here often during my summers throughout high school with friends, as it is close to my hometown. This quarry is only a few miles away from the Canadian border, found in Highgate Center. For those interested in cliff jumping into deep waters, this spot is perfect (at your own discretion). If you are around for the sunset, it is a spectacular view, especially for those who embrace solitude.
Hopefully these suggestions have encouraged you to add more spots to your bucket list! When exercised properly, these places will host a meaningful and responsible experience. Enjoy having the windows down, wind in your hair, and mask on this summer! xo
Kiara
Edited by: Emma Hoechner