2019 is coming to a close, and with it, the decade. So before the year ends, I wanted to share with you some of my favorite albums that came out of 2019, in no particular order. Think of this as the ultimate end-of-year throwback playlist for all your holiday party needs.
1. GINGER - BROCKHAMPTON
Honestly, when I first heard of this album, I was skeptical but after 300 spins of No Halo, I can definitely say that it grew on me. From the amazing vocals to the fun instrumentals running underneath the 12 songs on this album, it is one that cannot be missed.
Giphy
2. Cuz I Love You - Lizzo
From self-love to heartbreak, this album has it all. I cannot say a single negative thing about Lizzo's first full album, and neither can the Billboard charts. Lizzo broke records when her song "Truth Hurts" stayed at the number 1 spot on the Billboard Hot 100 chart for 7 weeks straight out of 31 total weeks on the chart. Her music does more than encourage self-love and inclusivity, but her song "Jerome", which is featured on the album, is one of the most heartbreaking love songs I've come across. 
Giphy
3. WHEN WE ALL FALL ASLEEP, WHERE DO WE GO - Billie Eilish
Billie's first full album was a lot to unpack, but we as listeners were gifted with heartache on songs such as "wish you were gay" and "when the party's over", which were accompanied by an ode to the hit TV show The Office in the form of her song "my strange addiction" and the welcoming beats of her Billboard hit "bad guy". This album is full of pain and loss and remorse for Billie, who has explained that writing and making this album was one of the hardest things she's ever done.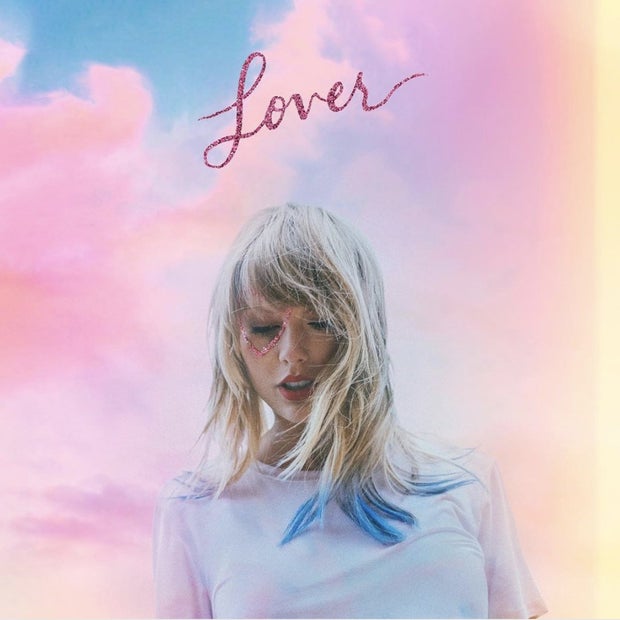 Taylor Swift / Instagram
4. Lover - Taylor Swift
I tend to stay away from typical pop music, but Taylor has seriously outdone herself on her latest release. She's the AMAs Artist of the Decade for a reason, and that reason is her amazing vocals and inspired instrumentals. The title song from the album, "Lover", is a beautiful love song that has become a fan favorite, and her collaboration with the Dixie Chicks on the album brings listeners back to her humble country beginnings. This is truly a turnaround from the anger of her previous album, "Reputation", and I can't wait to see where she goes next.
5. 7 EP - Lil Nas X
Whether you enjoyed "Old Town Road" or not, this EP was record-breaking and also shattered traditional ideas of country music, which Lil Nas X influenced with rap beats and lyrics. By breaking down the barriers between music genres, Lil Nas X truly redefined music with his latest release of 2019. My favorite from the album? Definitely "Panini".
Giphy
6. Fine Line - Harry Styles
So this is kind of cheating because this album dropped not too long ago, but it still deserves a spot on the list. Styles is becoming more involved in his rock and roll sound, and this album is a clear indicator that he feels comfortable in the genre. Start your listening party of this fantastic album with "Watermelon Sugar", which is a hit among Harry Styles fans with its upbeat lyrics and rock melody.
]
7. Wasteland, Baby! - Hozier
Hozier's 2019 release is a bit more relaxed than previous albums, but it is the perfect set of songs to chill and study along to. From "Talk" to the title track "Wasteland, Baby!" this album does not disappoint and Hozier keeps his fans interested from the first minute of his pristine vocals.
8. Hollywood's Bleeding - Post Malone
Post Malone outdid himself on this album, following 2018's "Beerbongs and Bentleys" with a passionate album, featuring collaborations with Halsey, Ozzy Osbourne, and Future. Once again, Post Malone has solidified his role in the music world, with this release hitting number 1 on Billboard's Hot 200 albums chart. Not to mention, it includes the song "Sunflower", which was featured in the latest Spider-Man animated film this past summer.
9. IGOR - Tyler, The Creator
I fell in love with this album, like most other listeners did, after listening to "EARFQUAKE". What Tyler has done here is create a story with this album that has to be listened to at least 2 times before it can be fully grasped. From the insightful lyrics to the piano melodies present throughout the album, this is not a release to be ignored. I heavily recommend at least listening to "RUNNING OUT OF TIME" if you don't have the time to check out the album in its entirety.
10. Father of the Bride - Vampire Weekend
This album screams summer, which made it the perfect summer jam for Vampire Weekend fans when the band came back from a six-year hiatus since their previous album, Modern Vampires of the City. This album saw Vampire Weekend come into a more indie vibe on songs like "Harmony Hall" and "This Life", while simultaneously holding onto their more rock roots on songs like "Sympathy". In all, this album was a welcome comeback for the band, who have been working on their sound in the 6 years they have been on hiatus from recording, transforming it to the more indie vibe heard here.