5 Trends to Try This Fall
If you're anything like me, your TikTok "for you" page is undoubtedly flooded with videos of trendy women documenting their newest hauls from Zara, Aritzia, and other popular stores. Their hauls constantly make me want to go online and start shopping, but it can be hard to know where to start when shopping for a new wardrobe. The fashion world is constantly changing and can get pretty overwhelming, especially when trying to keep track of what's new and in style. But, lucky for you, I've kept up so you don't have to! Here are the top five trends I'll be wearing this fall season: 
1. Faux leather pants
Faux leather pants, specifically The Melina Pant from Aritzia, are all over TikTok right now, but come with a hefty $150 price tag. Luckily, this trend is everywhere, and more affordable places have been able to make their own versions of these iconic pants. These faux leather leggings from Zara and the Macey Pants from Princess Polly are close dupes for a fraction of the price. For a casual look, these could be styled with a cropped turtleneck, a jacket, and black boots, but could also be worn with a satin top and heeled booties for a night out. 
2. Chunky gold hoops
Everyone is obsessed with Hailey Bieber's chunky gold hoops that she regularly sports. The original Jennifer Fisher hoops are gorgeous, but not exactly the most affordable, especially for those of us working with a college-friendly budget. This set from Urban Outfitters is only $20 and adds a nice touch to any casual outfit. Plus, who doesn't want to copy Hailey Bieber?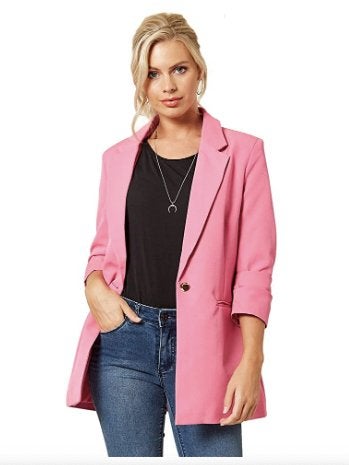 Amazon
3. Blazers
Blazers are the outerwear to be wearing this fall season. My personal dream is to own this vegan leather one, if it ever restocks (I've been waiting for three months). But, this trend can easily be achieved by going to the closest thrift store, which is where I got mine. If thrifting isn't your style, check this one out. Blazers are extremely versatile and can be worn over crop tops and biker shorts for a chic look, over dresses and paired with a cute pair of boots, or worn in a professional or academic setting over a button-down shirt. And, if you're on the shorter side like me, blazers can easily be cropped, making them look less boxy and more flattering!
4. All brown everything
Brown really doesn't get enough credit, so I am thrilled to see it trending this fall. I just bought this dress from Zara and could not be more excited to wear it out. Next on my list to buy? These trousers. I would style these in a monochromatic way, layered underneath a chunky brown sweater like this one I wish I had bought from Depop and paired with some brown boots, because in my opinion, the more brown, the better. 
5. Sweater vests
Personally, I think this might be the trend that has me feeling the most excited! Living in Vermont, we need to layer up on our way to class in the morning, and what is a cuter way to do that than putting a sweater vest over a long sleeve top? Vests like this could easily be paired with a skirt and black tights for a look that is casual but also extremely put together. Not to mention, this look will give off major 90s/ Rachel Green vibes, which is fabulous if you ask me.
Fashion can be a really great tool for self-expression. If any of this feels outside your comfort zone, remember that college is a time to have fun and explore things that might make you feel a little uneasy. For me, pushing my own boundaries led to me finding a personal style that made me feel confident, and allowed me to express myself. And although I've never worn faux leather pants before, I can't wait to strut into my classes wearing them. Doing what makes you feel like the best version of yourself is all that matters, and I have found that wearing an outfit I feel great in makes me feel like I am on top of the world. So, open a new tab, and happy shopping!
Xoxo,
Avery
Edited by Emma Paquette