The leaves are changing, and the weather is cooling… It's that special time of the year! Pumpkin spice latte season! Now that we have officially entered pumpkin season, it's totally acceptable to buy pumpkin flavored everything! Good food is one of the easiest ways to embrace the seasons and feel at home on campus. I tried a bunch of Trader Joe's seasonal pumpkin-flavored treats so you don't have to: enjoy, babes!
1. Pumpkin Bagel with Pumpkin Cream Cheese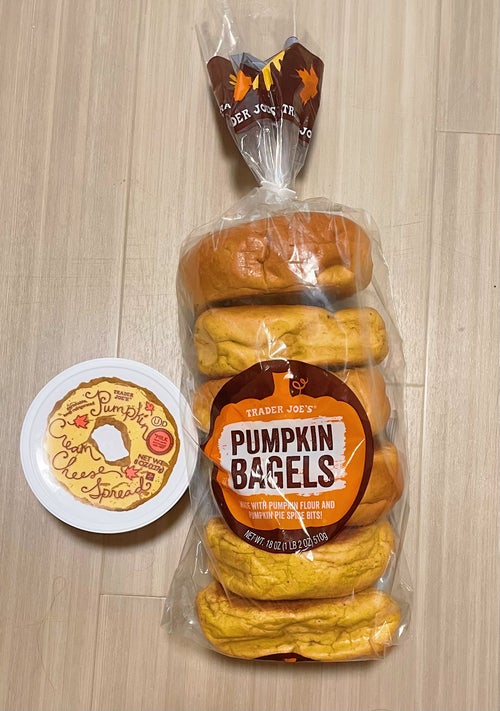 This duo was the best thing I tried this week. Such a treat, and added some fall festiveness to my morning routine. The bagels are super fresh with subtle flavor, while the cream cheese is perfectly sweet. This is one combo that you cannot miss out on this fall season. Plus, it's a super easy breakfast to prepare when you're rushing to make it to your 11 AM class (not proud to say I'm speaking from experience). By the way, the pumpkin cream cheese makes the BEST dip for ginger snap cookies… (also speaking from experience). Again, to reiterate, pumpkin bagels and cream cheese are a must-have for your next Trader Joe's run.
2. Pumpkin Spice Batons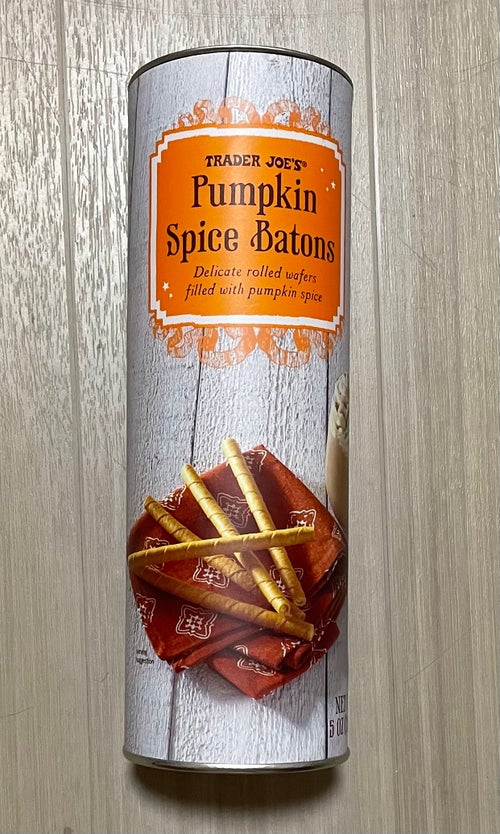 Trader Joe's killed it with this one. The filling has perfect pumpkin spice flavor, and the baton complements it with a simple vanilla taste. These make great "dunkers" for any hot fall beverage. I liked dipping them in my chai tea lattes while studying in the afternoon. Definitely gave good fall vibes. Nothing screams "fall at UVA" like cuddling up with a textbook and a hot beverage.
3. Pumpkin Tortilla Chips and Pumpkin Spice Hummus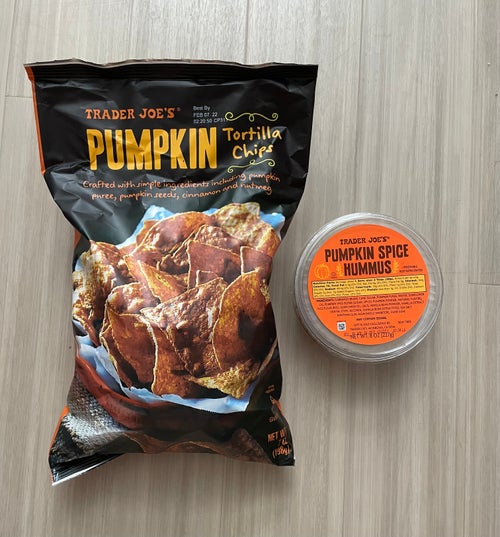 Let me just say, I have never had such a polarized reaction to a chip and dip before. Loved the chip, hated the dip. Hated it. Tasted more like raw pumpkin than pumpkin spice and something about the flavor was really off-putting. Might just be my personal opinion, but would not recommend the hummus. However, the tortilla chips were excellent! Although they tasted very similar to a traditional chip and the pumpkin flavor was maybe too subtle, I like the concept and think the orange color of the chips is festive enough to buy them anyway!
4. Pumpkin Flavored Joe-Joe's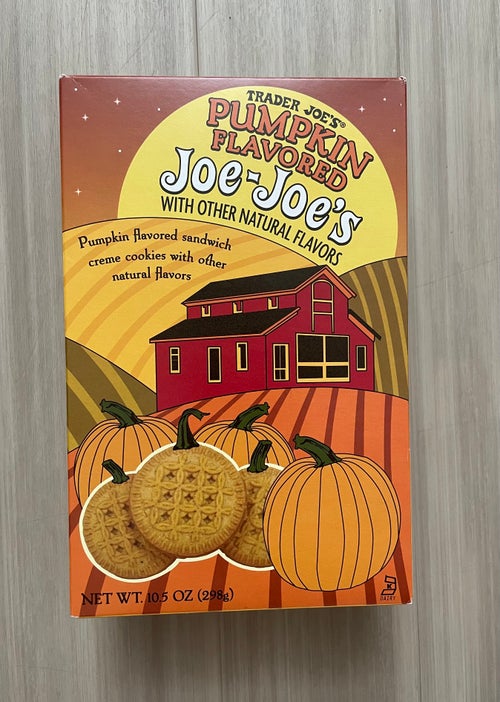 Loved these. Great texture and flavor. If you are not familiar with the Trader Joe's Joe-Joe cookie, it's a sandwich cookie that looks very similar to an Oreo. These cookies are so freaking cute — they have orange filling sandwiched between two brown design-pressed cookies. Unpackaging them reminded me of the knock-off vanilla Oreos my teachers in elementary school would buy for class parties. The Joe-Joe's got me feeling very nostalgic.
5. Chocolate Mousse Pumpkins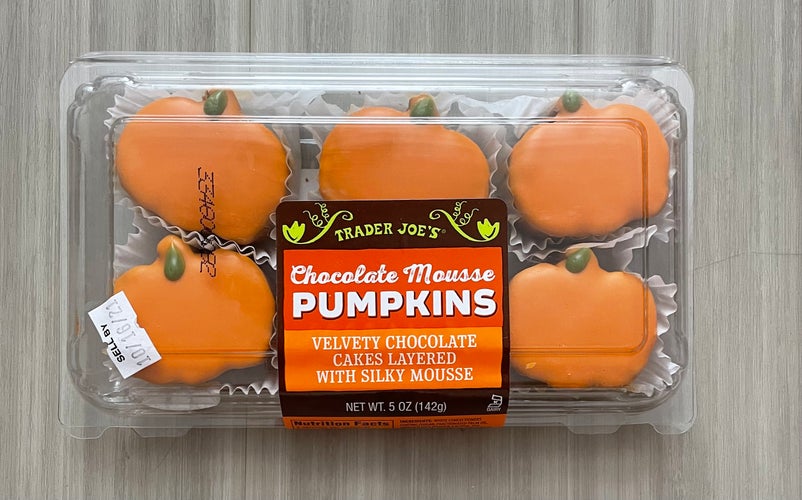 Okay, so this treat might be a bit of a cheat item. Not pumpkin flavored, but pumpkin shaped, so worth mentioning. I loved the presentation of the little pumpkins, and when you bite into one, you can see the different layers of chocolate mousse inside. Absolutely adorable and the package is the perfect size for two to share. I feel like this would be really cute as part of a Halloween gift basket for a boyfriend or girlfriend.
6. Pumpkin Spice Coffee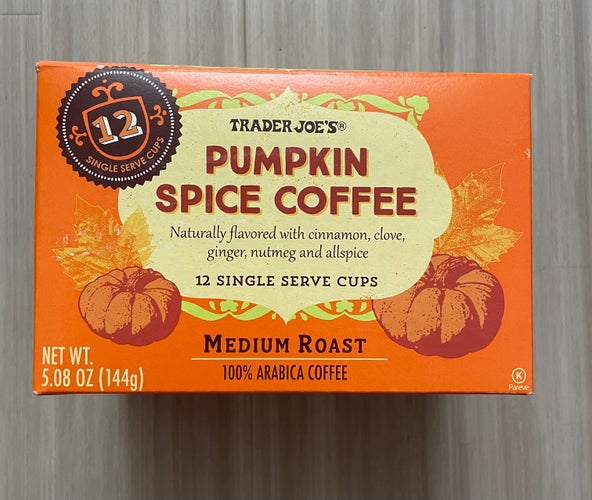 This coffee is good, but if I hadn't looked at the label, I would've thought it was plain, standard coffee. As a college student, though, I can't be overly critical of my coffee because caffeine is a necessary evil to get through midterms right now. But, if you're looking for a pumpkin-y beverage to ring in the fall season, you're better off ordering a PSL at Starbucks.
7. Greek Nonfat Pumpkin Yogurt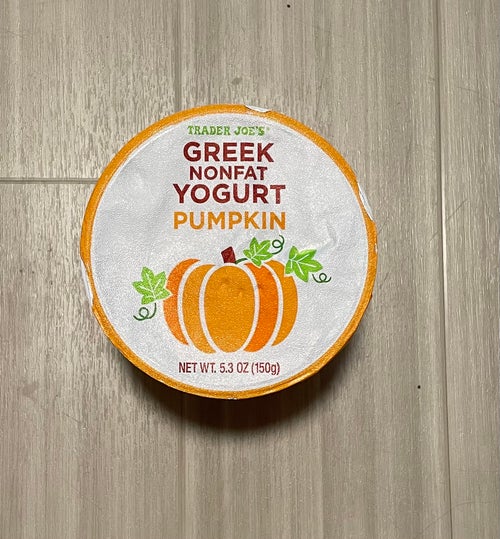 Given that I am currently living off of Greek yogurt cups to avoid UVA's dining halls (the rumors about the food here are true, btw), I really had higher hopes for Trader Joe's pumpkin yogurt. I don't think they nailed the flavor, and considering how much added sugar is included, I thought it tasted rather bitter. It was worth checking out for sure but not something I'd buy again.
I had a lot of fun trying all of these new foods from Trader Joe's, and I'm looking forward to see what they come up with for the holiday season. I hope you take my list into consideration next time you go, and check out some of the awesome seasonal snacks they have to offer!