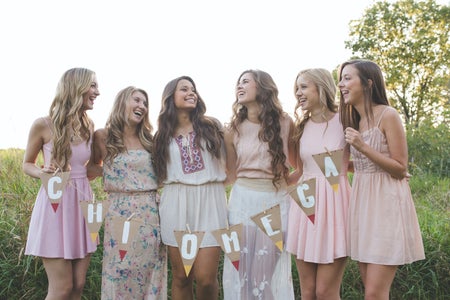 Cassie Howard / Her Campus
Joining A Sorority: The Best Decision I Made in College
For those always wondering, let me explain a little bit about Greek life. Greek Organizations are for those who share similar values and come together to not only better themselves, but also their sisters. I pledged this past semester, Spring 2021 and I have already learned so many valuable lessons and have created so many memories that I would not have gotten anywhere else. 
Joining a sorority means meeting new girls and making memories for a lifetime with your "sisters". The bond with your sisters grows continually each and every project, dinners, bonding moments or conversations. Sisterhood is just unconditional.

When a part of a sorority, you are required to meet certain requirements, one of them being good grades and getting good grades together. It's a specific GPA requirement that must be met by each member and each sorority as an average. It's a constant reminder and push to work hard to stay with your sisters and you can always rely on them to give you a push when you feel like giving up.

If you do not know, philanthropy is a MAJOR part of being in a sorority. My sorority's philanthropy is the American Foundation for Suicide Prevention. When you give back to your community, to a special cause, it is so rewarding and makes great memories. I have certainly developed a better appreciation and love for giving back and bringing awareness.

Your "Big" is like your "big" sister out of all your sisters who is dedicated to your journey into the pledging process and mentor through learning more throughout the sorority, or just about anything. You definitely know they are right to be your big from day one. Shoutout to my big, for being my big sister, my soul sister, and friend for life. You need a big in your life.

Being a part of greek life keeps your schedule full! You plan so many things from as big as formals, or as small as picking out t-shirts. You are always given the opportunity to bond with your sisters, give back to the community on and off campus, and support everyone in Greek life.
If you are considering going Greek, DO IT. You might be surprised to find you are a sorority girl at heart and will love it forever! 
Shout-out to the rest of my girls at  ΚΔΦ nas, love you all