There is always something to smile about in life, so why not make that smile gorgeous and pearly white? Now everyone can have shining bright teeth with Bride Brite. 
With the increasing trend of teeth whitening, Erica and Ryan decided to create a brand that would help you whiten your teeth at home in just 10 days. Just take 10 minutes out of your life for 10 days to get stronger, healthier, and brighter teeth!
I had the pleasure of meeting with Erica (the bride) and her groom Ryan (an oral surgeon) to find out why they decided to start this company together. I'm sure many of you have seen those viral teeth whitening pens that whiten your teeth instantly (they are fake, btw!), or those whitening strips, or those scary syringes that you inject into your gums. Well if you are like me, then you really wanted to try these things, only to realize they aren't for you. Some of those products can hurt your teeth badly, leaving your enamel damaged and forcing you to end up at the dentist complaining of a toothache. 
One of the biggest things that was on Erica's mind when she was a bride-to-be was getting a beautiful smile, but the problem was that teeth whitening treatments hurt and cost a lot of money. Wasn't there an easier way? Something that would leave your teeth healthier and stronger than ever? She gave Ryan the challenge — talk about a perfect team! A beaming bride and her dental-professional fiancé created a whitening kit that meets all of your needs from essential enamel safety to stunning results.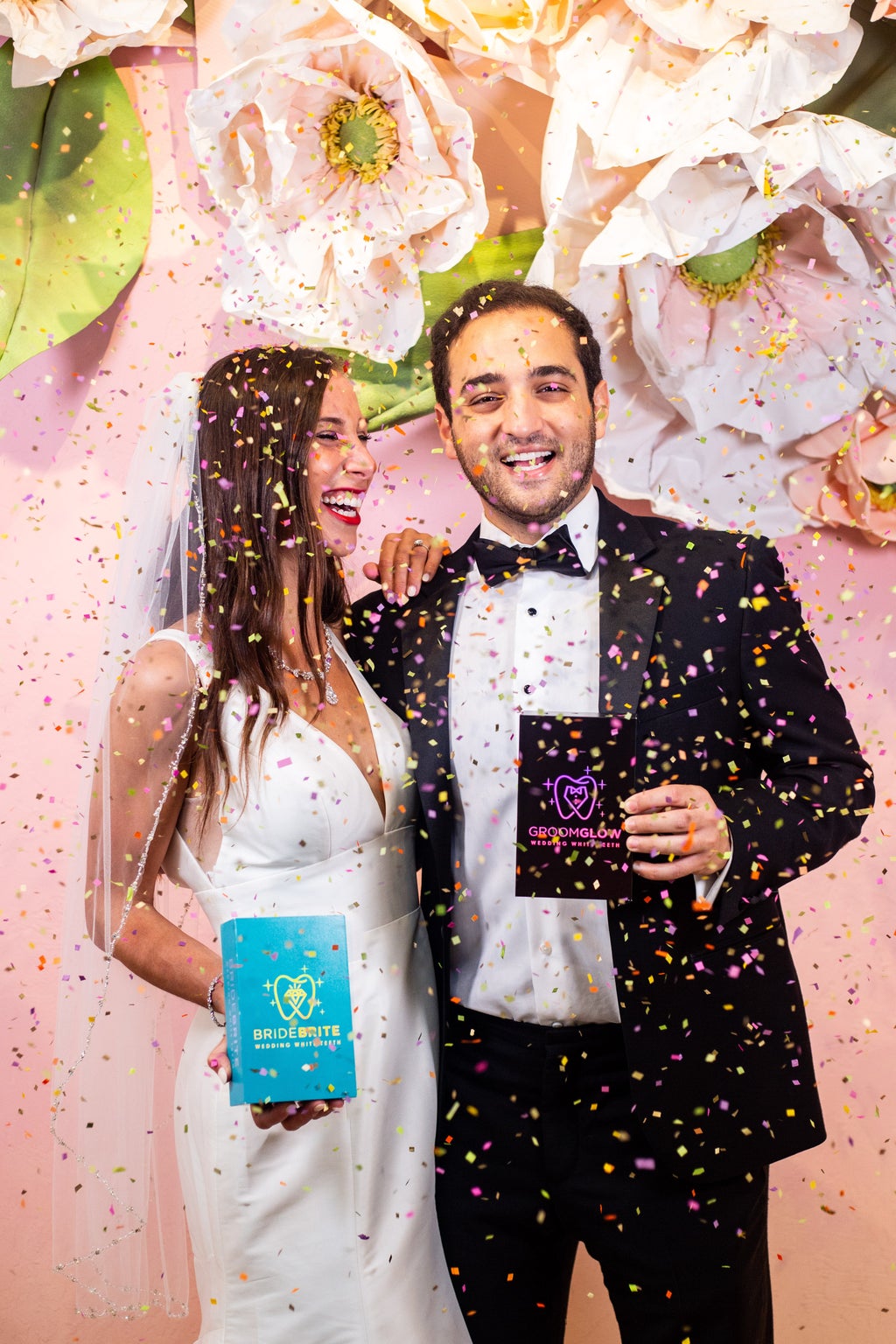 Ryan and Erica were both hit pretty heavily during the pandemic while pursuing their Doctorate and Master's degree and were planning to get married. Though they had to postpone their wedding, they continued to work on their master plan. They had a lot of clear goals: something that worked fast, was affordable and de-sensitizing, and of course was great quality. This is when BrideBrite was born, an at-home teeth whitening kit that comes with three teeth whitening pens, a clear de-sensitizing serum pen (for extra sensitive teeth,) a dual-light technology wireless mouthpiece with a charger, a shade guide to evaluate the shade of your teeth before and after whitening, and an easy-to-follow instruction manual. 
The mouthpiece comes with a blue LED light that accelerates the whitening process, a red one that reduces sensitivity and improves overall gum health, and a purple one to combine the benefits of accelerated whitening and valuable gum support!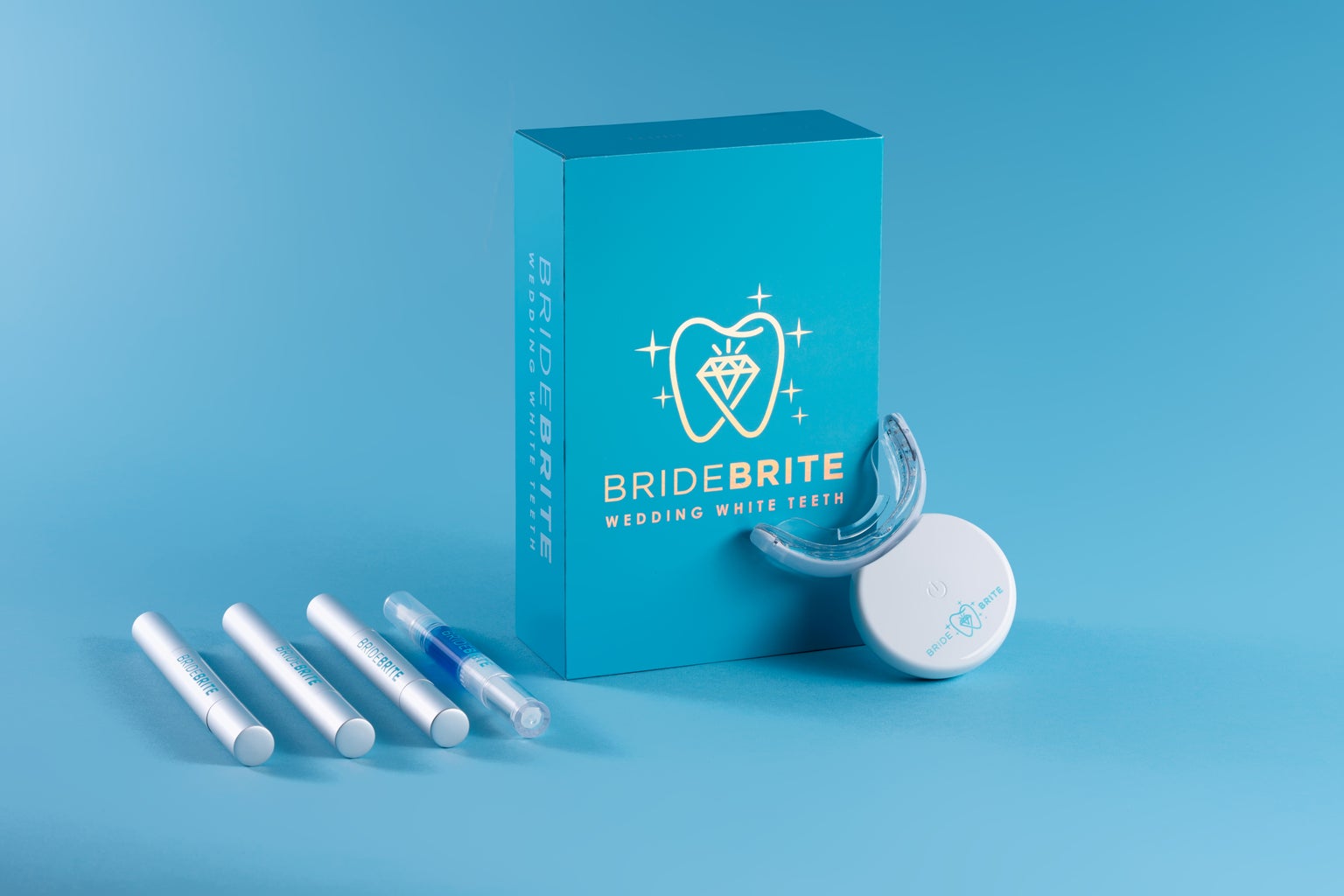 And if you're wondering about those of us who have caps, veneers, braces, crowns, and bridges, not to worry! This product is gluten-free, vegan-friendly, and uses a sensitivie formula that is safe for your enamel. The UV light is also auto-sanitizing, allowing the mouthpiece to stay clean and germ-free for your next use.
Floss first, then brush, then use BrideBrite!
Always brush at a 45-degree angle in order to protect your gums
90% of bad breath is due to your tongue- so remember to show your tongue some extra love!
Use an alcohol-free mouthwash
Always remember to go for a toothpaste that is gentle on your teeth, steer clear of charcoal which can damage your enamel!
If you can't tell already, this company has me sold! I couldn't be happier to have gotten to know Erica and Ryan and hear about their amazing journey to create a brand that has all the right goals in mind and truly wants to make you feel perfect on your special day and every other day as well. I was gifted the BrideBrite kit and saw results as soon as the second day. Go check out BrideBride on Instagram to see all of the gleaming smiles of brides and grooms!
So, what are you waiting for? You can get your very own kit at https://www.bridebrite.co/ which features a BrideBrite Kit, a Groom Glow Kit, a Couples Bundle, and Whitening Pen Refills. 100% satisfaction guaranteed or your money back!