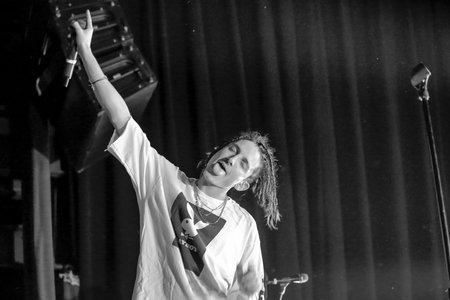 Artist to Watch Interview: Chase Atlantic
Hailing from Australia, alt-pop trio Chase Atlantic is heading towards a city near you. 
Following their self-titled 2017 debut album and playing an array of acclaimed music festivals and global tours alongside Blackbear and Lights, their sophomore album, PHASES, will debut June 28th and is wildly anticipated, with multiple dates from an upcoming headlining tour already selling out. 
The band formed through brothers Mitchel and Clinton Cave, as well as longtime friend Christian Anthony in 2014. The brothers, who are classically trained musicians, have been self-producing and performing music since they were teens. The band quickly gained traction after releasing their music online, and also managed to catch the attention of Good Charlotte's Joel and Benji Madden, who later signed them to their music company MDDN. 
Her Campus caught up with Christian Anthony, who provides vocals and rhythm guitar for the group, before the trio set off for their summer tour. 
HC: Your sophomore album, PHASES, will be released June 28th. With your 2017 self-titled album debut being a huge success, do you feel the pressure to follow up strong with the new album?  
CA: You always feel a little bit nervous leading up to the release of a project/music video/single. In saying that, we are quite confident in the work and effort we put into our music. Nothing is ever forced and because we produce it all and write it all we always have 100% control when it comes to finalizing the album or adding any last-minute changes. It takes a little longer doing it all yourself, but the end result always feels more natural. 
HC: You have two singles currently out from your upcoming album, "STUCKINMYBRAIN" and "HER"- were these the obvious choices for the album's singles from the beginning? Was it an easy choice?
CA: We wanted songs that show different aspects of the album. It was not an easy choice at all. You have to choose good songs that get everyone excited but also keep a couple gems up your sleeves.
HC: Word on the street is the band self-produces everything. Do you think your audience can hear that extra work and dedication when they listen to your music? Do you think this sets you apart from other bands?
CA: I think the fans of the music can pick up on little elements of our signature sounds. It definitely sets us aside from other artists in a way. But I do believe artists are more part of the writing process these days than ever before which is a beautiful thing. We have witnessed lots of masterpieces coming out of the MDDN studio. It's always great to see other artists around us at the studio pacing around and coming up with melodies and lyrics.
HC: Do you think all of the band's music will stay self-produced in the future? Are there any producers you'd want to work with if you did make that change?
CA: We would love to work with other producers; such as Skrillex, Kevin Parker, and Travis Scott. Chase Atlantic will always remain self-sustainable though. 
HC: Walk us through the band's songwriting and producing process. Do you have it a routine down or do you improvise often?
CA: We usually start with the instrumental, work on it until we are 100% happy with how the skeleton sounds. Mitchel will work on melodies and concepts, while Clinton and myself add instruments or write additional verses. Clinton then records and mixes the vocals.
HC: What are your expectations for the remainder of 2019? 
CA: A top 10 album on the Billboard charts, and to play a couple big shows.
HC: Who were your biggest musical influences when the band started, and who are they now? If they changed, why?
CA: The 1975 were a huge influence to us originally. They came around when music was in a strange place, apart from brilliant albums like Take Care and Channel Orange. They kind of shifted music for us; we finally had a new band that wasn't trying to be anything but themselves. At the time we were writing music, but like cheesy pop because that's what we thought you had to do. The 1975 inspired us to be more authentic and true. We moved away from them because perhaps we were a little too similar in some aspects. We then found a new love and appreciation for the rhythm sections in R&B and hip-hop and added that to our already growing sound.
HC: Chase Atlantic falls into a lot of different genres, hip-hop, R&B, rock…is there a genre the band identifies with the most? Or do you ignore labels all together?
CA: We kind of ignore all genres. We make music we like. 
HC: Your 2019 US tour kicks off June 14th with Lauren Sanderson. Which cities are you looking forward to visiting the most?
CA: New York is always a fun time. A lot of people we care about are over there as well. Chicago, Atlanta, and the whole of Texas too.
You can check out the Chase Atlantic's new singles,  "HER," "STUCK IN MY BRAIN," and "LOVE IS (NOT) EASY" before PHASES makes its debut later this month, and catch the band July 5th at The Depot.