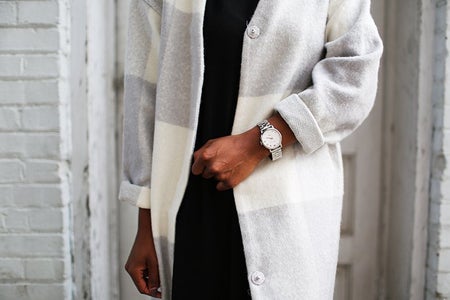 The 5 Stages of Winter As Told By Your Coat Choice
We all know that feeling when we think we have the perfect outfit picked out, we try it on and it looks cute, and we find a matching pair of shoes, just to get to the outerwear and become stumped. Finding the perfect balance between what looks good with your daily clothing choices, what is right for the weather, and what is comfortable is nearly impossible. On top of this, winter and this stress of finding the perfect coat can sometimes feel unending. But, did you know that what you pick to wear over your outfit says a lot more about what phase of winter you're experiencing than anything? If not, let's take a stroll through the five phases of winter as told by your coat choice: 
1.

Baby, it's (starting to get) cold outside

So it's finally that weird time between fall and winter where it's too cold to not wear a coat, but too warm to wear something bulky. Cue the cute jean jackets, corduroy jackets, flannels, and windbreakers. The leaves have already fallen, so you're finally ready for some snow. Still, it's nice not having to carry a scarf, hat, and gloves everywhere you go.

2.

Wow, how is it snowing already?

Did someone say teddy coat szn? Honestly, even though the cold is no fun, you're glad that you can finally break out your winter coats that have just been taking up room in your closet. You start specifically styling outfits around your coat choice, and life is good.

3.

Wait a second, it's nice again. Maybe winter isn't so bad after all

Okay, the initial bout of snow, gray skies, and cold weather is actually letting up. You start to feel more comfortable wearing lighter jackets with your sweaters. The warmer weather gives you a reason to want to dress cute, and honestly the snow was fun for like a week and now you're over it. Yay for this little glimpse into spring.

4.

Just kidding, it's too cold for me to look cute

Jokes over, now round two—aka the "real winter"—starts. With snow, school, and seasonal depression, the last thing you want to worry about is your outfit. Time to break out the beanies, leggings, and biggest parka you can find because this cold weather isn't going anywhere soon.

5.

Does 50 degrees count as summer weather?

Yep, it's official that you're over winter and having to drag coats around everywhere. So naturally, when the temperature is over 50 degrees you are not wearing a coat and that's final. You throw in a cute skirt when you can and maybe even ditch the tights to show winter who's really the boss around here.
Winter can be a stressful time for a number of reasons. Don't let your coat choice be one of them. As long as you're warm, confident, and comfortable, you're killing the game.