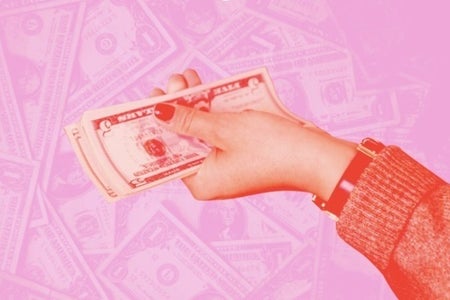 What I Spent Money On: First Week of Spring Semester in San Francisco
Spending your money wisely is hard. Spending it wisely as a college student in the most expensive city in the U.S feels next to impossible. My spring semester has officially begun and having returned to live in my college hometown of San Francisco, my spending habits are looking a little different than when I was living with my family in a small Midwest suburb over the course of the pandemic. I decided to bare it all and share where I wasted money (and didn't) over the course of a week.
Monday
$26.00: I venmoed my roomies for dinner and drinks to kick off the first day of the semester. Mexican and margaritas (we're all 21+)!
Tuesday
$17.40 - Arsicault Bakery
$3.25 - Cup and Cake
$24.89 - El Burrito Express
Total: $45.54
Tuesday was a day centered around eating. My best friend in San Francisco and I have a class together on Tuesday and Thursday mornings (magazine writing). We made an event of it and grabbed a coffee plus some of the city's best pastries before heading back to my apartment for Zoom on a shared screen. We didn't spend enough time with each other during the day so we met up that evening for burritos and some good old fashioned TV series binging. Have you ever heard of Charm School? It is a classic early 2000's VHS reality show packed with all the drama that can be streamed on Amazon Prime.  
Wednesday 
$8.95 - Mail
$10.29 * 0.5 = $5.15 - Lyft ride
$0.00 - Magazine and used book
$14.09 - Wine from Corner Store
$8.50 - Blue Danube
$22.08 - Evening Lyft rides
Total - $63.91
Do you ever look at how much money you spent in a single day and think dang, how did I do that? It was a rainy day, (hence all the Lyfts) but I wasn't going to let the bad weather keep me from getting my s*** done! I had to mail a vinyl return that I ordered online, sadly it was warped but when I received it. However, I also had a little surprise to send to my sister who goes to college in Philly. My best friend and I also had to pick up a magazine for our class on Thursday so we knew we needed to take the trek to our favorite SF used bookstore, Green Apple Books on Clement St. One thing led to another and we both left with our magazine of choice and a used book. The rain had us ready for a hot beverage so we stopped at a cute cafe also on Clement, The Blue Danube. I also picked up a bottle of wine because I was going over to a friends for pizza night. Again, I took a Lyft to and from dinner because it was dark and cold.  
Thursday
$7.00 - Laundry
$940.00 - February rent
Total: $947.00
Another rainy day and I knew with no more socks left to wear I was going to have to stop putting off the inevitable and do my laundry. Thankfully there is a laundromat just two blocks away from my apartment. Five dollars pays for a wash in the bulk machines and every quarter pays for six minutes in the dryer. Not bad for not having done laundry for over two weeks. My rent is due on the 28th of the month and as happy as I am to be back in San Francisco, it never gets easier seeing such a huge chunk of money be sucked out of my bank account. The good news: I am paying the same price for a single now as I was for a double prior to the pandemic.
Friday
$7.50 - Coffee from Flywheel Roasters
$17.99 - Brunch to-go from Cafe Reverie
$18.08 - Mimosa supplies
$81.81- Target
$6.00 - Mcdonald's 
Total - $124.38
Again, not proud of how much I spent on Friday but it was a good day and I don't regret the memories that were made as a result of the things that were purchased. I am fortunate that I do not have any classes on Friday which allows me to spend the day as I choose. After a morning workout and some homework, I met with, you guessed it, my best friend for coffee and brunch (all to-go of course). The menu offered mimosas for eight dollars a glass. I decided it would be more economical to get supplies from the corner store while we were waiting for our food and make our own. After enjoying our meal and afternoon drinks under the San Francisco sun on my apartment's roof, we took a walk to Target for some random necessities. In typical Target fashion, I left with twice as many items as I came for. Finally, we ended our Friday with a late night run through the Mcdonald's drive-thru. An oreo McFlurry with extra oreos, please!
Saturday
?? - Brunch from Blackwood and Starbucks iced coffee.
Question marks because my sweet friend I brunched at with has yet to venmo request me for what I owe him. Though San Francisco outdoor dining has reopened, we ordered our meal ahead of time for pick-up. I was very grateful we had made this decision when I saw the number of people crowding the streets in the popular Marina district to get their food fix in the most social setting that exists at the moment in the city. Coffee was needed to go with the meal of course.
Sunday
$15.02 - Juice + kombucha from local market 
$33.95 - Groceries from Trader Joe's
Total - $48.97
Adulting is going to the grocery store after working all day. Pro tip: try and avoid this task on a Sunday night because everyone else seems to think getting their food for the week is a good idea at this time too. I'm trying to up my fruit intake and improve my gut health so I bit the bullet and invested in some good bottled juices and kombucha. I got to wait in line in the Trader Joe's parking lot for 20 minutes before entering the store. My top pick was definitely their pre-packaged smoked salmon. It's a game changer on avocado toast. 
Grand Total: $1255.80
Seeing how much I spent over seven days is a little painful but this week was particularly a doozy because I had to pay my rent. Without that big number, I would have spent $315.80 which isn't the worst. I hope that as I continue to grow used to being back in San Francisco, I will learn to be more frugal in my spending, particularly when it comes to eating out. I highly recommend keeping your own money diary as a means to see exactly how much you are spending, if you are okay with that number, and if you are satisfied with where it is being spent. Cheers to a responsible and fun 2021!