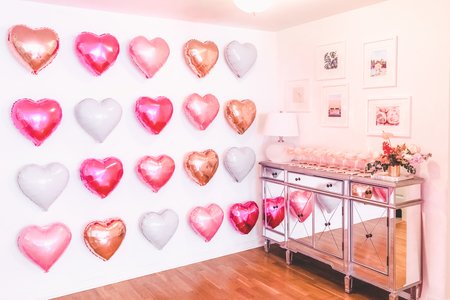 Girls Night In: Galentine's Day Edition
Don't have a special someone to spend Valentine's Day with? Wanting to do something with your friends but not wanting to spend money? There are plenty of ways to have fun with your girlfriends on Valentine's Day without draining your bank account or worrying about going out.
A spa day is not always in the budget, so using Valentine's Day to have spa time with your girls is a great excuse. Each person can give each other face masks or facials, or do each other's nails, and hair. It never hurts to bring out the essential oils for an even more relaxing experience. You do not need to go to the spa to have a relaxing time.

2.

Galentine-themed baking

Whether you purchase a just-add-water mix or decide to bake from scratch, baking with your friends is always a good time! You can make heart-shaped cookies, brownies or cake and decorate the treats with Valentine-themed colors or by adding sprinkles in the shape of hearts. Making treats at home is always better than buying pre-made treats from the store because it's fun and you get to lick the bowl!

Make a fancy, or not so fancy dinner, and fill up your wine glasses (if you're 21+). Rather than spending $10-$20 or more on your own individual meals at a fancy sit-down restaurant full of couples, you can have everyone pitch in for groceries to cook a nice dinner. Even though you will need to wash dishes afterward, at least you saved money by cooking a meal for you and your girls.

Who doesn't love a good movie night with the girls? Grab all your girlfriends and get ready to play those Nicholas Sparks movies that you love to cry over or watch Mean Girls and Clueless for the hundredth time.

Are you falling behind on The Bachelor or have some friends that haven't watched the current season? Use this Galentine's as an excuse to binge-watch all the episodes! You might want to pull the wine back out for this one because this season has been, in one word, wild.

If you are feeling artsy, whip out those paintbrushes and canvas. Of course, you can also make the paintings Valentine's themed by using a template of red and pink paints.

If you use an idea above, continue your girl's night in by making it a pajama party! Have all your friends come in their comfiest pajamas or buy matching pajamas to celebrate.