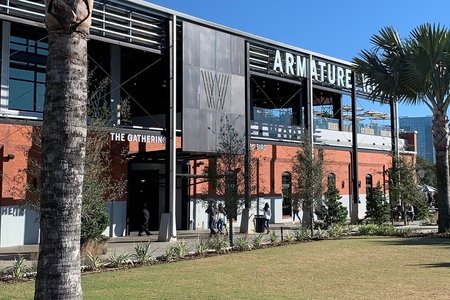 3 Reasons to Visit Armature Works in Tampa
Per usual, I was already tired of the food on campus by the first week of classes. I know what you're thinking: Universities all over the country boast about the plethora of food and dining options. Yes, the University of South Florida does have many dining options, but what they don't account for is that I soon got tired of eating the same three unhealthy meals and dealing with weird weekend hours.
My discovery of this holy grail went a little like this. One weekend, I went to my dad's home, and he suggested that we go to Armature Works. Confused, I asked, "What is it?" He replied, "Just trust me, they have every food you can think of."
While driving there, I was thinking I was underdressed for a restaurant in leggings and a hoodie. After parking there, I knew I would love it. The building resembles a modern, smooth warehouse with bright letters reading "ARMATURE WORKS." It's an upscale food court with intriguing aesthetics.
After multiple trips, here are my top three reasons why Armature Works is my favorite eatery in Tampa.
1.

An abundance of food and drinks from different cultures all in one place

Armature Works has tons of food from various cultures across the world. You can order Japanese food in one spot and then food from Brazil in another. They truly have it all. My first trip, I got pizza. Ordering is super simple, affordable and most importantly delicious! My second time, I got nachos and tacos. I can definitely vouge that every experience is different, and I love it.

I know, this seems like a weird talking point, but this is just as important a reason as any other. Since Armature Works is spacious, the seating is not cramped or uncomfortable. From booths to long rustic tables with tons of room, the seating at Armature Works does not disappoint.

One time, I even scored at seat at an area big enough for family and friends to fit, and the best part, it was furnished with lavish, comfortable couches. During my next visit, I was even luckier with a seat outside overlooking the Tampa Riverwalk on a beautiful sunny day.

Added bonus, if you are 21 and over, there's a lounge and bar with an amazing view of the water. It's always nice eating my yummy food and having the sun kiss my face while looking at the Riverwalk.

With outside areas perfect to relax in and games for kids to play on, this space couldn't be more perfect.

Last but not least, I always feel welcome here. People are not always glued to their phones and are instead talking to one another. In fact, I've had conversations with strangers while I was here.

Armature Works also hosts events for the community, such as Indie Flea and Heights Night Market. 
Armature Works is the perfect place to socialize, eat delicious food and drink, and just relax.