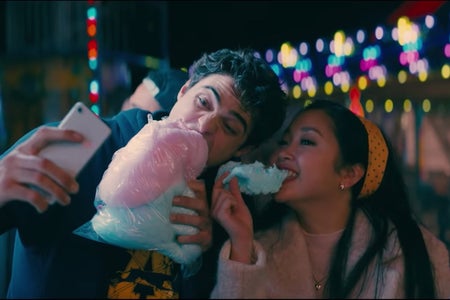 Types Of Guys You Might Hook-Up With In College
Breaking down the top ten most common guys you just might hook-up with at college. 
You've heard it time and time again, the stereotypical frat boy. You'll most likely know him when you see him. He'll probably be wearing gray sweatpants, white sneakers, and a shirt with his fraternity on it which he cut the sleeves off a bit too much. He's witty, he spits game, and he probably met you at a party where he asked you for your Snapchat in his frat's basement. These guys are usually really outgoing and know how to keep a conversation going, which is a lot of fun. Just be careful, he might be talking to other girls!

He's cute, he's nice, and he didn't stare at your chest before staring into your eyes. His smile is bright and he might be a little bit shy when he first meets you. That's probably because he doesn't have a huge ego, but he's confident enough to ask you to hang out sometime. You might catch him in the library or a sporting event. If you don't end up together, you'll probably be best friends.

You wouldn't want to take him home to your parents for dinner, but he's great to take to the dorm room. He might have an ego similar to that of a frat star, but don't tell him that. He doesn't associate with fraternities or organizations. You might be scared of him but in a hot way. He's cool, he's edgy and he makes you feel like you're in a coming-of-age movie or a Wattpad fan-fiction. He might not be a boyfriend, but he's a great night time companion if you know what I mean.

Yeehaw! These men are usually super sweet and like to make you smile. They have that southern charm (even if they're not from the south). He likes country music and is not afraid to let you know it. His Tinder profile might look something like this: A picture of him and his dad on vacation, a picture of his truck, and of course a picture of him holding up a gigantic fish by the tail. He listens to you and makes you smile - he's a gentleman.

You've seen him in your class or the library but never got up the courage to talk to him. You see him all the damn time, though! Who is this boy? What is his major? Does he have a girlfriend? Does he even like girls? The important questions, of course. You'll think about him all the time until you finally meet him and he's not at all who you thought he would be. Similarly to the 'bad boy', he might make you feel like you're in a movie.

You're away from your parents and no one's around to tell you: He's too damn old for you. Well, you'll probably get down with someone a bit older than you, and it's really fun, just don't catch feelings. He might not see you that way. This guy might be a little rugged and rough around the edges, but you'll be too busy thinking about his "maturity" to care. He pays bills, he has a full-time job, he might even be your professor. Yikes! It's exciting and definitely fun to talk about afterward. -Just don't sleep with your professor, cause that's kind of weird.

7.

The Boy You Thought Was Gay

He's giggly, he hangs out with the girls, he compliments your outfits. You probably settled on the fact that he's just not into you, or any girls, but before you know it, he tells you he likes you. Your mind might be blown, but you decide to give it a shot. Maybe that's his trick, or maybe he's just "one of the gals", but either way, you'll have lots of fun together.

Charlotte Reader / Her Campus

You've probably thought about what it would be like to hook up with a singer or musician. We all have, right? He's super cool, he's popular, and he's got really cool clothes and hair. He might be cocky and a bit uptight, but he's super talented and he might even sing to you. Depending on what music he plays, this guy usually has the best taste in music and will know just what to play to get you "in the mood."

When he's not yelling at people to lower their music or learn how to smoke pot out of the window better, he's probably hanging out with the other RA's. Suddenly, you wish you were an RA. He's smart and he's stern. You just wish he was giving your "room" a fire inspection.

Charlotte Reader / Her Campus

Ahh, it's the guy the hot RA was yelling at! This guy probably hangs out with the frat boys, if he's not already in a frat. He wears beanies, he skates, he likes to go on "walks" and he probably has a ton of good snacks in his room/house. He moves kinda slow and he might respond to almost everything with "dope" but you'll be weirdly attracted to him anyway.
There are tons of guys on college campuses, and they might be one of these guys. Or, they might not fit a stereotype, and that's even better. You'll have your good hook-ups, and your bad ones, but that's all part of the fun.