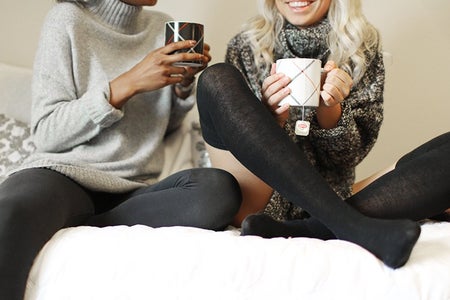 Top 5 Coziest Athleisure Staples for the Holiday Season
Oh, holiday season! The most anticipated time of the year. With COVID-19 still being a global health issue and a hot topic, it's only natural to feel discouraged that we won't be able to celebrate the holidays among family and friends like we used to. However, our current circumstance provides us with an opportunity to reinvent our holiday gatherings to keep our loved ones healthy. 
Besides organizing a good meal, setting up decorations, and prepping up for family drive-thru potlucks, it's important we make an effort to look good and dress up― even if we "fake it 'til we make it." I know you're probably thinking, "but we're in QUARANTINE, why should I even bother?" I hear you, but I'm not asking you to go full-glam mode with a sequined cocktail dress and some heels. Instead, I propose we celebrate this holiday season in both style and comfort: a perfect combo that can only be described with the famous style we know today as athleisure. 
Let's take a peek at the coziest, stylish staples you won't want to miss for this holiday season!
Whoever said baggy pants are exclusively for lounging around was seriously mistaken. The right pair of sweatpants can look super stylish when paired with crop tops, biker jackets, turtlenecks, and even bandeau tops. To make it look polished, you can always use statement accessories, such as a crossbody bag, metallic hoop earrings, hair clips, or beanies.

It really makes no difference whether you're looking for something to wear for a workout, a Netflix binge-watch sesh, or even a socially-distanced family gathering. I present to you the cropped hoodie, a great alternative to wear when you feel like nailing a stylishly sporty look but still want to feel quite comfy. 

The hoodie, generally speaking, is so versatile! However, because cropped garments are making a huge comeback, you can also mix and match accessories with your favorite cropped hoodie. Also, it's a pretty great option for people who live in the  midst of the Caribbean heatーyou get the style and comfort of an athleisure staple, with the added bonus of the "crop" factor; a feature that allows for some ventilation against the warm tropical weather. For styling choices, you can combine your cropped hoodie with skater skirts and tights, high-waisted jeans, simple-yet-stylish trousers, stretchy leggings, and even your favorite Chuck Taylors!

The pullover, a simple garment known for being easy to literally "pull over" your head, is a fashion must when it comes to both the Fall and Winter seasons. After all, they're usually cozy, warm and extremely comfortable. Better yet, they come in a myriad of styles, lengths and fabrics such as the crewneck, V-neck, turtleneck, tunic, and knit varieties. The styling possibilities for each iteration of the famous pullover are literally endless! Some creative ideas include matching your sweater with some skinny jeans, a short-flared skirt, or your favorite pair of boots. For a more polished look, consider wearing a crisply ironed pant, or a knee-length pencil skirt with some heels.

Besides being a classic in Athleisure fashion trends, high-waisted leggings are perfect for spending the holidays at home. These pants are especially known for their snugness and flexibility. You don't even need to order a pair onlineーchances are you've got at least one pair of these babies hanging around your closet. While it might seem at first glance that they're only usable for physical activities or exercise, it's time for you to think outside  the box and make the most out of your leggings! Some fun and innovative ways to level up your leggings include mixing them with a knit pullover, layering tees with tunics, and wearing any kind of trench coat or jacket with a nice top underneath.

Despite the fact that we all know that socks are designed to serve a rather practical use (i.e. snuggle up your feet against your shoes), there's just no denying the warm feeling that comes with using cozy socks to sleep, watch some TV, or walk around the house inーespecially when it's the most wonderful time of the year! Of course, you can always wear fuzzy socks under your boots or loafers (who's to say you can't?), but the traditional Christmas socks are usually meant to be used in a leisurely and festive way. They also make ideal gifts for friends and family members. Best way to style them, you may ask? By wearing some Xmas or holiday-themed pajamas! For some affordable cozy sock ideas, click here.
There's a certain je ne sais quoi feeling that comes with putting on a good outfit. It all comes down to making an effort, however big or small that may be! What really matters is that you feel both comfortable and confident with your decision to dress up for the holidays. Now, with that being said, let's put our creative skills to the test and see what athleisure-inspired outfit we can come up with this holiday season!