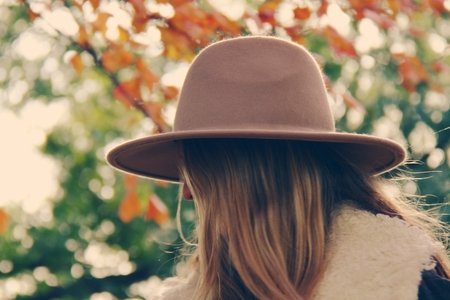 Lexi Tokarski / Her Campus
Album Review: Norman F*cking Rockwell by Lana del Rey
FINALLY! We got to listen to one of the most anticipated releases of 2019, Norman F*cking Rockwell. I'd say it's been a long time coming without music from Lana, but who am I kidding? 
Lana anticipated the album with a slew of releases dating back to September 2018. She released three covers ("Season Of The Witch", "Doin' Time", and "You Must Love Me") and 6 other songs, all of which made it onto the album, save for the song "Looking for America". With at least 6 songs from the album out by the time it was released on August 30th (including Doin' Time, which was eventually included in NFR and released as a single), you'd think that there was nothing left to see, but thankfully, I'm wrong about that. 
Lana presents us to one of her most cohesive and ambitious projects yet. Co-written and co-produced almost completely by Jack Antonoff, it's injected with self-awareness and sad girl vibes that aren't foreign to other projects he's worked on. The album reads like a reflection of all her past experiences up to this moment. There's not a particular focus on a theme; rather, her evolution is the theme this time. It is simply the refinement of her previous styles with a new perspective and a bold direction. 
There's a tongue-in-cheek quality to some of these tracks—particularly the title track and "Happiness is A Butterfly"—that mixes in with a nostalgic romance for a very destructive yet self-indulgent experience. Lana's in on the joke this time, and she's enjoying it more than we can tell. 
Lana isn't searching for perfection anymore; she knows she's destined to want men who ruin her the most, but she empowers herself through desire. The opening line of the title track presents it in a way very few other pop stars might ever have dared to: ''God damn, man-child, you f*cked me so good that I almost said "I love you''.'' Later, in the chorus, she rationalizes his actions away by reminding him that he's "just a man, it's just what you do.'' The track opens with a nostalgic piano that fades as her voice mutters out her devotion and then rises as her voice swoons in the pre-chorus. She may not necessarily hold her lover in high esteem in this track, but she makes it clear that she loves him regardless.
This album has a grandiose feeling that some of her earlier work mimicked but never fully committed to. "Mariners Apartment Complex'' follows in the theme of the title track, but this time, she places herself as the person who's in control of the relationship and clearly has her emotions in check. A softly-strummed guitar leads this track as she sings empowered lyrics to her lover:'' You took my sadness out of context at the Mariners Apartment Complex. I ain't no candle in the wind. I'm the board, the lightning, the thunder. Kind of girl who's gonna make you wonder who you are and who you've been.'' An anthemic chorus closes off with the verse "I'm your man,'' as she plays with the idea of being the dominant one in the relationship (think back to Lady Gaga in 2013 with "G.U.Y.") The instrumental loops around towards the end, spinning around a psychedelic aesthetic she began to toy with since her Lust for Life era but managed to incorporate musically in this track and in "Venice Bitch". 
"Venice Bitch", at 9 minutes and 38 seconds, feels like at least 2 and a half songs in one. The beginning shifts between slow verses, familiar choruses, and blends into an instrumental bridge that commits to psychedelic guitars and her vocals leering in and out of the song. Time loses notion to music, and it isn't up until the last minute where you can even remember Lana was present. It's another empowering moment for her, as she alludes to a relationship where she tours and her lover writes, implying that she's the one who brings the money to the table, but there's nothing wrong with that, so long as she knows he needs her. 
The double-video feature of "F*ck it I love you'' and "The greatest'' contrasts two of her most interesting songs on the album. The former, an alt-pop mid-tempo song that accepts her falling for someone despite running away from them to California and craving their love, and the latter, a nostalgic, grand ballad with a guitar solo that makes us feel like this song is actually a cover and has been around for far too long. The outro of "The Greatest'' references her disillusion with America and how her once-embraced patriotism has fallen apart at the seams. She briefly mentions Kanye West, who she had beef with a while back due to his constant endorsement of Trump. Seeing these together in a video gave us the whole picture, one of a relationship that ended too quickly but had all the makings of lifetime love. Del Rey is completely committed to her nostalgia trip this time. 
"Doin' Time" is probably the most up-tempo and catchy song from the album. Its reggae influences and Lana's cool sultry vocals make for an incredible earworm. It was recorded for a documentary about the band who recorded the original, Sublime, and made it onto the album after such a positive reception from the general public. 
Lana revisits the brevity of idealistic relationships in "Love Song''. If "The Greatest'' was the lowest, grandest low, then "Love Song'' is the highest, softest high of her romantic fling. This track is backed by piano, as many of the tracks on the album are, and treats us to a subtle escapism high that we all know is too good to be true. Either way, it's effortless. 
Lana visits sadder territory on "California'' and "Cinnamon Girl.'' One of her many references to The Golden State, she pleads to her lover about being available whenever he needs her, somewhat akin to "Old Money'', a song from her 2013 album, Ultraviolence. Yet another delicate piano opens the track and lets Lana's voice take center stage. "Cinnamon Girl'' focuses on the darker side of her relationship, wherein one doesn't want to repeat past mistakes but weighing the pros and cons of a situation makes it difficult to know if communicating these issues is worth it or not. Fans are really gunning for this song to be the next single, and thousands of them have proclaimed labeled themselves as "cinnamon girl" on their Twitter accounts. Lana struck a chord with these lyrics, clearly. 
Both "Bartender'' and "Happiness is a butterfly'' tread somber ideas about relationships and attractions but in different directions. "Bartender'' explores the nighttime flings or fantasies that Del Rey has with her bartender, a mystery man who gives her much more than booze as determined with the context of the song. Yet, the song sounds sad, almost as if she remembers these escapades with a hint of nostalgia. "Happiness is a butterfly'', on the other hand, retells Lana's sadness when faced by an emotionally unavailable man. Her emotions escalate throughout the song to a soaring chorus where she croons "I just wanna hold you tight down the avenue. I just wanna dance with you.'' However, the melody doesn't sound sad or broken at all. If anything, it is more of a hopeful plead that is born out of genuine concern and tenderness. She wasn't able to sing with such mental clearness or joy in previous releases. 
The album closes with the specifically-titled track "Hope Is a Dangerous Thing for a Woman Like Me to Have – but I Have It.'' In an attempt to reconcile her image with herself and her critics, she demystifies the difference between what's perceived of her and how she feels towards herself. She goes in pretty specifically on this in the last chorus: "They write that I'm happy, they know that I'm not, but at best, you can see I'm not sad.'' Lana is quite tired of people comparing her to others and trying to judge her by the same measuring stick that others receive. In that sense, this is probably the most self-aware song on this album. Lana favors her strung-out metaphors and manages to reflect on the facets of her career in a single song, placing herself in a vulnerable position that many of her peers haven't allowed themselves to be in yet. 
I may not be able to come up with a more concise and specific sentiment for this album yet, but I will remember this album for a long time and hold fond memories of her past whilst embracing her current artistic endeavors. My car rides will never be the same. 
Stream it below!