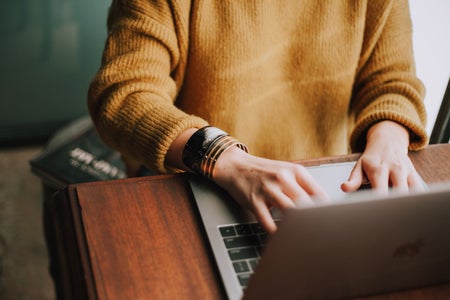 Three Ways That Blogging Changed My Life (For the Better)
In June of 2018, I stumbled upon a social media post that continues to change my life today. It was from "FemNet," a blog that I had never heard of before, calling for writers, editors, social media gurus, and designers who were interested in sharing the voices of women from all walks of life. At the time, I had been writing outside of school for several years but all of my work was fiction. Despite this, I applied as a writer and managed to get in.
My goal as a writer has always been to create representation and talk about my experiences with the hope that it might help others. I'm openly queer and asexual today, but for many years I felt alone and broken because I rarely saw myself in my community or mainstream media. I've also lived with severe anxiety my whole life and have learned through trial and error how to (mostly) manage and excel despite it. And of course, I'm a woman. Blogging with FemNet allowed me not only to expand my writing, but also to speak up about my experiences and struggles to share with the world. 
Within six months, I became the top contributor and moved up to an editing and administration role. I also started helping out with social media, designed our very first website, and helped choose the current name, The Fem Daily. While FemNet/TFD has never been monetized or particularly huge, I've had a lot of fun with the team (which consists of women from all over the world) and I've been able to see that my writing has made an impact. People often leave comments describing how they connect with our posts.
While this experience is still shaping my life today, here are a few major ways that blogging has changed my life for the better:
Scholarships
During my last semester of high school (Spring 2019) I mentioned all of this on a scholarship application and ended up getting an interview. It was in June, a year after I had started blogging. While I expected that my interview would be geared more towards my academics and participation in school organizations, most of the questions were about my blogging experience. The three interviewers were very impressed with what I was doing and even wanted to read some of my blog posts. When I got out, I didn't know if it went well or badly, but a month later I received a letter stating that I would be getting $1,500 a semester for my entire college career.
Jobs
That summer, I also started searching for an on campus job. Since I had never worked at that point, my only experience was from student organizations, and of course the blog. I had been offered a catering job at orientation, but I felt like there were better options out there for me. I had also heard my brother's horror stories of working in dining and decided I would rather not. 
The position that I was most interested in was a Social Media Content Coordinator position at the xREZ Art + Science Lab. I didn't hear back for several weeks, but finally, I got an email from the lab director asking for an interview. I later found out that there were over 100 candidates to choose from, but I got the job. 
Changing My Major
It had been my dream to study creative writing for years when I finally decided to change my major. It wasn't that I lost my love for it, I just started to look at my future differently. Blogging and content creation has become a big part of my life, and in terms of job outlook and practicality, it seemed like the better way to go. 
As an integrative studies major now, I'm combining communications, journalism, and digital media studies. My minors are English and women's and gender studies. I'm developing my skills in creating content for multiple platforms as well as writing posts. I also get to still share my voice and my experiences with others. 
Obviously, today I'm also writing for Her Campus. While I am still very new, this is a great opportunity that has come into my life because of the decision I made almost two years ago. I'm excited to see how this will take me to new heights and help me to help people along the way!