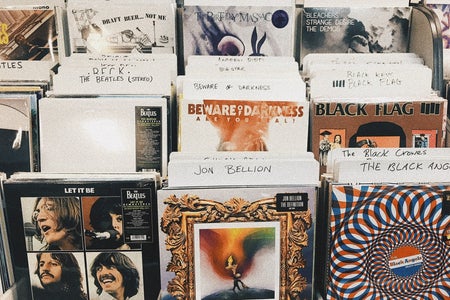 My Top 10 Albums (No Skips!)
Music is something that speaks to everyone in a different way. In my lifetime, I've heard my fair share of good, bad, and mediocre albums. While this is an ever-expanding list, I wanted to share some of my hot takes on albums that have the perfect line up. These are records that are curated masterfully and contain zero 'skips' or 'filler' tracks. I know future me will probably have more to add as the years progress, but here is a timestamp of my favorite albums at the moment.
**These albums are not ranked in any particular order, all are number one in my heart!**
Ctrl by SZA - I don't think I need to explain this one, but if you somehow haven't listened to this masterpiece...here's your invitation! This is a bittersweet mix of unrequited love and the multitudes of heartache. The amount of self-discovery in this album is both comforting and a little too close to home. (Bonus points because Go Gina is my anthem).
Pony by Rex Orange County - This released in 2019 and it has been my comfort album ever since. Each song holds a nostalgic peek into Alex O'Conner's life as he battles with the pain of depression, anxiety, and finding true love. The imagery painted in this album is so calming, I recommend listening during a lazy Sunday morning or on a cozy winter night.
Brand New Eyes by Paramore - I think any fan of Paramore will agree that this is one of their best albums. This record recently re-entered the music charts as their track, "All I Wanted" began trending on Tik Tok. This iconic alternative album was released back in 2009 and still doesn't miss a beat for 2020.
IGOR by Tyler, the Creator - When this album dropped in the summer of 2019, I instantly knew it was going to be a hit. Tyler, The Creator was recognized by the Grammys this year for IGOR as Best Rap Album. Each song blends into the next perfectly, creating an exciting and fresh listening experience that never disappoints. You simply cannot skip one song on this album or it will ruin the flow of the record.
Sweetener by Ariana Grande - Choosing an Ariana Grande album was really difficult, but I think ultimately Sweetener is her strongest in terms of curation and each track individually. Every song on the album showcases a different aspect of Grande's voice and lyric abilities. I really loved the 80s and 90s pop influences in this album as well.
Folklore by Taylor Swift - I know there will be people who disagree but I personally feel like this is Taylor's best album. The lyrics feel so mature and honest, each song feels like the older sibling to her past tracks. The amount of metaphors, imagery, and raw passion included in this album is breathtaking. Anyone who still hates Taylor Swift in 2020 is clearly stuck in the past. Give this album a listen with a cup of warm coffee or tea and let yourself be transported.
Three Cheers for Sweet Revenge by My Chemical Romance - Their entire discography is excellent, I just have a personal soft spot for this album. I strongly believe that My Chemical Romance (MCR) set the tone for 'emo' music with this album back in 2004. I'm not saying it had never been done before, but it is extremely evident that music in this genre was never the same after MCR impacted it. Over a decade later, this band is still considered a classic and renowned by many. With tracks like "Helena" and "I'm Not Okay (I Promise)," this album is one that will never be forgotten.
Fine Line by Harry Styles - Harry Styles has yet again created a perfect album. His debut and self-titled album broke the charts during its release, and Fine Line was no different. This album holds a perfect mix of radio hits and emotional ballads, something Styles continually proves to do with ease. His honest lyrics about the multitudes of love and heartbreak make this record worth replaying over and over.
American Idiot by Green Day - Another classic album for the alternative genre that stands the test of time. Despite being composed in 2004, this album holds so many relevant themes for 2020. Each song is part of a larger storyline that becomes clearer with each listen. It was actually turned into a successful Broadway musical years after its release to showcase the power of this 'punk rock opera' that Green Day wrote. I couldn't recommend this album more.
Hozier by Hozier - I had to include this album on the list because it never fails to amaze me. The poetry that Hozier created on this album will never get old. This was the artist's first album back in 2014, and it is still revered as a cultural reset for many. There are simply no skips on this album. Hozier doesn't create bad music. Ever.
I already have so many more albums I want to include but I think it's best to stop at 10 for now. Let me know your thoughts on this list and if you believe there are albums I should have included. Happy listening!