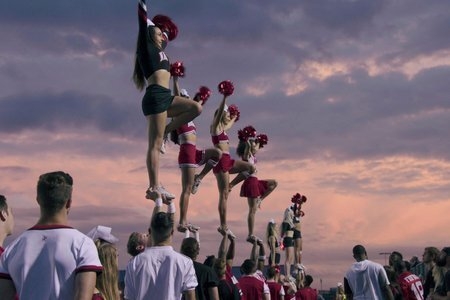 Why Everyone Should Watch Cheer on Netflix
The recent Netflix docuseries Cheer has brought a much needed spotlight to the sport of cheerleading. And yes, I called it a sport. Cheerleading has historically been looked down upon and subjected to harsh criticism. From teenage boys in the bleachers at football games proclaiming that cheerleading is not a sport, to the media and films portraying cheerleaders as mean girls who only care about popularity, cheerleading has a bad reputation. Instead, the world should look at these athletes for the true powerhouses that they are.
The series follows Navarro cheer, based at Navarro College in Corsicana, Texas. The elite team is spearheaded by the no-nonsense coach Monica Aldama. Monica is a powerful example of a woman born to lead, who balances the priorities of success and well-being of her team in a way that most could not. She takes a maternal approach to coaching, where she expects nothing but the best from her kids and pushes for perfection, but would stand in front of a moving train to protect them.
Highlighted in the series are athletes Morgan, Gabi, Jerry, Lexie and La'Darius. Each team member has a powerful story of perseverance, tragedy and strength that will tug at your heartstrings during all six episodes. Jerry's fun-loving, supportive, and truly iconic mat talk will have you yearning to be his best friend. Morgan's commitment to the team and Monica is a true example of undying loyalty, coming out of a young girl who never received loyalty growing up.
The impact of Cheer goes far beyond making people realize that cheerleading is a sport. Sure, it does a great job of that, but more importantly it creates acceptance and appreciation for sports and activities that are undervalued in our society. In a world where football and lacrosse players are seen as the tough, talented and strong athletes, and cheerleaders, gymnasts and dancers are seen as "pretty," it is essential to show the true nature of these sports.
The sexism involved in these ideas is not obscure. Sports that are typically male-dominated, or where female athletes are simply ignored, are most commonly viewed in the media, most often reported on, and given the narrative of being rugged and near superhero-like. Sports like cheer, gymnastics, and dancing are pegged as female sports, and the athletes are portrayed as revolving around grace and natural talent, rather than hard work and persistence. Cheer shows the general population that athletes in this sport are pushed to the limit of human endurance and strength, and can do it all without breaking a sweat. They combine pure power and exceptionality with grace and skillful beauty.
With the presence of top-notch athletes, such as La'Darius and Jerry, Cheer also breaks the narrative that cheerleading is a female sport. The stigma that puts male athletes of cheer or gymnastics underneath those of football and basketball is absolutely blown apart by this docuseries when showing the incredible strength and endurance of the male athletes of Navarro Cheer. These cheerleaders practice through injury and muscle fatigue that most of us have never, and will never, experience or comprehend.
It is essential to bring attention to sexism and false beliefs that many have in our society due to coverage of certain sports, and lack of coverage of others. People of any sex should be accepted in whatever sport they choose to participate in, and their talent and abilities should not be undermined based on stigmatizations and incorrect narratives.
Cheer will give you the opportunity to learn about a sport that is severely unreported on in the media, and harshly stigmatized. Not only is it breaking barriers in our society, but it is also incredibly entertaining and addictive. You'll be drawn in by the realness of the characters, and you'll find yourself dreaming of Daytona.