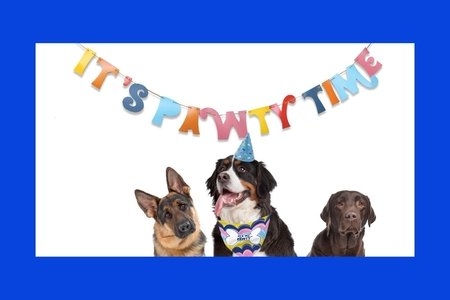 Every Pup Deserves A Birthday Party
I have never had a dog. Crazy, right? I've had multiple cats, so I am a cat person by default. But, I have always loved dogs. My roommates and I moved into our first apartment in January, and my best friend brought her dog to live with us. Needless to say, I'm in love. Romeo is a black and white Chihuahua that is spoiled, energetic, smart and cuddly. This past weekend, he turned 12. Naturally, I suggested we throw him a birthday party. Pets are an extension of our families, so they deserve a special celebration, just like the rest of us (in my opinion at least). 
If you are obsessed with your pupper as much as I am, here's a fun way to throw them an easy birthday party:
First, make the guest list! Invite your friends (as long as you've all tested negative for COVID). Don't forget to invite other dogs that your pup gets along with if he/she has any play date pals!
Then, hit Walmart or the dollar store. Some cute and easy decorations are streamers, balloons, party hats and confetti. Don't get poppers or blowers, because the loud noises will scare the pups.
While you're there, make sure to pick up a new squeaky toy and maybe a bag of treats. 
Once you get home and decorate, make some pupcakes! Yes, these are mini cupcakes that are safe for dogs, and they're even cuter than you can imagine. Obviously I didn't try them, but Romeo gave them five stars. I'll drop my recipe below.
Once everyone gets there, get out the blender! We made our doggo a slushy, out of just ice and water. But he liked licking it and crunching on the ice chunks (people guests made themselves smoothies and daquiris).
Don't forget to take lots of pictures, give your pup belly rubs and take them on walks, and give them their new toy. 
Serve the pupcakes and sing happy birthday!
Needless to say, I am clearly ready to be a dog mom myself. I never knew how much personality dogs have, but I am loving being able to take care of and bond with Romeo. Also make sure there are enough snacks for all of the people there as well! Play some games, and mark your pet's birthday on the calendar for an annual PAW-ty. 
Recipe makes: 8 mini pupcakes
Preheat oven to 350 degrees F
Mix 1/4 cup unsalted organic peanut butter, 1/8 cup vegetable oil, 1/3 cup water, 2 tablespoons maple syrup, 1 egg in medium sized bowl
Add and fold in 1 cup shredded carrot, 1 cup organic almond flour, and 1 tsp of baking soda
Spoon batter into pre-greased or non-stick mini cupcake pan
Fill empty spots in the pan with water, so that they all cook evenly
Bake for about 10-15 minutes, until they're puffed up and the fork comes out clean after poking them
Let them cool, and start making the frosting
Crush up two biscuit bone treats
Stir crumbles into a softened half block of low-fat cream cheese, along with a tablespoon of maple syrup
Allow frosting and cupcakes to cool and spread a spoonful or two on each little cake
Cut in half and let your pet dig into one!