Earlier this semester, I wrote an article about my final semester of my college bucket list and all the things I wanted to do before graduation. My goal was to write my final Her Campus article as a reflection and discuss how I accomplished everything on the list. Because of things out of my control, that can't happen anymore.
Instead, I'm doing my reflection now, looking at what naïve, mid-January Rachel thought she could do before graduating. This is either going to be funny or painful. Or maybe both.
1. Try a New Food At a Local Wilmington Restaurant
I didn't get a chance to do this yet, but I did go to Red Robin in February and get mistaken for someone's mom during an elementary school spirit night. That was eventful, for sure. Red Robin isn't a local hole-in-the-wall, but I did have unlimited freckled lemonades and steak fries—not "new" but fun nonetheless.
2. Go to a UNCW Sports Game
Nope. I've been to a few games during my time at UNCW but hadn't been to anything yet this semester. However, I did go to the Late-Night Breakfast during Homecoming Week and saw some killer lip-sync performances. Dancing is a sport—it counts!
3. Go to Dub Idol!

YES, thankfully I got to do this! I even got a free t-shirt. Thanks, Dub Idol team! I had a great time.
4. Spend Lots of Time in Nature—Especially At the Beach
If you count the walk from Seahawk Landing to Kenan Hall "nature," then yes, I did. I didn't go to the beach this semester, though. R.I.P.
5. Go downtown for the Azalea Festival.
Canceled!
6. Pick a New, Fun, Creative Activity To Do to Relax When School Gets Stressful

I have started playing guitar again and am trying to learn my favorite Wallows song, "Drunk on Halloween." And, yes, I do play when school (and the state of the world) stresses me out.
7. Decorate My Graduation Cap With a Quote That Inspires
Technically, I haven't gotten my cap yet. It should be delivered…eventually…and I'll be able to decorate it.
8. Read at the Creative Writing Separtment's BFA Reading in April.
Canceled! Oof…this one really hurts.
9. Buy a UNCW Alumni Shirt at the UNCW Bookstore.
I can still buy one! Just online.
10. Go to Graduation.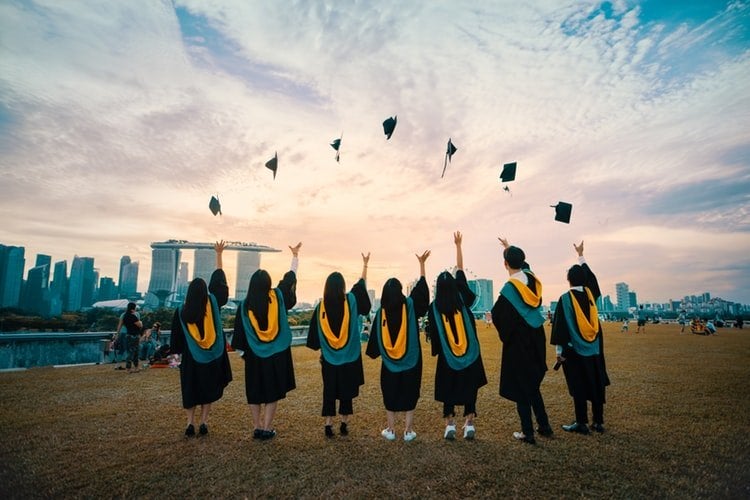 Oof, again. This one stings. However, my parents and I are going to have a faux graduation at home, and I know Her Campus is planning something special on May 15th…
So I didn't do everything I wanted, but maybe that's okay. Things don't always work out. However, I'm still graduating and getting my degree—even if the commencement is virtual and I don't get my cap, gown, and diploma right away.
I only have one more thing to say: Go Zoom University!