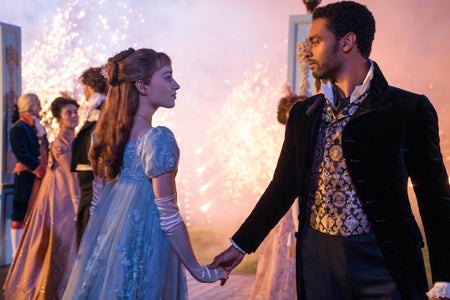 Popular Netflix Show, "Bridgerton", Sparks New Fashion Trend
Netflix's adaptation of romance novelist, Julia Quinn's 8 book series, Bridgerton, has left a fashion statement on generation Z. The series revolves around 8 siblings and their quest to find love during the regency era in England. Although the steamy romance had fans enchanted and wanting more, it was not the only reason for the high ratings. Ellen Mirojnick's costume design has, once again, left fans wanting to dress like the "diamond of the season." The tight stays, puffy sleeves, and silhouettes have caught the attention of many viewers and is now the cause of a new fashion trend.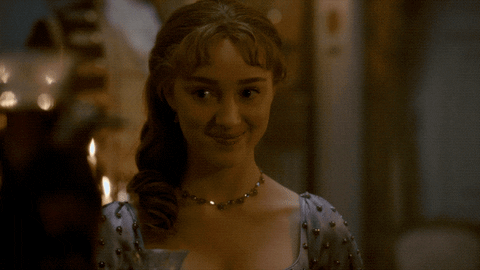 Netflix / Giphy.com
"Were all obsessed with the Bridgerton outfits," exclaims Grace Mcmillan, a Tik Tok influencer. "So what if we all decide to wear them and bring them back in style." 
Teens and adults all over Tik Tok are seen buying ball gown dresses and stays, inspired by Mirojnick's costume designs. Some are even mixing the period pieces with streetwear fashion trends by pairing their stays with baggy jeans. Although it may sound surprising, the fans were not the only ones who decided to modernize the fashion pieces. 
After studying the fashion trends during the regency era through historical paintings and drawings, the costume design team had come to the conclusion that they would modernize the costumes through scooped necklines, "as opposed to having a straight line that doesn't allow you to see the body," Mirojnick reveals during her interview with Vogue. 
Mirojnick's modern take on regency era fashion has fans ditching the y2k fashion trend and indulging in royalcore fashion. Silk gloves, scooped necklines, stays, and puffy sleeves are now one of the largest trends in 2021. 
"I'd do anything to run through a field of flowers in one of those dresses" comments a Tik Tok user on a Bridgerton inspired post.