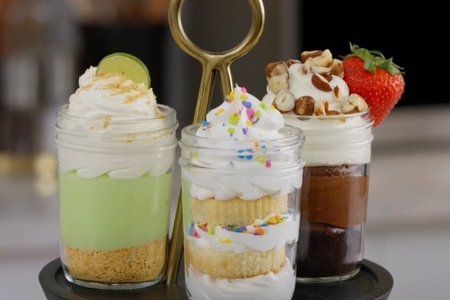 Mouthwatering Candyland Desserts From The Sugar Factory
There's nothing wilder than the rainbow tango of desserts at the Sugar Factory. If you have a sweet tooth, get ready for an experience like no other with an endless list of sugary picks! The Sugar Factory in Chicago is located near River North. This location is large enough to host numerous parties, at booths, tables, or even at the bar. Catering to everyone's favorites for breakfast, brunch, lunch, dinner, appetizers, drinks, and especially dessert, you will not regret your experience at the Sugar Factory. Don't forget to check out their colorful Candy Shop on the way out!
Their breakfast menu allows you to choose from Banana, Red Velvet, Nutella Chocolate Chip Pancakes, and more! French Toast and Crepes awaits. Served with your choice of white, milk, or dark chocolate sauce. Brunch consists of eggs, omelets, and freshly baked goods. These pair well with their warm Hot Chocolate, Frosty Hot Chocolate, Lattes and Espressos. 
After deciding upon countless choices of appetizers, soups and salads, the lunch and dinner menu will be waiting for you. They offer sandwiches, such as the Buffalo Chicken Sandwich; Savory Crepes, like the Sautéed Gulf Shrimp; Monster Burgers, including the South Beach Flair; Steak Frites, featuring the Steak Bordelaise; Pastas, such as the famous Fettuccine Alfredo; along with many other grill entrees and sides. 
The Big Cheesy is no joke. Prepare for a food baby ASAP! #Eeeeeats #Nom #Burger 🍔😍 | 📸 @Asapfoody pic.twitter.com/GqYh50X64L

— SUGAR FACTORY (@SugarFactory) July 11, 2016
You can't have dinner without a drink! The Sugar Factory offers crisp, Signature Martinis, Cocktails, Chocolate Martinis, and their one-of-a-kind dry ice Goblets! The misty smoke that creeps around the drink is mysteriously mouth-watering. Examples include the Lollipop Passion (garnished with lollipops), The Drake (Drake-approved, Sweet Tea Cocktail with Strawberry Lemonade Cotton Candy on top), White Gummy (loaded with Gummy Worms), Ocean Blue (swimming with Candy Sharks), Energy Bear (with Watermelon Vodka and Red Bull Energy Drink), and tons of other fun combinations.
The (martini) gang is all here. #SugarFactory #Candy #Foxwoods | 📷 @foxwoods pic.twitter.com/1qqibaqSP2

— SUGAR FACTORY (@SugarFactory) June 9, 2017
Now, for the moment we have all been waiting for, what kinds of desserts does the sugar factory have to offer?
When it comes to cakes, this restaurant does it best, with Turtle Cheesecake, Red Velvet Cake, Fried Ice Cream & Oreo Cookie, and more. 
End the month on a sweet note at #SugarFactory 🍭📍 #MiamiBeach #RedVelvet #Dessert #InstaFood #Sweetness | 📸: @silviasusko
.⠀
.⠀
.⠀
Reserve now: https://t.co/hSD5s8lcPs pic.twitter.com/ifgJkQgl9X

— SUGAR FACTORY (@SugarFactory) March 31, 2019
Gourmet Ice Cream Sandwiches will show you what you've been missing all along. This includes but is not limited to the Rainbow Doughnut Ice Cream Sandwich, Peanut Butter Cup, and The Mudslide (with chocolate chip cookies, coffee fudge ice cream, and oreo crumbles!).
Craving an Old Fashioned Milkshake? This candyland inspired dining spot will leave you satisfied. Try their Fluffer Nutter shake, Make A Wish, Memory Lane, Very Berry Blast, or Chocolate Cookie Jar - just for starters.
Our Princess Make A Wish milkshake is the SWEETEST gift for a birthday princess on #MilkshakeMonday 👸🍭🥳 #SugarFactory #MallofAmerica #MilkshakeLover #BirthdayWish | IG 📸: trinity.garrity
.
.
.
Reserve now: https://t.co/hSD5s83BqS pic.twitter.com/BJBE8tGYV9

— SUGAR FACTORY (@SugarFactory) December 30, 2019
But wait - there's more! The Sugar Factory doesn't just have milkshakes, they also have INSANE milkshakes! The Dulce De Leche Milkshake has Vanilla Ice Cream with Dulce de Leche, topped with a Chocolate Covered Popcorn Waffle Cone, Whipped Cream in a Chocolate Covered Mug, with Caramel and a Unicorn Pop. Other wacky creations include the Tye Dye Milkshake, Giggles Snickers Milkshake, Caramel Sugar Daddy Cheesecake, Bacon Cheeseburger Milkshake, and the Campfire Spiked S'mores Milkshake. Who could say no to that?
Without looking past Old Fashioned Sundaes for Two, or the World-Famous King Kong Sundae is adored by many celebrities including Kylie Jenner and Kourtney Kardashian.
Without further adieu, allow me to introduce to you the Chocolate Silver Fondue, Red Velvet, or Chocolate Gold Fondue, served with classy dessert wine! This real gold dessert is expensive, but well worth it, since it includes "A Gold Coated Dark Chocolate Truffle melted tableside with Dark Chocolate. Served with Gold Chocolate Nuggets, Gold and Chocolate Truffles, Gold Dusted Gummi Bears, Chocolate Gold Studded Strawberries, Gold Leaf Chocolate Cupcakes, Gold Dusted Homemade Chocolate Bars and any toppings of your choice! Presented with a Bottle of Dom Perignon and a Glass of 50Yr Cognac Each Guest will Receive a Gift Bag with a Box of Our Hand Crafted Chocolates, a Package of our Signature Homemade Macaroons and a Giant 2lb Chocolate Bar". A dessert fit for a queen!
Now that we have taken a closer look at the many items that the Sugar Factory has to offer, I am beyond impressed. Who knew that there are so many crazy combinations? Now, excuse me while I make a reservation...