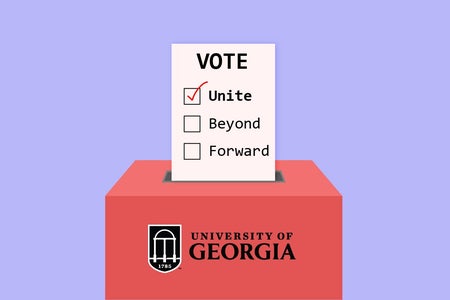 SGA Executive Office Elections: An Interview with Unite
Voting for UGA's executive ticket elections begins on Feb. 24 at 8 a.m. and will run through Feb. 26 at noon on the UGA Involvement Network! Unite is one of the three tickets running, consisting of Asim Ahmed, Cheryl Kwapong, and Carson Kuck. Ahmed is a biochemistry major and Spanish minor from Columbus, Georgia, who was an orientation leader over the summer, and last year he ran for SGA president on the ACT ticket. Kwapong is a journalism major and political science and sociology minor from Buford, Georgia, who is currently the Vice President of The National Association of Black Journalists. Kuck is a political science major from Cochran, Georgia, who was also an orientation leader. Through their three platform points ("visibility, sustainability, and accountability"), Unite hopes to bring together students from all sectors of campus to bring changes that will "elevate our student body." Her Campus UGA interviewed Cheryl to learn more about her background and what Unite stands for.
1.

Why did you choose to run on an SGA Executive Ticket?

Cheryl Kwapong: I've never been involved in SGA in any capacity, which is the reality of most students on this campus. When Asim, Carson and I talked, I realized not only could I help serve as a representation of the "normal student," I could also help to facilitate real change. 

2.

What other organizations are you involved in on campus?

Cheryl: I am the vice president of the National Association of Black Journalists, as well as a member of the African Student Union.

3.

How does it feel to be running for a prominent position within SGA as a woman?

Cheryl: I'm always hyper-aware of my skin color due to black people representing less than 8% of the student body population, but this experience has made me gain a new insight of my womanhood. There are many instances in meetings with different administration, campus leaders, and faculty members where I was the only woman in the room. That factor coupled with my lack of SGA experience made me feel severely underqualified, but talking to my mom and sister helped a lot. It can be daunting being a woman in a world of men, but if anything it just reminds me why I need to be there in the first place.

4.

What advice do you have for women who desire to serve in leadership positions?

Cheryl: Imposter syndrome, or feeling under-qualified for a position that you take, is something I've noticed a lot of other women deal with, including myself. Know that it is a lie. You are meant to be wherever you are. Also, never let anyone "mansplain" over you. If you know what you're talking about, speak on it. Don't allow for interruptions. Be confident.

5.

At the SGA Executive Ticket Debate, you emphasized how Unite has put in the work on the frontend to ensure that your policies will be implemented if elected. Can you tell us how long your ticket has been preparing for this campaign, and what did this preparation entail?

Cheryl: We have been meeting with different campus leaders, administrators, and speaking with peer institutions for months. We looked into every initiative we want to implement and have worked backwards from the goal to the source to make sure it was actually possible

6.

How do you plan on making SGA more visible and accessible?

Cheryl: Going out into different areas of campus is a big way to expand the reach of SGA. If elected, we plan to reinstate "listening nights" where members of SGA go to different organizations and do exactly what the name entails. Another example of visibility is "The Exec Is In," where members of the SGA executive team go table in different areas of campus for students to come up to them directly with questions and concerns. The way we see it, it is our job to go out into the student body and not the other way around. We need to find the students who need the resources SGA has to offer because that is their job. 

7.

What would your advice be to a student who is interested in getting involved with SGA, but doesn't know where to start?

Cheryl: That's a question I asked myself, too, and it's one of the main things we want to work on, since currently emails are sent out with information but can get lost in a sea of different things. Once elected, we want to adopt an open-door policy where students are able to walk up to members of SGA with plans, and we can help them get the needed tools to implement their goals. As of right now, though, I would say reach out to people who are in SGA directly or try to talk to people who are involved in the organization because a student government should be as visible as possible to the students. 

8.

How do you think your background and experiences have contributed to what you are advocating for?

Cheryl: Everything I do in life is impacted by who I am and the identity that I hold. Being a first-generation college student, as well as American, means a lot of my college experience was me going out into unknown waters. There were so many different processes that I didn't understand and so many opportunities I missed out on due to the fact that I was unaware.This is something I want to change for all the people on this campus who are like me and those who are not, as well. At the end of the day, representation in spaces such as these matter because no one knows the reality someone faces like themselves. The specific niche that I occupy as a result of who I am cannot be filled by just anyone, and I am very aware of that. Above all else, if through this whole experience, one black girl on campus can look at me and decide that they too would like to change campus in some way I have done my job. 

9.

Now, some fun questions! What is your favorite study spot (on or off campus)?

Cheryl: Bottom floor of Snelling! Best place to take a nap too!

10.

What is your favorite restaurant in Athens?

11.

What are you currently watching on Netflix?

Cheryl: Sex Education and Breaking Bad

12.

What is your go-to coffee order?

Cheryl: White chocolate mocha, soy milk, blonde espresso, and an extra pump of mocha.
You can visit Unite's campaign website here. Make sure to check out our articles about the other tickets running, and don't forget to vote on the Involvement Network before the Feb. 26 at noon. The winners will be announced the same day voting ends at 5 p.m.