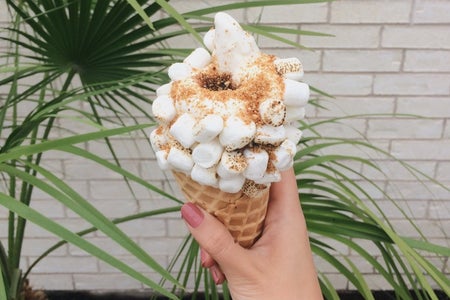 Where to Find the Best Ice Cream in Gainesville
I consider myself an expert on ice cream.
Three years in the business, three Cuisinart ice cream machines, and 300 ice cream-fueled stomach aches has given me a lot of experience with the sugary, cold dessert.
I am enthralled with ice cream at every level. In my free time, I play with different recipes to perfect.
I intend on one day owning my own ice cream parlor.
Since it's my favorite flavor and more complex than vanilla, I tried cake batter ice cream in a few of the locations below, but my reviews are regarding the entirety of the stores. 
Laughing Cow, located in Gumby's
Located in Gumby's, Laughing Cow is simply no more than a freezer and dip-well.
The skeevy dive bar, needless to say, is an unusual home for an ice cream parlor.
Nonetheless, where else can you and a buddy enjoy some PBR, gorge on pokey sticks, and then finish the night with a refreshing mint milkshake?
I wasn't too impressed by the ice cream, however, if I'm being honest.
Laughing Cow ships its product, so it's not made in house, and the flavor and consistency shows.
Homemade ice cream has a wonderfully thick and rich taste.
The cake batter ice cream seemed to have melted and refrozen a dozen times to create an unenjoyable icy texture.
It also had a much more artificial taste -- I would not recommend. At that quality, just buy a gallon of Blue Bell for cheaper.
Cold Stone     
I have the most experience with this ice cream.
I've worked with Cold Stone for three years and stand by this product.
It is made in-house and customized to order.
There is a much higher butterfat concentration in this ice cream due to the thicker consistency.
This means it's a much higher quality ice cream.
The cake batter is fantastic! I could eat it all day—and I have.
This is the cake batter that I modeled my homemade variety after. It's easy to reproduce because of its simplicity.
All you need is vanilla extract, heavy cream, milk, sugar, and a box of Duncan Hines "yellow cake mix."
Harry's 
Harry's is not an ice cream shop, nor does it even offer ice cream as a standalone product, but I was thrilled with the quality of their banana foster.
I've actually never had this dessert before, which appalls me since I'm a self-proclaimed connoisseur of all things sweet.
I found the syrupy and warm cinnamon caramel light and sweet.
The vanilla ice cream itself was okay, but the real star was the presentation.
Banana soaking in caramel that you pour over ice cream? So fun!
The New Orleans themed restaurant quietly playing raucous Mardi Gras anthems?
Confusing, but still really fun. I loved dining in Harry's with the faint candle glow and rustic metal utensils that you know I stowed away in my gumbo to-go box. 
Sweet Berries
Sweet Berries has a welcoming feeling upon arrival.
When I went, there was a fundraiser for the wildfires in Australia.
The custard was good, too, but it wasn't anything special.
Custard denotes that the ice cream was made with pasteurized eggs.
The mixture of cream, sugar, and egg is boiled and then chilled before the freezing stage.
Sweet Berries offers a vanilla or chocolate base before the addition of toppings.
The cake batter ice cream, which had a vanilla base with sprinkles and sugar, was nothing to ride home about, however.
It lacked the strong cake batter taste that Cold Stone had.
I would probably come here again, although it's probably not my first choice. 
The Gelato Company
I applaud this shop for making their own product.
At the Gelato Company, they buy a gelato base and then add fun flavors and treats to customize the flavors.
They had a good selection, albeit a bit lacking for those that do not like chocolate.
Gelato is a richer ice cream, in which the air is whipped out to create a denser product.
Karma Cream
Karma Cream is great for its versatility.
I loved the atmosphere of this shop the most -- it was very trendy and fun.
Several students sat at the bar and in the stools studying and talking; it made for a great study environment.
The ice cream, however, left much to be desired.
They did not make it in-house, and it showed.
The tubs were icy and the ice cream bland.
I applaud Karma Cream for carrying vegan ice cream, though, as I am lactose intolerant.
Every flavor was trendy to appeal to their demographic but too out there to accommodate those who want deliciously sweet ice cream. 
Results
Maybe I'm biased, but I found that the best all-around ice cream came from Cold Stone.
I appreciate the care in making the ice cream in house.
The ice cream there also was just of a better consistency and taste.
If Cold Stone could replicate the atmosphere of Karma Cream, they would have the perfect recipe for success.